Thank you Cecilia :)

You should see her at the moment, she looks so awkward and ick lol! Yearling uglies... -sigh-
Ever since Gunsmoke I have loved them!!
Here is my 2 1/2 year old buckskin AQHA filly.
I too love buckskins... and buckskin tobianos are my absolute fav!! When we found Sahara I fell in love right away.... too bad she didn't pick me as hers, she picked my hubby
BUT her filly picked me LOL
A photo taken by her previous owner as I don't have any photos of her in shape after her pregnancy :)
ttfn
MD
---
Show me your horse and I will tell you what you are. - English Proverb
Some gorgeous pictures. I can't say I'm partial to buckskins because I love all horses.

Cecillia, your horse looks just like our Ghost. Minus his Appy spots, lol. I'll have to post a picture when I get home.
Posted via Mobile Device
Awesome horses! I am a long time Buckskin lover. I lost my girl in August of '08 and have yet to find another.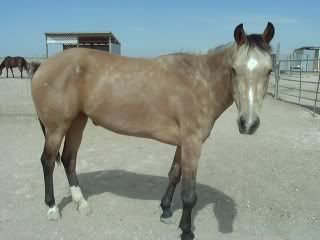 Awww, pretty boy Usandpets!!
---
~Horses aren't a hobby, they are a lifestyle.
Website
Buckskins are so beautiful! My first "very own" horse was a huge buckskin gelding :)
---
Is all that we see or seem
But a dream within a dream?-Edgar Allen Poe