Why are his legs turning silver?!
---
My gelding is a 6 year old chestnut quarter horse registered with the AQHA. His sire was black and his mother was sorrel.

He turns a funny dun-like color in the summer, with a black mane and tail and a golden body. No striping though, he's really JUST a chestnut.

However as he loses his winter coat this year, his legs have turned silvery half way up! The aren't true white because he has one back leg sock and its not the same color. It looks rather odd and is a pain to keep clean... Why is this happening? Last summer his legs were rather darker than the rest of him.

I heard it could be nutrition? Why? How do I reverse it?

Last year he was on free choice coastal and ultium grain.

Now he's on a flake of alfalfa, free choice coastal, safe&sound grain, and flax seed supplement.

If anyone want to see- I'll post a before and after pic.
Thanks
Clair
Posted via Mobile Device
Yes please post pictures.
---
Striving to always excel in everything I do. Whether I fail or not I always try to do better than last time.
Okay- Here we go, pictures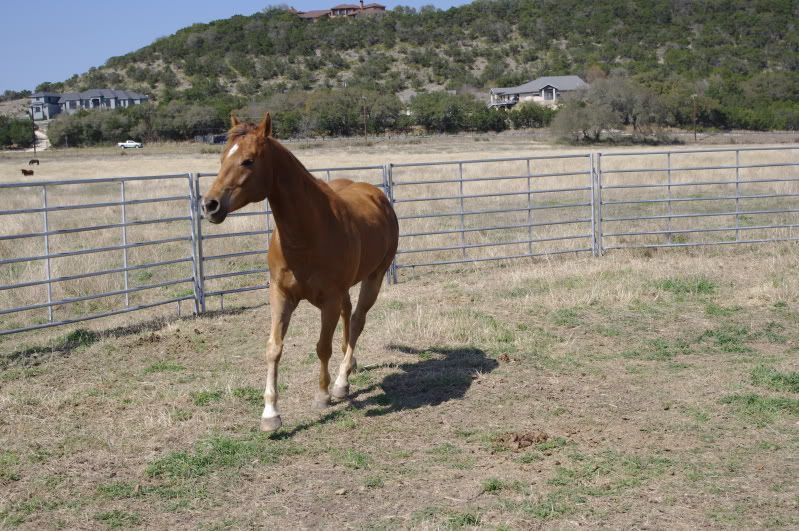 Silvery! That right hind is the only actual sock he has.
Sorry the pics are so enormous!
That is totally normal with a red horse.
My appy mare gets more of a metallic sheen then anything. Tends to mean good health.
Very pretty, healthy horse.
NdAppy- That is so strange! I wonder why it happens? At least its a good thing :)
tinylily- thank you very much
Posted via Mobile Device
Similar Threads
Thread
Thread Starter
Forum
Replies
Last Post
Turning Mean

TheRoughrider21

Horse Talk

26

02-23-2011

08:56 PM

Turning out

justsambam08

Horse Training

8

05-29-2010

10:53 AM

Turning Eye

rocky pony

Horse Health

7

05-03-2010

04:52 PM

Turning???

washington_rodeo_queen

Horse Training

2

03-12-2008

10:35 AM

turning

gus_is-my_baby-

Horse Training

5

11-20-2007

03:18 PM