Peppy, we're going to get dressage down really well and then go into eventing :) I'm sure we'll do some jumpers as well, just a bit of everything :)
Posted via Mobile Device
Very nice! She should make a nice prospect for that. Make sure you have good supportive boots or wraps for those long TB pasterns. She is a stunning horse she'll be lovely when your exhibition her .
Posted via Mobile Device
You sure found a pretty horse! She looks very nice!
First, I'll be another one to say that your mare is lovely! The white in her tail is really striking, and I think that Otter really suits her!
So, is wild bay something genetically distinct from your average bay? I think that my boy is a wild bay (his coloration is quite light, and he has very little black on his front legs/ no black on his back legs though there are white socks), but no one has really been able to give me a real definition of what a "wild bay" is. I guess bay is more complex than I originally thought...
Really not trying to steal your thread, but I'm curious. Here are a couple of pictures that illustrate his coloring. For what it's worth, his mom was a palomino and his dad either a buckskin or grulla. They are from shortly after I got him 7 years ago, but it's the first ones I found on my photobucket!
Oooh, I love him! Definitely looks wild bay to me, but we'll let the color gurus answer :)
WOW! What a gorgeous mare! I love everything about her! Congratulations, can't wait to see more photos when you get her home!
---
"True friendship is sitting together in silence and feeling like it was the best coversation you've ever had."
Areion - 2010 AQH Palomino Mare
Thank you! I jut got an AWESOME deal on transport, unfortunately it puts me back until the 24th to get her, but I can't even complain
Posted via Mobile Device
Doesn't a wild bay have brown mixed in the black in the mane and tail? They almost look like a chestnut except for the dark lower legs, right? What about a light nose?
AFAIK wild bay is pretty much the same as regular bay, but with the black on the legs stopping at the pastern.
This is what is usually considered wild bay: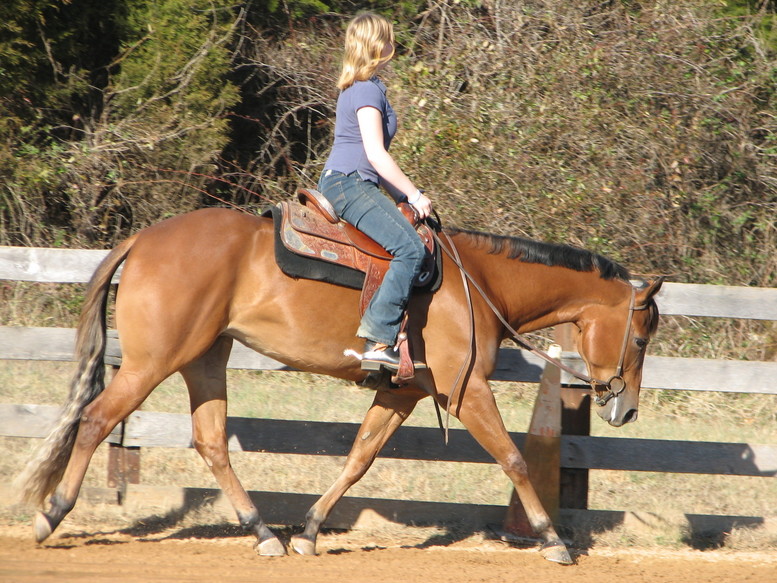 A light nose would be caused by the additional presence of the pangare gene:
ETA- A lot of it is still speculation, of course, since the wild bay gene hasn't been isolated, so you can't point to any horse and say with 100% certainty that it is or is not wild bay.
Here are current pictures. I feel like she looks wild bay