what happened to the quarter sock on her hind ?
I'm not quite sure what you're asking...she was born with a small white spot on her right hind leg right above her hoof..and she still has it. Although every so often it's camouflaged from dust lol. If that's not what you were asking about.. My apologies. I couldn't figure out what else it could be
Posted via Mobile Device
Updated picture for everyone! She's now 2 years and 3 months old.
I agree with smokey brown roan (roan brownskin same thing). I don't see gray at all. Nacota your mare is much more grayed out on her face and light bottom of tail than the OP's horse.
I think brownskin roan also.
Her rump is turning gray, and those white spots aren't scars. Everyone that sees her says grulla until they realize she has spots and her butt is turning...then they say genetically it can't be grulla, so they say bay roan.. they've never heard of brownskin roan. But I can see where that would be flawed because she really isn't bay at all.. but we also figure her dad to be a certain bay Appaloosa.
Also, this was her this past winter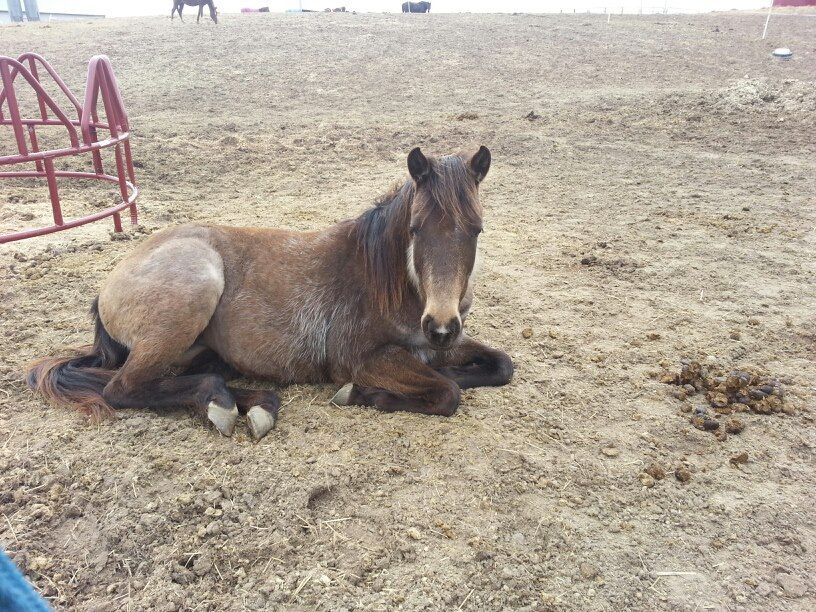 And this is another recent picture
It also helps to note, that in these pictures, she's 100% clean...and all the spots on her butt are not water, scars etc. They're markings.
You're talking about the dark spot on her hip on her right side? that's not a "spot." That's whats considered a corn marks/spots. True roans get them where the hair has been damaged by things such as bites from other horses.
Thanks! I didn't know that. Although it must've been one from long ago that caused it...because she's never had anything that big...
It doesn't take scraping to the skin for them to appear.