11 year old AQHA Team Roping/Barrel mare
---
Docs Queen Cutter!
We raised her on the farm, so she's 100% homegrown! :P
I'm trying to slim her down and muscle her up a bit... so we're going for long trots and runs.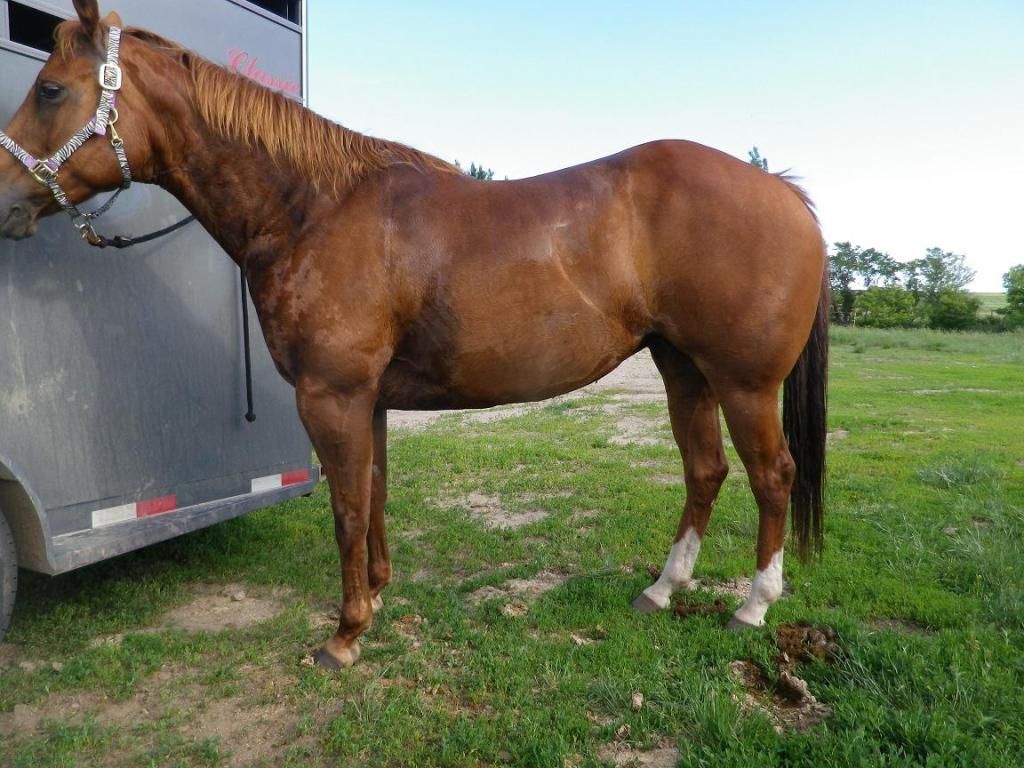 Oh... and... yeah.
---
I really like her! Conformationally, very nice :) nice clean legs, good angle for pasterns, nice big rump lol, and a sloping shoulder :) And I love the last pic ;)
---
Horses are scared of two things... Things that move and things that don't.
She has personality... what can I say??? I like mares, however derpy they may be
---
Well, she' s pretty. Kinda has small feet.
Quote:
Well, she' s pretty. Kinda has small feet.
She's Impressive bred... and halter bred horses do have small feet, right? I've never considered showing halter with her... she's a "performance" horse.... :P
---
Showing
Join Date: Jun 2011
Location: Cariboo, British Columbia
Posts: 11,951
• Horses:
3
She has a big butt and a big tongue. Tongue is very nice & pink though.
The things that stuck out to me after giving her a look over:
downhill, light boned, steep croup, thick throatlatch, not the most feminine head, longer, weak back, toed-in in front, and small hooves.
She is very cute and has a decent shoulder and nice big hip!
She has a lot going for her.. I only pointed out her 'flaws' that caught my eye. I myself am not a fan of halter bred horses, so most likely find fault in what others may breed for, so take it all with a grain of salt
Glad to hear that she's used for performance! That's what I like to hear
ETA: Out of curiosity, I looked her up on allbreed. Her only halter line is from her dam's sire, otherwise I quite like how she is bred! Especially her close lines to Dry Doc! I can definitely see the performance breeding in her build, hiding behind some stronger halter characteristics
---
There is something about riding down the street on a prancing horse that makes you feel like something, even when you ain't a thing. ~ Will Rogers
---
Last edited by AnnaLover; 06-29-2012 at

12:53 AM

.
I love her breeding too. I'd like to get her bred sometime, but she is registered as Non-Breeding Stock, so the foal will be unregisterable. Darn Impressive. Gah.

Shes an arena horse mostly... team roping (shes capable of heading and heeling, better at heading through.) barrel racing, speed events, breakaway roping, tiedown roping, AND at home, she was really work a cow :)
---
Can I have that halter please? =D
---
Riding: The art of keeping a horse between you and the ground.
NO! It was a gift from my cousin for giving her riding lessons! I once said I'd never have anything zebra print. But... really... take a 7 year old girl into a tack shop... what's she gonna pick?
---