As a coming three year old I find this horse a bit body heavy and under legged. Legs are too fine and the body is very QH. Neck is set low and I think he is not as downhill as this photo indicates. He is tied in at the knee and light boned below it and may even be a little back at the knee. Hocks are small but placed well (low) as are his knees. His shoulder is steep but the point of shoulder is relatively high (for the breed) so he may be ok there.

Yes.. his pedigree way back is very nice.. I know those horses! However, the first 3 generations are what really count. Have his sire or dam been raced or used for anything? Do they have a Speed Index?

Ultimately, the back breeding may come thru.. but with each generation of horses with no records between those good ancestors and the horse on the ground, the chances of that happening are reduced.
---
There is something about the outside of a horse that is good for the inside of a man.
~Winston Churchill
(or woman!!!!
) Dinosaur Horse Trainer
Im going to bump this back up. I'm getting this colt, was offered a price I couldn't really turn down. Hopefully we go pick him up in the next couple of days and I can take better pictures of him. Honestly he does look kinda awkward right now and he's not the prettiest colt, but for what I want I think he'll work.
Posted via Mobile Device
I don't think that there is much that we can tell from that picture. He is standing in a funny position. From what little I can see, he looks like a baby that still needs to grow in to himself. I hope he works out well for you.
---
Celeste
Carpe Diem!
Hes home, hes gangly looking and he definitely needs to grow into himself but I think he's got plenty of growing left to do. Now he's getting fed better as well so that'll help. This is just a quick picture I took earlier, not the best lighting at all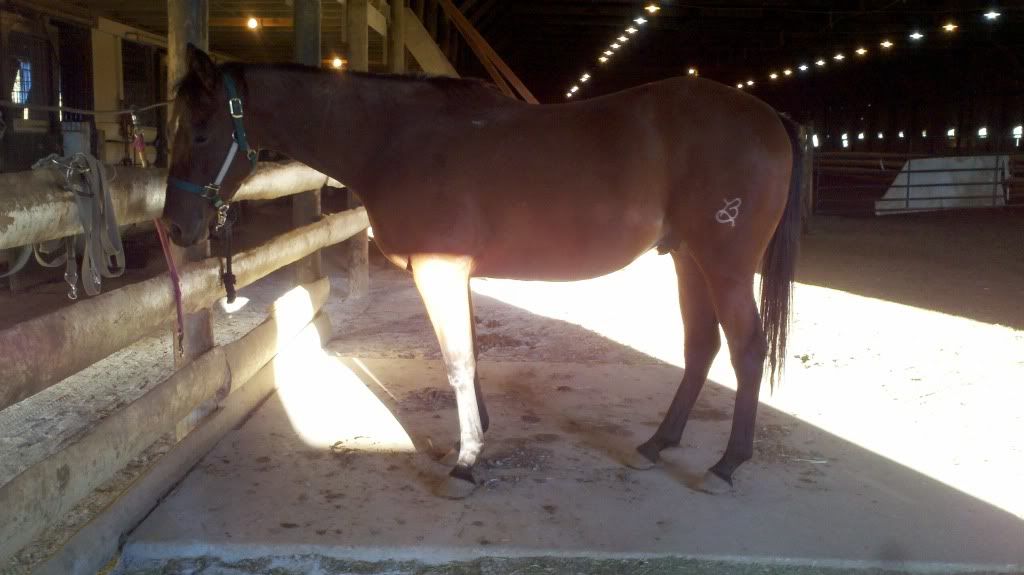 Posted via Mobile Device
ohhhhh! he is gorgeous! for some reason.. I LOVE that B.. lol.. the brand is cool!
---
http://www.horseforum.com/member-journals/sunnys-thread-160521/ << read about Sunny and I. Our journey
Green Broke
Join Date: Aug 2011
Location: Middle of Nowhere, Saskatchewan
Posts: 2,655
• Horses:
5
He looks like he might get some nasty withers. My bay 2 year old mare is gonna have AWFUL withers as well.
---
Yeah he has some big withers for being an unbroke 2 year old. I think part of it is he's not in the best condition right now, he's thin and I figure I need to worm him, his coat is dull too. He's not in terrible condition but not all shiny and healthy looking like the rest of our horses. I string tested him to mature at 16 hands lol, I hope thats right. Right now he's about 14.3.
Posted via Mobile Device
How do you string test? Ive heard about it but dont know how.
---
~Being on the back of a horse is my idea of heaven!~
Take a string and run it from the hairline to the middle of the knee, then measure it. We've done it on mature horses and its always been pretty much right. However many inches equals the hands.

On another note, I changed his name to Kid and have been working with him daily. Today I actually got on and we walked a few circles with no issues :) progress, also his coat isn't looking so dull already getting shinier.
Posted via Mobile Device
Congrats on your new baby! I also have a youngster and she is always changing before my eyes, it so neat to watch them develop.
---
"True friendship is sitting together in silence and feeling like it was the best coversation you've ever had."
Areion - 2010 AQH Palomino Mare