2 yr Mustang Critique
---
Alright, so I know he's still a youngster and has more filling out and growing to do... but my curiosity has gotten the better of me and I would like to know what strengths and weaknesses people see in my Kiger mustang's overall conformation. As mentioned in the title, he's two years old (and actually on the young side of that). I've just got the one confo picture right now, but I think it's serviceable...
Here's a couple of him in motion too: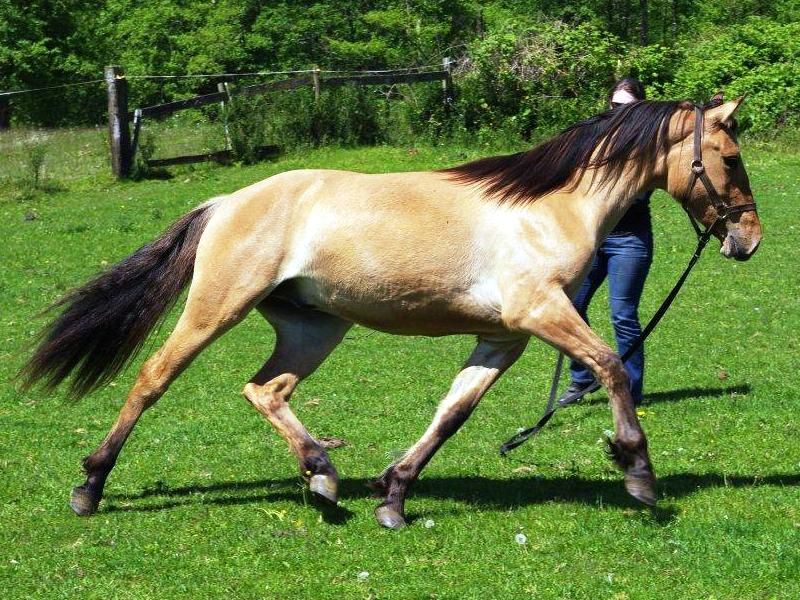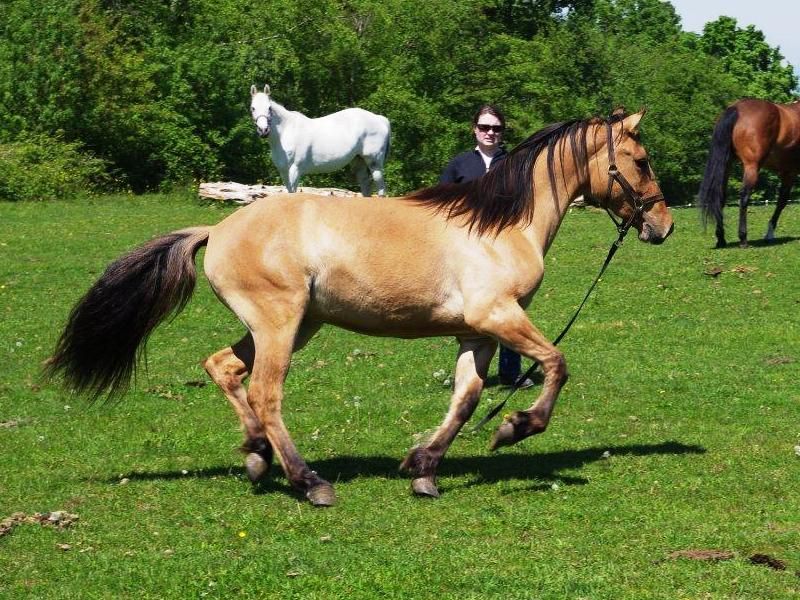 He needs to grow up some for sure. He seems a little straight in the hind leg and his hind feet seem clubbed, so you will need to keep them carefully trimmed. He has good bone. He is build a bit downhill and his coupling could be a bit stronger. His neck is set on correctly over a nice shoulder that lays back correctly. He is a bit closed in the angle at point of shoulder.

While there is nothing overtly wrong with his conformation and he seems a very solid horse, he is also not a horse that you want to say "WOW!" at his conformation either (at this age).. and the clubby appearing hind feet concern me.

I think if he fills out correctly with maturity he could be quite nice.. but he needs to do that.
---
There is something about the outside of a horse that is good for the inside of a man.
~Winston Churchill
(or woman!!!!
) Dinosaur Horse Trainer
Yes, I should have mentioned that at the point in his training at the time of the photo, he was just beginning to allow his feet to be trimmed and looked after. He'd only been trimmed twice, and fairly conservatively to keep him calm. We adopted him as an ungentled horse, so before that they'd never been trimmed by anything other than Mother Nature. We're getting closer to establishing the correct angles on his feet now that he's solid about having them handled.
He's a bit straighter through his hocks than ideal and, like Elana said, he's a bit upright in his hind feet. I've always known that to be called "mule-footed". It's not really a club, just a slightly upright foot. My 'stang has them on the hind end too and it's never caused him a single problem.

Other than that, I really like him. His head seems a bit big and clunky now, but I bet he'll grow into that.
I honestly think that we have grown so used to seeing shod horses, who after years of being shod, the hoof has changed the angle to be must less upright, that we have come to think of that as the "norm", and when we see this kind of upright hoof , it looks clubbed. Not sure that it actually IS, tho.
my god, he is STUNNING :O may i have him please??

he looks to be of decent conformation to me, although he is only 2 so everything can change. but seriously. I find him absolutely gorgeous...
Thanks for the input. I'll likely continue taking a few of these confo type pictures periodically as he grows and develops. It will be interesting to look back and compare them.
I have a friend who breeds spanish mustangs - yours looks alot like hers at the same age - the upright hooves, the nice sloping hip - that is the mustang genetics showing through all the way. Those taller heels on his feet are what will keep him sound on the rocks without shoes (I have a horse like that) so i'd consider that a positive thing when looking specifically for a mustang - yes his feet will look better with more trimming but that's nothing. Look at that bone! He has GREAT bone density from what I can see.... I think he looks BEAUTIFUL and very characteristic of the breed. People will be envious everywhere you go, that's for sure!