2008 SE Arab Gelding
---
I know some of his more obvious faults, but now that he's 4, and pretty well "grown" at this point, I'd like some other opinions from those who have a much more keen eye for conformation. My joke for him is that he's the halter-bred Arab who broke the mold when he was born, lol. He's almost completely opposite from both of his parents - who were both VERY correct in build and did well in halter classes. He's my faulty boy, but it doesn't make me love him any less.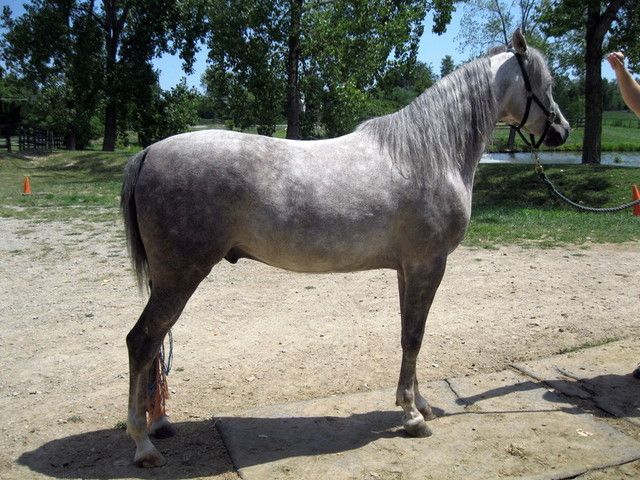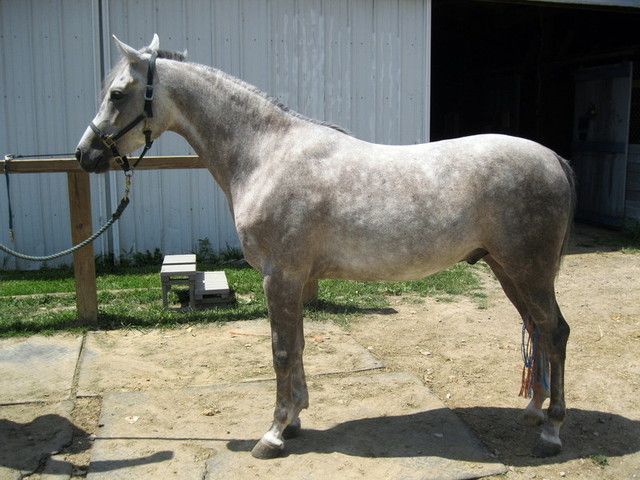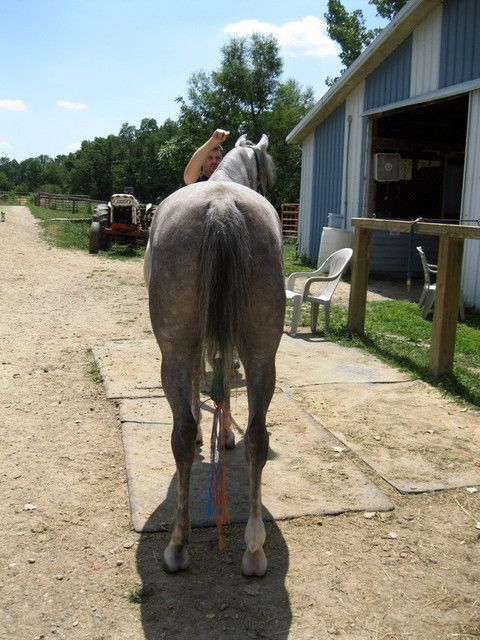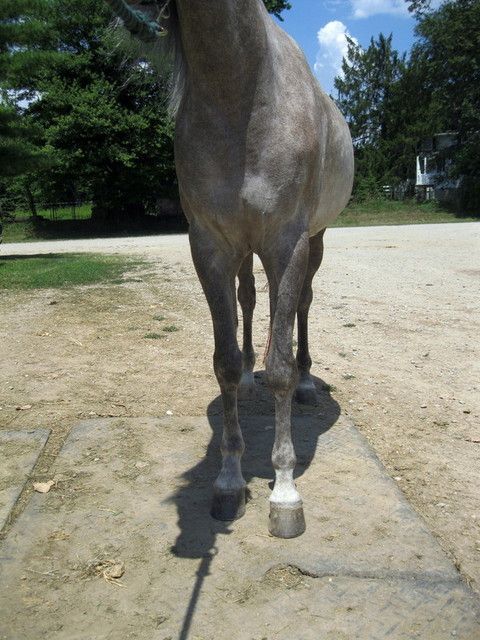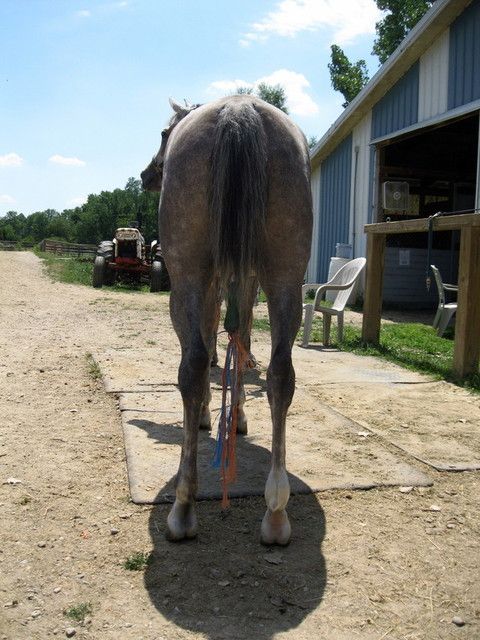 ---
The wind of heaven is that which blows between a horse's ears. ~Arabian Proverb
Man, I hope these pictures aren't as enormous for anyone else as they are for me in this post. I shrunk them all down in photobucket and they look normal there. If they're huge, let me know and I'll find somewhere else to upload and post them.
---
The wind of heaven is that which blows between a horse's ears. ~Arabian Proverb
Youll need to repost them. Theyre huge
Personally, build-wise, I REALLY like him. He's not a feather-weight like many halter-bred Arabs you see out there. He looks like he could actually do some work, stay sound, and be really pretty while doing all that.

He does appear to be camped out behind in back, but that could also be an effect of standing half on-half off that mat.
The only other thing that I really dislike about him (but is typical for Arabs) is that he is SO narrow in front. However, that's super typical so he can't really help how his breeding tells him to be.
He also looks mildly "fluffy" but again, it's generally pretty darn hard to keep the weight off our lovely Arabian folk.

He's super cute. He can come live with me and Lacey at any time. :)

ETA- picture size is fine for me!
if they're too big for you, you can hold down the control button on your keyboard, then scroll down to "shrink" the page until the pictures fit. Then hold control and scroll up to return the page to the orginal size. :)
---
Fabio - 13 year old Arabian/Lipizzan gelding

~
Rest peacefully, Lacey.

---
Last edited by Wallaby; 08-11-2012 at

12:37 AM

.
The images are fine size for me.
Oh and he's awful. Total trainwreck. I'll take him off your hands so you won't be shamed to be seen with him.
---
Pssh.I didn't pick up the wrong lead
It's called a counter canter...
...A very advanced maneuver.
He's certainly very narrow! I'm having a heck of a time trying to find saddles and girths to fit him (western anyway). I'm looking for a 26" girth to try next because the 28" is still too big for him. He's always looked fluffy, but he's been like that since he was a little baby. He's just very well endowed in the rib area. I even asked a vet about that at one point because I thought he was just fat, lol.

I will have to say that I do like my trainwreck, lol. He has such a silly personality! We woke him up from his afternoon nap to take those pictures and make a shape of his withers for saddle-fitting purposes, so he was pretty out of it, lol.
---
The wind of heaven is that which blows between a horse's ears. ~Arabian Proverb
I absolutely love him.
Posted via Mobile Device
This is an Arab I like.. and I am NOT a fan of the breed. He has a nice strong top line without being overly flat in the croup. His coupling is both strong (placement) and smooth (no peak to his croup). His withers are a bit muttony and his neck (like many of the breed) is placed high. He has a slightly steep shoulder but a nice high point of shoulder so his humerus lies at the correct angle. I suspect he can pick his knees up over a fence but I will bet he may hang his lower legs.

His hind legs are not so good.. the hocks are set back and his cannons seem a bit long. Fact is, (and this is a complaint I sometimes have with the breed) his legs are a bit long for his body, which may make his shorten his stride so as not to interfere. His hooves look like they have been trimmed a bit long.. perhaps to create "action" (most noticeable in the image looking at his front legs).

If he has the disposition for it, he will make a very nice useful horse. He may travel a bit high headed and you will probably have your work cut out for you to get him to stretch his topline, but he is a pretty nice horse and worth that effort.

PS: You might try a pony saddle on him.. and they used to make tack just for Arabs.
---
There is something about the outside of a horse that is good for the inside of a man.
~Winston Churchill
(or woman!!!!
) Dinosaur Horse Trainer
Agree with Elana. I bet he has a short back, too.
Yep, withers could be a bit more pronounced.
I have something very similar right outside,even shorter -backed, slightly longer neck and a bit wider in the chest. I had serious doubts with my saddle...16" Big Horn flex tree square skirt. It couldn't be a 1/4" longer, I swear....but it fits him. You might give the flex trees by Big Horn a try. I found they'll fit a good variety of horses.
Posted via Mobile Device
You're right about the short back and mutton withers. He has almost no pronounced wither and saddles tend to slip much more easily for that reason (so I've been told). His back is fairly short, but his breeder breeds for that, among other things. The breeder is an SE halter-type breeder.

Thank you for your insight, everyone! It's very helpful to me to know what his strengths and weaknesses are, especially since he still has a small amount of growing and filling out to do. Gotta love those Arabians who never truly stop changing until they're at least 6, lol.
---
The wind of heaven is that which blows between a horse's ears. ~Arabian Proverb