2yo AQHA Appendix Filly
---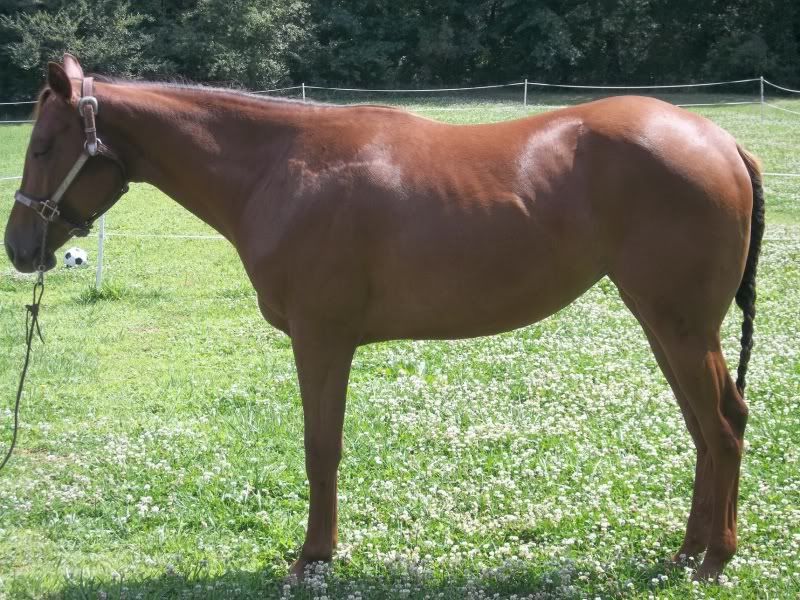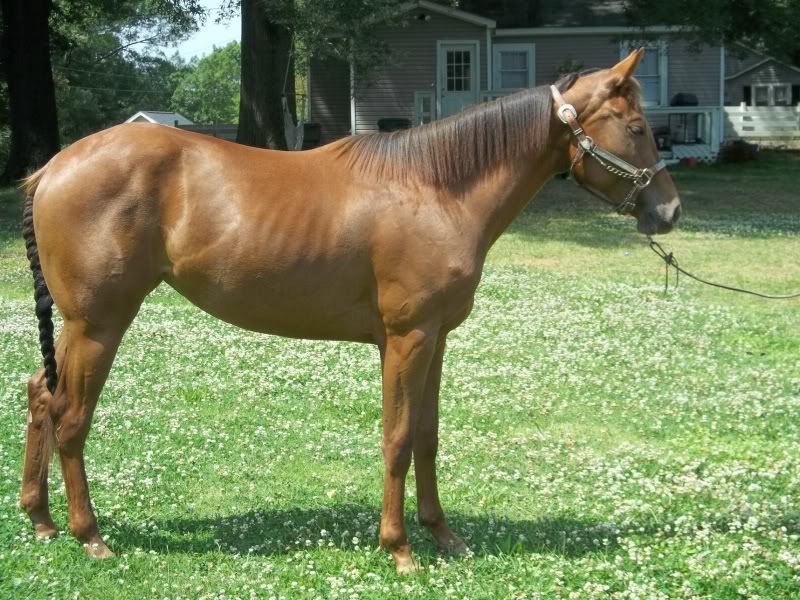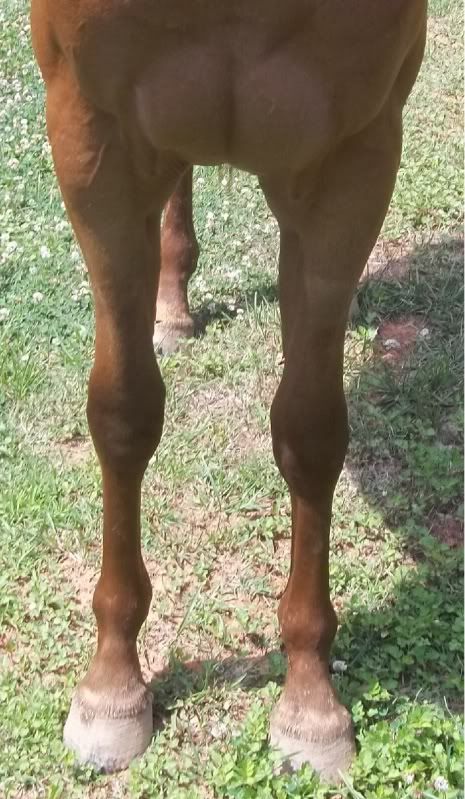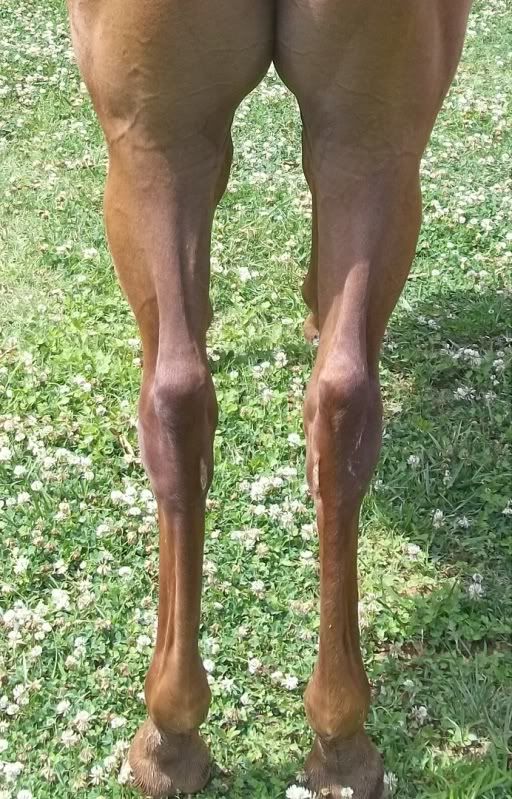 These pics were taken this morning. I want to do dressage and some jumping with her when she grows up. Be Brutal.
Also, sorry she is not standing prefect in the profile shots, I was trying to handle the fussy filly, keep the pup from going to visit the neighbors, and coach my photographer all at the same time.
If I need to get better profile shots, let me know and I will give it a whirl.
She is OK.. not stellar. I love her nice low hocks but she is a bit camped under behind partly due to a too long gaskin and a high stifle. She is rump high and probably always will be, which will make her difficult to get her balanced and working off her hind quarters (essential for higher levels of dressage). She is a bit light in bone in front and she toes out slightly in front. She has nice large, roomy hocks (so the being camped under probably will not result in her developing curbs). From behind I like her hind legs a LOT. The are about perfect.. slightly toed out which is "straight" in horse conformation. The hind leg is actually a spiral and toed out slightly is necessary for the hind leg to work properly and drive the horse forward.

Her back is a bit long and her coupling could be smoother.. wish her point of rump was further forward.. it would realy help her a lot.

Her shoulder lays back well, but the angle at point of shoulder is a bit closed and the bone between the point of shoulder and the point of elbow is shallow which means she will likely have difficulty getting her knees up over a jump. A higher point of shoulder would be better for jumping.

She has a nice set to her neck and a nicely shaped head. She is balanced over all which will make her easier to train. A bit more groceries would help her. Not a lot.. maybe 30-50 pounds underweight. She is nicely turned out and looks to be well cared for.
---
There is something about the outside of a horse that is good for the inside of a man.
~Winston Churchill
(or woman!!!!
) Dinosaur Horse Trainer
---
Last edited by Elana; 06-15-2012 at

11:11 AM

.
Thank you so much. I agree totally that I wish I could slide the point of her hip forward to shorten her back a bit and give her a smoother tie in. I had always had something about her hind legs that bugged me, but could never pin point what it was until you explained the gaskin and stifle.

I have never looked at a horse as a jumping prospect before so I had no idea about the shoulder. The insight is very helpful.

I have been looking at her every day since she was six months old and I know I am blinded both by loving her and by seeing her every day. I put this up so that I can get a more realistic view of her quality.

As for the groceries, I agree that I would like to see her a little more filled out, but she is in yet another growth spurt and I have yet to be able to keep the weight on one the way I like when they are doing that.
She's only two there should be a decent chance of her leveling out a bit more. Maybe not to actual level, but more so than she currently is.
I agree with Elana. Nothing conformation-wise I feel I can really point out that hasn't already been... But anyway, I'll just throw some stuff out there.

her front pasterns look a bit off to me... I'm thinking they're a bit long. I like the depth of her hip/ back end and I like how straight her front legs are, and her back legs look perfect from the back angle. She has a nice shoulder and a deep girth, nice short canons with a shorter neck and a lovely head. She looks pretty balanced to me, although bum-high, but I think she'll get better as she ages. She may mature to still be a bit bum-high, but less so than now.

I'm no expert here, but I think she'd make a nice western pleasure horse, if you'd be interesting in adding that to the list of her activities. :)
:) While I am not a fan of it, she may end up in the WP ring just for a bit to see how she does. I intend for us to try out a bit of everything. I want to have fun and I want to have the best chance of her getting points. My first goal after getting her into the show ring safely, is to get rid of those yellow papers.
Who knows- she may end up hating western pleasure and having a passion for jumping, and you may get what you want, lol. Good plan, it never hurts to at least try all the different disciplines, just to see what the horse's element is and what you enjoy too.
I do know that she loves to jump already. In the pasture, when running around playing, she will deliberately change the path she takes to go over a log instead of around it. I even had her turned loose in the arena one day and I had a small jump that had been set up for the dog (lol) she got to kicking her heals up and went over that thing 3 or 4 times with no pressure.