It may well go back further, it is present in most breeds... But not all ASBs have it and some lines seem to have almost no individuals with it... I think the statement regarding the 42 yr old and being of older lines had to do with his overall looks.
Posted via Mobile Device
Can someone post a good picture of an ASB? Not one that is only doing Saddle seat. I am very curious!
Here are some examples... Some of these horses were Saddleseat horses before going onto other disciplines, others were never trained for Saddleseat
The Palomino in this thread is purebred ASB who has never done Saddleseat
Here is another of him, he was about 4 here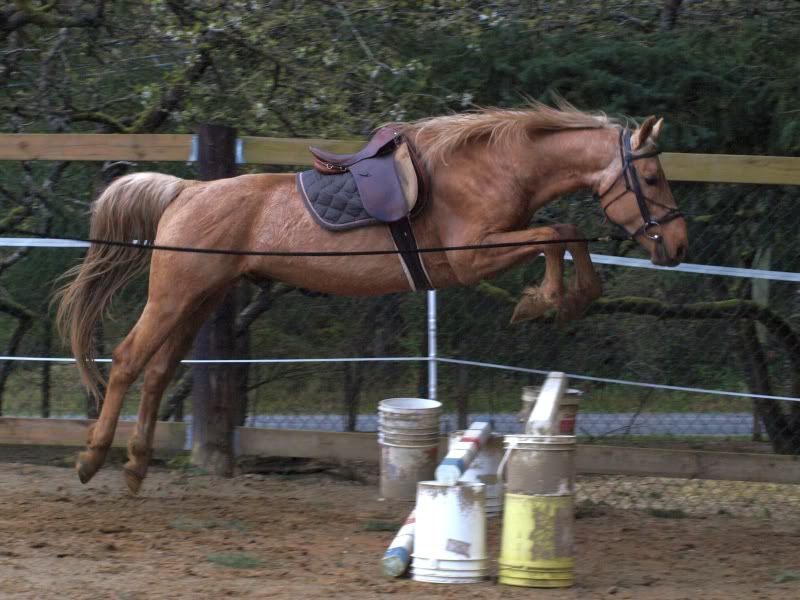 This is a 3yr old colt I currently own, also purebred ASB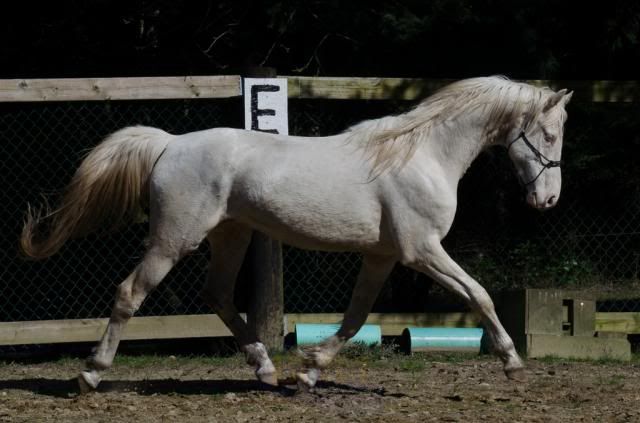 The stallion Borealis, purebred ASB
ASB "Forty Something" ... I think he is PSG or GP dressage
Saddlebred jumping
Barrel racing, just to show some agility
If I could figure out how to link a photo from fb there are more I could share
Quote:
Originally Posted by
blue eyed pony
View Post
TLU, I'm in Australia :/ the breed isn't very common here, it IS present but not common. I know of one breeder, there are others of course because the odd ASB does come up for sale from someone other than that breeder that doesn't have bloodlines that come from that breeder but I don't know of them.

That breeder's stud Fame's Nitro [imported from the US] is really something else. 17hh and pure gorgeous. Consistently sires a really stunning type, to all sorts of different mares of all sorts of different types, so his breeding is really quite prepotent. IIRC he's homozygous tobiano, and I've never seen a red-based foal from him. Unfortunately my filly doesn't compliment him AT ALL, so he's not on the list of potential future husbands for her IF she ever gets bred, which is a real shame because as I said I do love the breed.
Yeah, your location could make getting an affordable, quality ASB harder - for sure.
I know of an Austrailian breeder, through a Fb group, not sure if they'd be the same one or not though. The one I know has some bays & chestnuts, solid colored... So they might be different, or may have two studs (or also utilize AI). Very nice horses, and I'd guess they probably don't sell cheaply - very WB type on theirs, nice examples of a Sporthorse type.
I was under the impression Saddleseat is not seen in Australia, is that true?
Posted via Mobile Device
I've never seen saddleseat. Only videos, and none of them were shot in Aus.

The one I'm thinking of had a palomino stallion too, but the pally has sadly passed away. Some bay and chestnut mares, her only non-solid is her stud [and his foals]. The name of her farm is Black Orchid Stud.

I've seen an ASB gelding as cheap as $3k and he was quite lovely but too small for me, I like tall horses and that one was only 14.2. Saddlebreds here get used as pleasure horses, dressage horses, and eventers, and are shown in-hand in "any other registered breed" classes... not enough of them to make their own specific class. They're rare here which ups the price but not the flavour of the month so not as pricey as a warmblood of the same quality.
---
REGAL PRINCESS
Very cool! It's interesting (to me) that they have been imported to other countries as pleasure/sport horses, but are less accepted in the country which created them as such.
I just want to say to the OP that I really REally REALLY like the colt at the top of this thread...
I love your colt! ANd I can't beleve those ASBs! Particularly the bays! My jaw dropped at Borealis! Thank you for sharing!
He looks bad bad bad..."You need to give him to me!"
snicker-snicker :))
Serious though I love him and want a drafty!!!
---
214-211