Another OTTB Critique..
---
4 year old OTTB, 16.1 bay gelding.
This guy is located in California, so I wouldnt have to pay crazy transport fee's unlike the previous guy. Plus he's free jumped to 4'3 and has tons of talent and is completely in my price range.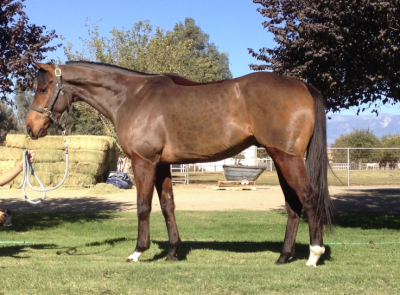 Cute!! Friendly and well cared for. Pictures taken nicely. Unfortunately pictures taken from very slight angles to make it difficult to critique accurately.

I would be slightly concerned about him jumping that high, especially if he has also raced. He is still a baby! Once or twice or is this a regular thing?
Also.. is he actually 16.1 or is the (lovely!) lady riding him an Amazon?

He may be a bit over at the knee and I don't like how he is standing (spread out). A good trim might fix both of those. Pasterns a little long, but normal for a TB. I like that he's not standing on toothpicks.

If he passes a good vet check I would definitely consider him. I really like him. He is cute and a looker and just has a very friendly expression. What are your plans?

Is he in regular work (as the clip suggests?) I would love to see some videos, he looks like a nice mover.
I am no good at confo critiques, but wanted to say he is gorgeous under saddle. And has an adorable face 8> Are you going to go try him out?
---
The sensitivity of the internet baffles me.
I just found out that he was never raced! So that helps with the concerns the usually revolve around that. He was only free jumped a couple times. I guess he is coursing around 2'0 right now. But not on a daily basis.
He is actually 16.2, the lady is evidently really tall...
She told me he passed a vet check and has clean x rays!
He doesnt get worked as regularly as he was a couple months ago, thus the cheap price.
In the long scheme of things I'm looking to do the 1.20's-1.30's.
But that wouldnt be for awhile. If I get him then I'll just do flat classes this year, maybe the baby cross bar classes. He has nice enough movement to be a hunter as well.
Just because someone says the horse passed a vet check doesn't mean you don't need to do your own.
Posted via Mobile Device
I really like him.... except his front legs. It could be that the handler set him up to stand funny, but to have two different pictures with him standing funny with weight transferred back off the near fore to me screams more than coincidence. I would want the x-rays (complete with date they were taken) sent to my vet for independent evaluation. He's steep through the croup.
My advice to you is to get an independent vet check and make sure x-rays are recent. I personally really dislike his front legs and worry about long term soundness, especially over the meters.
Do you have video of him?
---
The lovely images above provided by CVLC Photography cvlphotography.com
I know, i'm still going to do my own..
I am going to ask for all the info and paperwork she has and shoot it over to my vet.
I wouldn't kick him out of my yard. I like.
That he never raced is good, though I am still a little wary of the jumping, though hopefully it is sparingly.

He really doesn't look 16.2 but some people (even shorter people) just make a horse look small. Shrug. You'll find out when you see him.

I agree, do your own vet check. First she needs proof that he passed and for you to talk to the vet about anything/everything, even so I would suggest doing your own.

You didn't mention an actual price but a horse being slightly out of shape isn't a reason to drop it drastically.

Check out those front legs/feet thoroughly. Then go for it.
I know nothing of conformation....he is very nice looking. Don't know if it is a weird angle of the photo taker but he doesn't stand with his front legs under him in those first two photos. Maybe he is standing funny. Maybe a video would help. ;) that lady does look huge on him lol. I like him but wonder about soundness. Let us know what you find out. :)
Posted via Mobile Device
---
Beauty is in the eye of the beholder