AQHA confo critique
---
Hey guys! Now that AJ is back to optimum weight and is starting work under saddle again, I figured I'd see what you guys can see in him now that he's not a skeleton. He's a 15.1 AQHA gelding, will be 20 later this month.
His topline is weak, saddle fitter said some of its a mild sway, most of its just lack of muscling. Side reins are in the mail, and we've been doing lots of hill work in the mean time.
And yes, I know he's got a goofy upside down neck
we don't call him The Giraffe for nothing.
I can take more pics if needed, this was as square as I could get him without a helper and it being dinner time.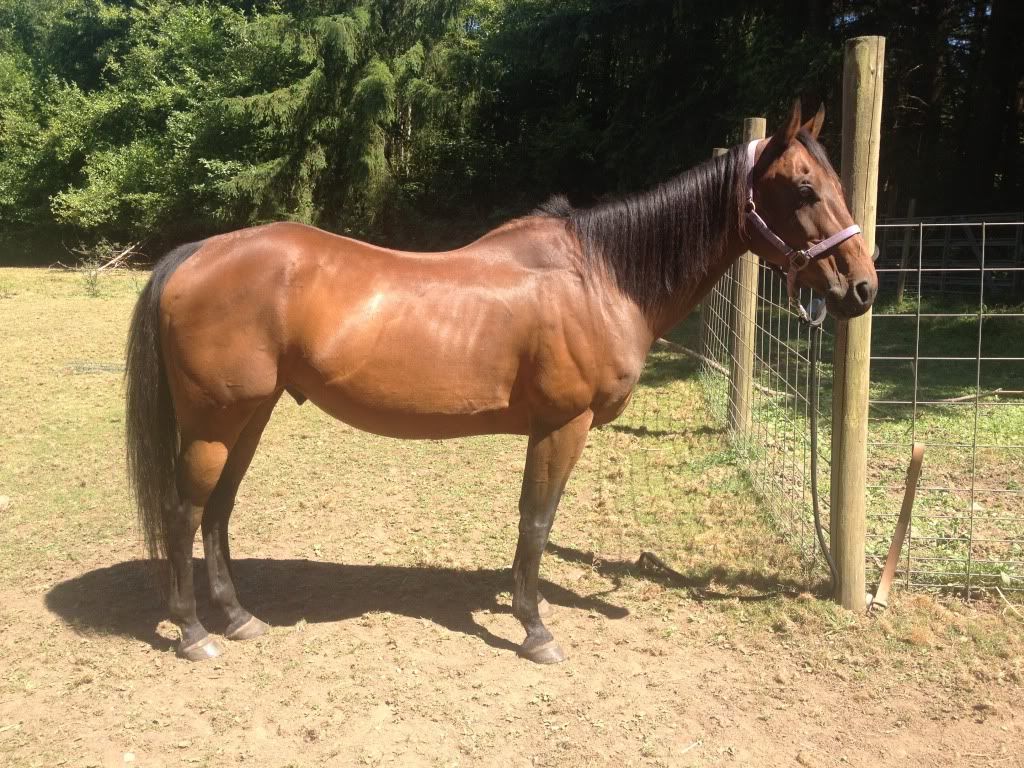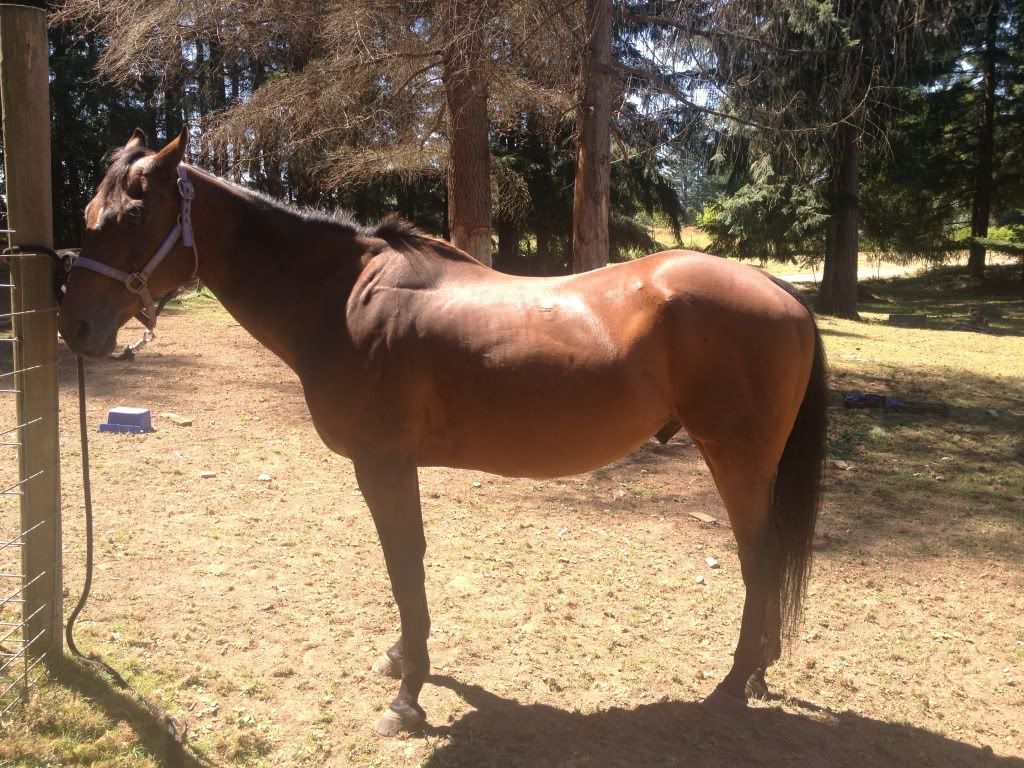 ---
"Here's to the girls who who smile like beauty queens in tight hats and crystal covered outfits on four hours of sleep."
Oh and his hooves are a work in progress right now. His feet looked like squares when I first got him, and his old farrier had been cold shoeing him with shoes with clips on them so his walls were chunking off. Current farrier says that he wanted to have good feet, just no one would let him.
Posted via Mobile Device
Could still use a little weight but he looks to have a lot of useful left in him. His hind leg angles are correct and his hocks are nice and low to the ground. His front legs are also correct.. might be a little back at the knee. He looks a little age related sway in the back... but more weight and some work.. trotting up hills on a loose rein with you standing in the stirrups will help a lot of that and may help it markedly. He is a little long in the back, his shoulder is a tad steep and his neck looks to tie in low.. but again.. weight and work will help all that.

Yes to the feet. Hinds have low heels.

Nice horse. Use him!
---
There is something about the outside of a horse that is good for the inside of a man.
~Winston Churchill
(or woman!!!!
) Dinosaur Horse Trainer
His overall confo isn't bad, he just needs more weight. Poor guy, musta been bad when you first got him. He needs top line, his withers still looks like a sharp scalpel blade and more on his butt. Of course, his neck will probably be the last place to fill out and he'll look kind of like a bobblehead horse doll till he does.
---
He was super underweight when I got him. He looks thinner in these pictures that he does in real life, in the first pic his butt looks sunken but it's more like the second pic in real life. His withers have only filled in a bit since I've had him. I haven't been able to ride him for 6 months, just started a few weeks ago. He looks much more balanced in real life though, I just have to add.
I'll see if I can dig up some pictures of him from when i first got him.
Posted via Mobile Device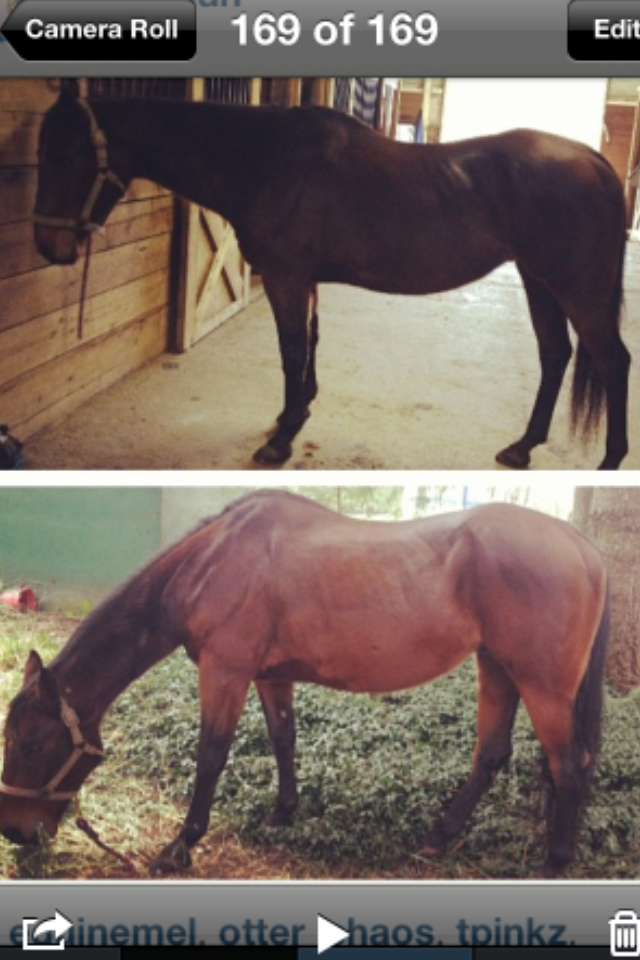 First pic was him when I first got him, second pic was a few months later. He's a pretty hard keeper for a QH, but he was being starved at the barn he was boarded at.
I too him back a few days ago and the people there didn't even recognize him because he looks so different.
---
"Here's to the girls who who smile like beauty queens in tight hats and crystal covered outfits on four hours of sleep."