Arthur's conformation
---
Arthur is a Hanoverian/TB cross... He's older, around 16-18 years old.
What do you guys think?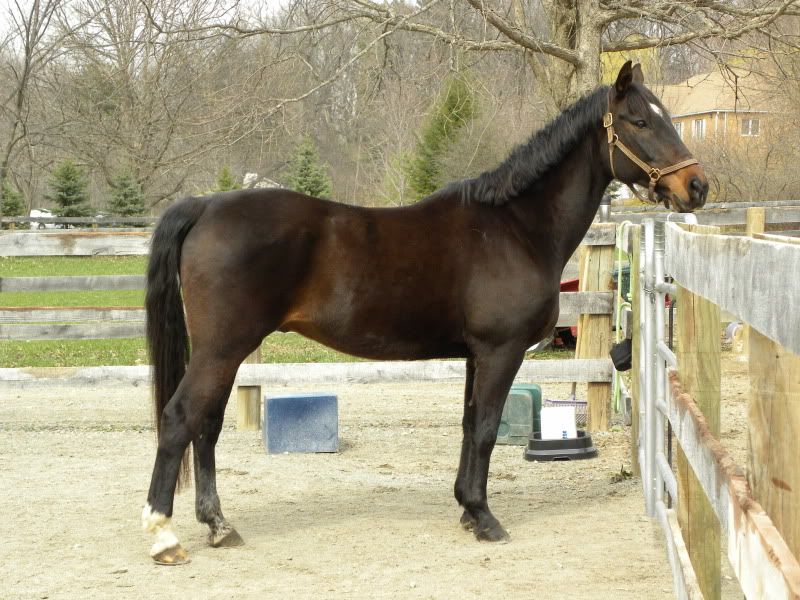 IMO, he needs more muscling in his rump and along his topline. I'm also not a fan of how his neck ties into his shoulders and then his shoulders to his back. He has a good bottomline though and I really like how thick his cannon bones are (I hate a skinny cannon bone lol). He has a very cute face to him and delicate ears.
---
Four things greater than all things are:
Women and horses
And power and war. - Rudyard Kipling
He's cute. Definitely needs more muscling. Almost seems like he has a bit of an ewe neck that might just be coming from lack of muscle. His chest looks a bit funny too. What do they call that...a nest? Can't remember. Nice legs and cute face.
I think that if he had some good, correct work put into him to build up his hind quarters and topline, he would look a heck of a lot better. His basic structure is quite good and strong. Back is a touch long and loins a little weak with a thick gullet. The neck doesn't actually tie into the shoulder too badly, he is just severely undermuscled with very little topline.

Being the age he is, it will be difficult to completely turn his muscling around, but it can certainly improve.