Barrel Racers I need some advice and pics of your racers!
---
I am slightly new to barrel racing. I did alot of reining work with my barrel racing mare at the college and being racing bred she took to barrels fabulously. However my little sister has shown interest in gaming and running barrels and the most suitable mount for her is my mare as she is not as experienced. So I was thinking of starting my boy in games and barrels. Nothing big but small local shows. I was told that he is too wide and bulky to run barrels thy he won't turn great? I would love your opinions? Maybe if you are willing to post some of your barrel racing beauties?
Here are some pics
Posted via Mobile Device
---
Last edited by MrBeCharming; 08-05-2012 at

12:06 PM

.
His back is a tad long but nothing terrible.. Other than that I actually really like him. Nice butt, shoulders, nice balanced legs.. I LOVE that little head of his. I think if he enjoys barrels and you take the training very slow then he could do very well at local shows.
I actually like thicker horses so I'm a little partial to them. How tall is he? Age?
My gelding is a QH, and my mares are appendix registered. Nikki is built more like a TB with some narrow features where as Lark (Black mare) is built really wide, and then Hickory is a little brick house, very short and thick.
Nikki
Lark
Hickory
You can see how Nikki (Left) is built narrower then my other two.
Here you can see just how wide Lark is.
These aren't the best pictures but they're the best I have with me right now.
---
I am Sparkly Meanie Doodie Head and I approve this message!
---
Last edited by DrumRunner; 08-05-2012 at

01:10 PM

.
Thank you! He is eight we have just done western pleasure English and halter so far but I took him to the coast and let him run and he kept up with my mare so I think he can have speed.
Posted via Mobile Device
Your kids are cute. Btw. Thanks for posting pics :)
Posted via Mobile Device
I think he might do okay. But training a barrel horse isn't a 30 day type of thing. It's takes 12-24 months to produce a barrel horse because no steps should be missed in their training. It's way easier to ruin a barrel horse then train one. And then it takes even longer to fix the problems when you could have just training them correctly in the first place. So please take your time.

Your boy is...thick. There's no denying it. He will probably do okay though at a local level. And he'll certainly be fun to ride. As long as you have fun with him, that's all that matters anyways.

Here are my racers.
1st is Rumor. Appendix QH...Completely race bred.
2nd is Chilly. APHA with QH lines. Pleasure/All-Around bred.
3rd is Avalanche. Grade QH/Morgan. Built like the old school Quarter's. 14 hands and majorly stocky.
4th is Nutmegg. My mom's Spanish Mustang/Curly cross. He places consistently top 5 in local speed events.
---
"The greatest pleasure of a dog is that you may make a fool of yourself with
him and not only will he not scold you, but he will make a fool of himself too."
-Samuel Butler
I thought that horse was a stallion...? Im not sure if they allow them in all local shows
---
Last edited by Casey02; 08-06-2012 at

01:17 PM

.
Green Broke
Join Date: Aug 2011
Location: Middle of Nowhere, Saskatchewan
Posts: 2,642
• Horses:
5
I loooove your horse, he's a pretty good looking boy. My 3 are complete opposites of each other :P
Peanut: Actually a seasoned team roping horse, but can run a decent pattern too.
Squiggy: My up-and-coming barrel horse, she's got a good start on barrels.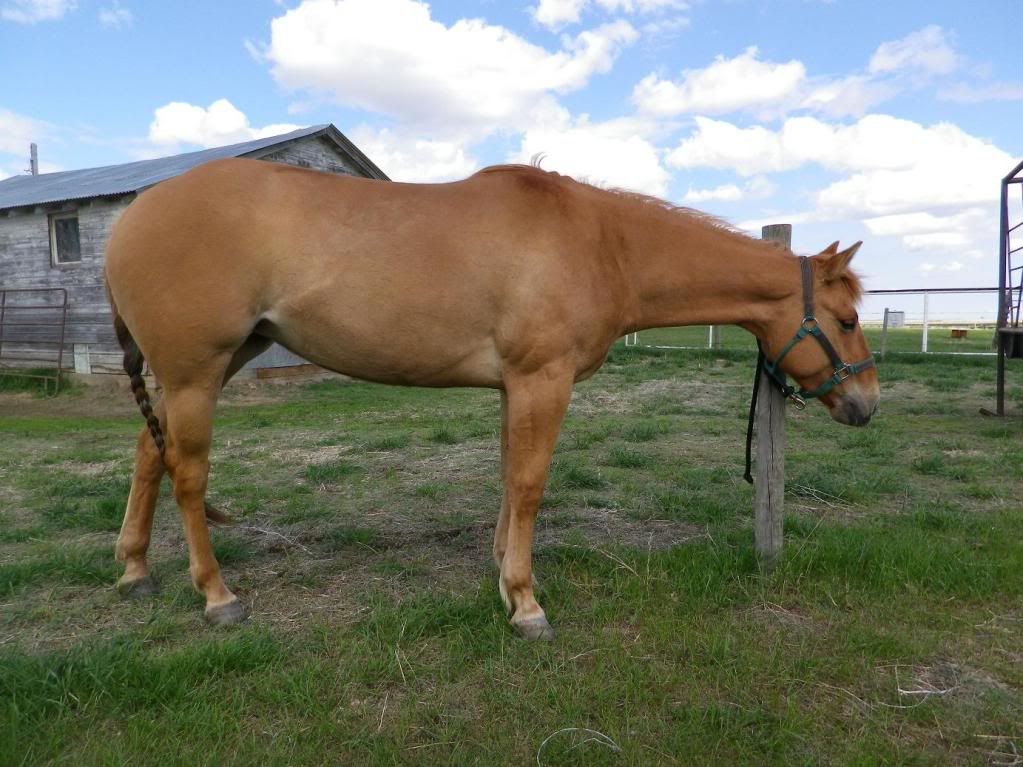 And Foxy: Givemalicken/Blue Boy Quincy bred 2 year old
---
I saw a horse this past Saturday running a nbha show who was way bulkier than your horse! I think your horse has a good shot at barrels as long as she has proper training, she might have a harder time actually turning but practice can help it. I would post pics of my barrel horse, but stupid phone won't let me :)
Posted via Mobile Device
My concern is not the width of the horse at all. I have seen a ton of stocky horses do extremely well. Bailey, the mare I had before, was a freakin' tank.
Selena is decently wide, but not huge. She's small, but she's definitely a stock type...
My only concern would be the halter body type. He definitely is a lot better than most I have seen, as far as I can see he is a lovely horse with a nice type. He should do fine at local shows with the right training.
---
Pssh.I didn't pick up the wrong lead
It's called a counter canter...
...A very advanced maneuver.
My mare is built a lot like him and I have just started her on barrels. The only problem I had was getting her to be bending through her rib cage. Just did a lot of walk and trot work around the barrels and taught her to bend properly, now she is doing great. Haven't made it to any actual jackpots but thinking by next month we should hbe ready to run!

I'll try and get some decent pics of her for you to see!
Posted via Mobile Device