Black Tobiano APHA Filly
---
Matured out at 14.2hh. Tuff Zippin Lux is a registered black tobiano APHA filly. Do you see any potential in her? I want honestly, but not brutal honesty. Tell me what you think she can do not what she can't do. Just give me an idea of what her conformation says about her overall as an American Paint Horse. This is mainly just for fun, I picked her out as a weanling three years ago, even though I'm not trained or qualified in judging horse conformation I saw something in her I liked, so this is just to see if anyone else sees anything. These pictures are from her as a weanling, to be honest she doesn't look much different now except for the fact that she's not gotten any taller but has filled out more and become stockier. But anyway, judge her as best you can by the pictures you see. It's all just for fun.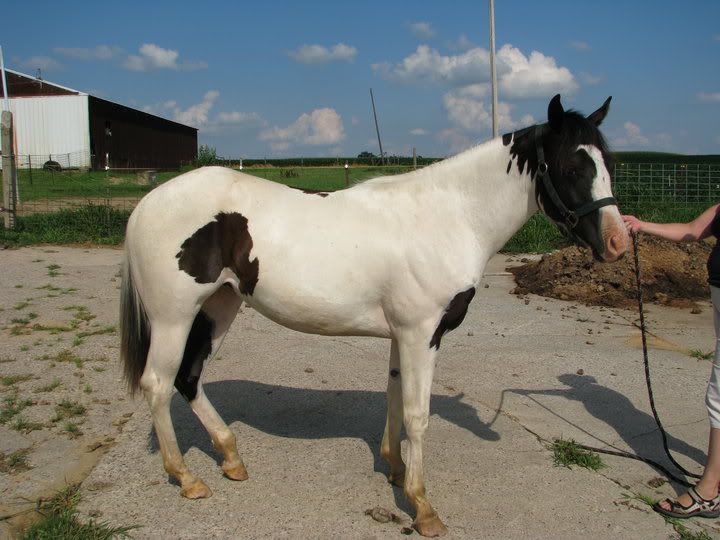 Note: Sorry this picture isn't the best, it's the only real decent one I have of her other side, unfortunately she cocked her hind leg before the picture was snapped and this was also taken on a slight incline (her front end going downhill).
How old is she now?
I would like her, except her legs kind of scare me. They make me go
, to be honest. Her front legs are quite a bit over at the knee and seriously tied in behind the knee, two faults that effect performance and long-term soundness. Her hind legs are sickle hocked, another fault that effects long-term soundness. Her legs are also EXTREMELY light on bone. I'm wondering if she's not seriously halter bred close-up in her pedigree. Her pasterns also look like they're pretty upright, at least in the front.
I'd like to see some current pics of her if she's much older than she was in the pics (you said she was a weanling in the pics?). Of course, the things that I'm seeing, except maybe the upright pasterns, aren't things she could grow out of. They're actually things that would become more pronounced as she gets older.
---
Do not tell me I can't...because I will
show
you that I can.
I totally agree with DraftyAiresMum on her legs. They make me go :o too.

Do you have current pics of her?
---
Four things greater than all things are:
Women and horses
And power and war. - Rudyard Kipling
Shoot...missed editing my post.

I also see that she's pigeon breasted a little bit, her neck ties in low and her croup is very steep.

To be quite frank, I see her doing well as a trail horse. Anything too strenuous, like performance sports (barrels, poles, etc), and she'll break down quickly with those legs. She's definitely not a halter horse. Depending on her gaits, she might be able to do western pleasure, but I doubt she'd place very high (if at all), because from what I understand (and have seen from the local shows I've been to), it isn't just gaits the judges look at, it's conformation as well (at least from what I've seen).
---
Do not tell me I can't...because I will
show
you that I can.
She was a yearling then, she's a three year old now. I've moved to New Zealand since then, so any recent pictures are just fun pictures my parents took. I gave her to my mom for use as a trail horse.
Also she's fat in the recent pictures, easy keeper is an understatement for her.
OMG, She's HUGE! I cannot believe that is the same horse! LoL.

For some reason, her legs look better/stronger in the recent picture...?
---
"The greatest pleasure of a dog is that you may make a fool of yourself with
him and not only will he not scold you, but he will make a fool of himself too."
-Samuel Butler
lol.. she is a chubby girl !!.. she looks okay for trail. she does have some issues with her legs.
i also think her legs look better in the current photos, does not appear over at the knee in the pasture photo and her bone looks ok. what are the issues with her legs? she's pretty cute! get that fattie on a work program though! ;)