Coming 7-year old OTTB mare.
---
I'd love a critique on my mare, just out of curiousity! This picture is from last summer. I'd put up a picture of her now, but she's got no muscle tone whatsoever now. I'm at school and she hasn't been properly worked in about 6 months. So this summer, we'll be working on getting back to the horse in this picture!
Anyway, critique away (: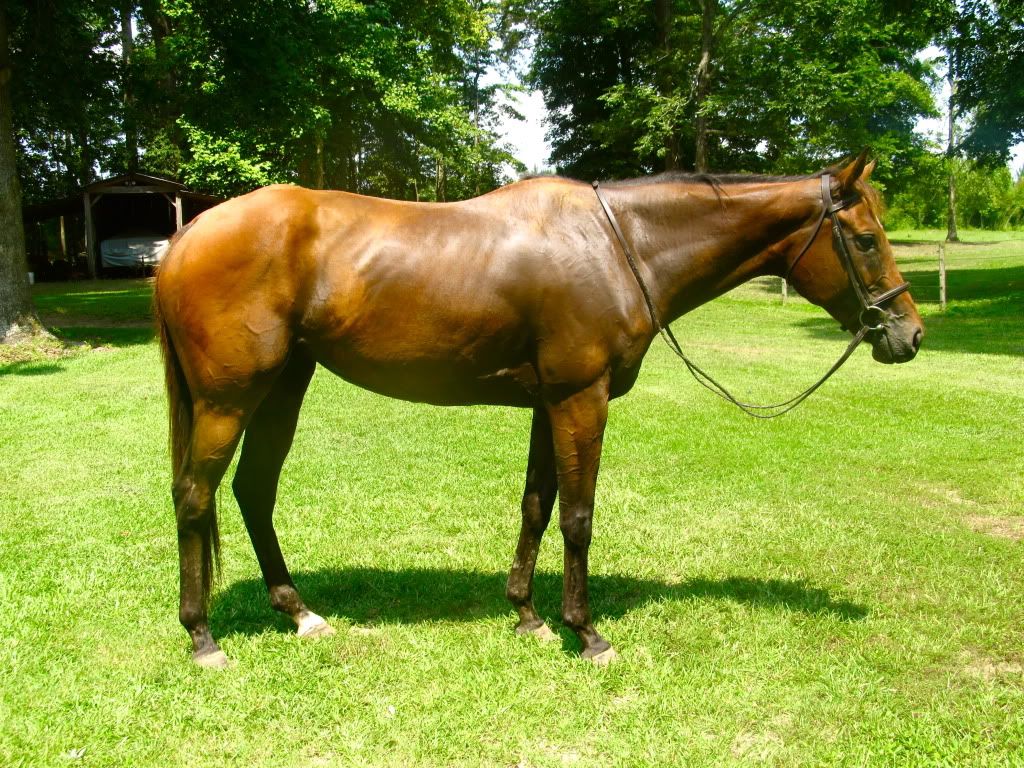 Her LS joint/loin area is lumpy, which is concerning. I'm not experienced enough to tell you what it means exactly... Shoulder angle is steeper than I like as well.

What do you do with her?
Hmm, I wonder if there's anyone else on here that could tell me what that means.

She's a jumper. I've had her for about 2 years, got her right off the track. I've done all of her training on my own. After this summer, she'll be a lesson horse at my barn and hopefully I'll get to show her at a few local shows.
she has a lovely head :) very pretty girl, little bit of a hunters bump but thats a given. my boy ott as well . Lovely length in her neck I think, but needs a lil more muscle- which i see youre going to work on any way :) Would love to see some squared pics , she is still very pretty.
---
His is apart of you, he is your horse.


I noticed the LS area bump, too. NOt sure what it means, though.
She's beautiful!

I'm also not sure what's up with the hip area, but the main thing I would change, is just her overall topline. Actually, more topline, might fill in that odd bumpy stuff.

I've seen several other TB's with the same thing, so I tend to think it's just a muscling thing from running.

I like her overall bone structure though. Very kind face.
---
"You're just as sane as I am."~Luna Lovegood.
I'd say... overall, good looking horse. Clean knees, good hip and nice angle to the pasterns. Pigeon-breasted, but that's to be expected.
I love her color, I'm a sucker for a bright bay.

Maybe a chiro check would be worth it, just to rule out any trouble with her bumpy bum? :P
---
We drink to our youth, to the days come and gone; for the age of oppression is now nearly done.
My OTTB has the same bump there. If you put pressure on it there is no sensitivity / pain. I personally think it is a weight issue. The more he lets down the more noticeable it is. I personally think as soon as he starts filling out and his topline improves it will improve. Your mare is lovely :) I presume this was taken when she first came off the track? OTTBs need work, I hope you get her going properly in the Summer :) good luck!

I agree, get the Chiro out. I plan to do the same thing with mine at the end of the month even though he has no obvious pain
I always get compliments on her head! I think that's what really drew me to her, I love her pretty feminine face (:

I will look into getting a chiro out to see her. Unfortunately, money is tight :/ I'm a college student so I'm always on a budget.. But I will try my hardest to crunch my numbers and find some room to get her a chiro appointment!

This picture is actually after her being off of the track for about a year and a half. I honestly had NO idea what I was doing with her when I got her; I had no idea about how to get proper muscling in the right places or anything. I've learned a lot this year though, so I'm planning on getting her into tip-top shape this summer. That bone on her back is probably because of improper muscling on her topline. She always carried her head in the air and I had no idea how to fix it. But I've learned how to and I've slowly started getting her to drop her head and pick her back up so she'll get more muscle on her back soon.

Thanks for the critiques!