Confo Critique on coming 3 year old
---
Now that my Breezy is older, I would like to hear your thought on her conformation. These pics were taken in late October (before the snow came) and she is now fatter and fluffy. She would be about 2.5 in these pics. How is her conformation?
What do you like about her, and what do you not like?
The side picture, she is on a little bit of a slant, with her butt end higher then her front, but she has evened out more since last year.
The front pic is taken at a weird angle also.
If you need better, more recent pictures, I can get them when it warms up a bit.
http://i1089.photobucket.com/albums/...y/DSCF2969.jpg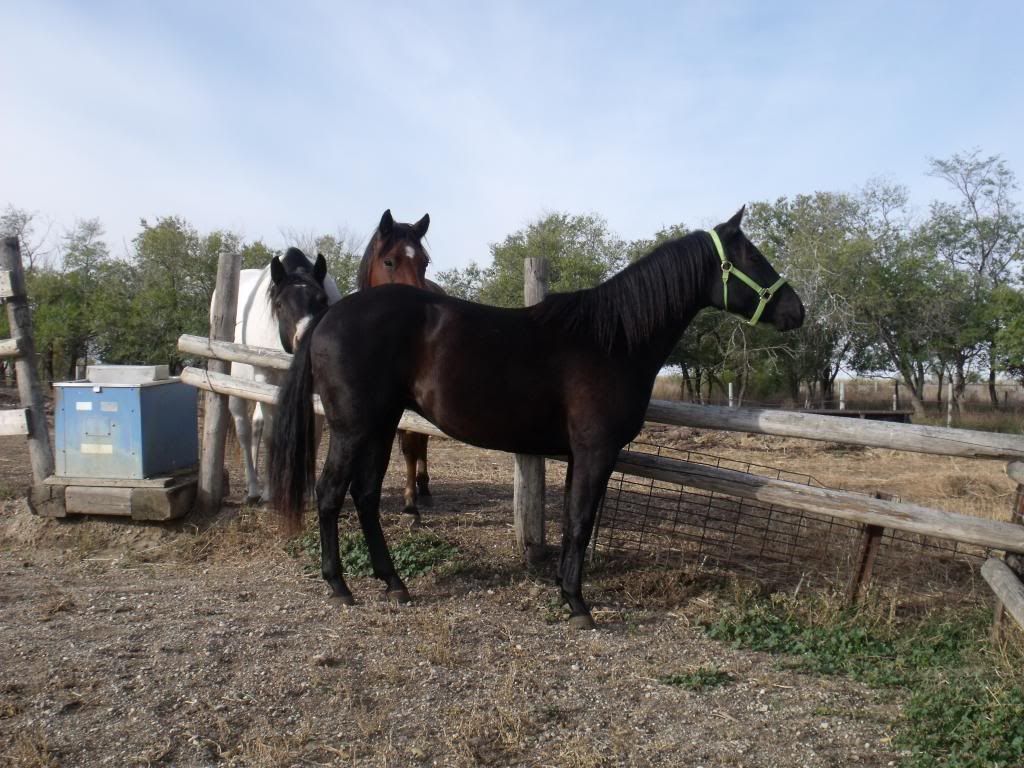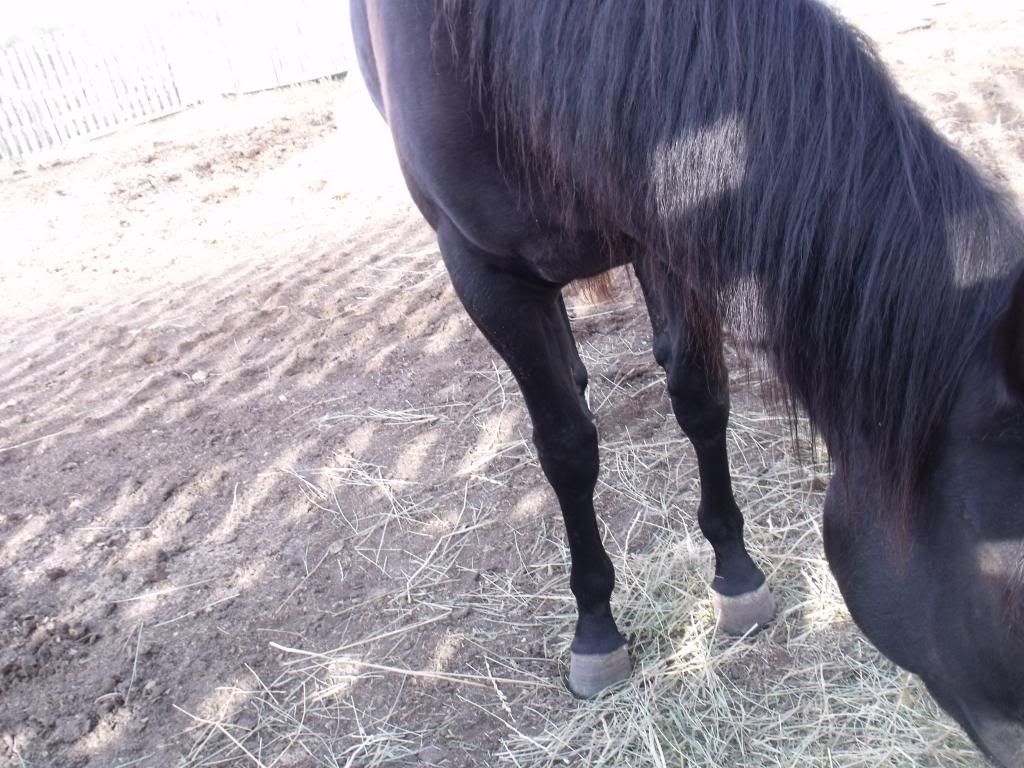 And heres one where she is square, but standing a little weird (leaning back a little bit on her backend) But she is on level ground.
The lighting and angles make it a little hard to tell, but from those photos she appears to have a decent shoulder. Good depth through the chest
Back is a nice short length
Neck needs muscling but it is set fairly nicely
I really like her hindquarters
She appears in the photos to standing slightly under herself in both the front and back legs, though moreso the backs
Pasterns are a decent length and she looks overall to be developing into a nice solid horse
---
"If a horse fails to do something that is because he was not trained to do it. If a horse fails to do something properly that is because he was not trained properly."
www.wildestheartart.com
Do you find her fine at all? My boss seems to think she won't grow past 14.3 hh and is very fine boned. Although she is already 14.3 and still growing (a really experienced horse person told me she would mature around 15.2, give or take) and to me, in person, she doesn't look to fine boned.

Also, how could she get muscling in her neck? Would lateral flexing work, or lunging?

Thanks for your reply!
I would agree that she defiantly looks sickle hocked, which could be a little problematic. She's also tied in high in her neck, at least in the first picture, but the shadows don't really help specify. Pasterns are a little long in the back, but the angles are good.

Muscle wise, I wouldn't worry too much since she is still growing, but I would do some stretching exercises. Like bending (slowly) her neck side to side from the ground to where her nose eventually touches her side. That will help lateral muscles.

I love her color and markings! She is very cute. I wouldn't suspect her to grow to much bigger than 15 hh, but stocky is always good (;
Thank you. In what way would her sickle hocks be a problem? She will be used probably only as a trail, ranch type horse, maybe help sort cows in the future.
Can you tell that she is sickle hocked, based on the bottom picture? I know in that picture she was standing off, and doesn't usually stand that way when she is square, and in the first side view pic she is on a slant, although I don't think that would matter.
I agree with her tied in high in the neck, but honestly, she is not always like that. Here are a few more not really conformational ones of her, but gives you an idea of how she looks when she is not squared up or anything.
This is her the other day, the picture is on a weird angle though, and she is fat and fluffy:
A conformational one of her late last winter:
And her playing with her jolly ball last winter:
And last winter of her standing, sorta square, but I wasn't directly beside her:
Well, I don't see them being a problem for what you have planned for her! Hahaha. I just meant problematic for future work in hard wearing sports- like jumping. Sickle hocks lead to weaker feet and it just means with too much work she might stand a higher chance in coming up lame. BUT. the angle in her hocks are only slightly off, which would only pose a problem if she did do something strenuous like jumping.

It seems only noticeable when she is standing squared with her back feet which makes it slight.
Okay thanks, that is good to know! The most strenuous riding I would probably have her doing is minor cow stuff, or maybe try barrel racing (but not competitively) in the not so near future. For the first, I don't know, 2-3 years of riding her she will just be a trail horse and trained to do everything from walking and trotting, to collection and everything in between.

If I would like to do something competitively, I would buy another horse for that, but what I would really like to do is work with abused and neglected horses, or rescues and I would like Breeze to be my 'forever' horse, so I don't want to do anything with her that would cause her to become lame or anything.

Thanks for your input on her! I really appreciate it.