Conformation critique
---
Just hoping to get some critiques on my boy (especially the hind end as that's his weak point) since he's started training and has muscled up a bit. The first two photos were taken soon after I got him, and the other ones were taken today. I think his back end looks a bit better, but am not sure.
Sorry there not the best. Its hard to get him squared up and take decent pictures by myself.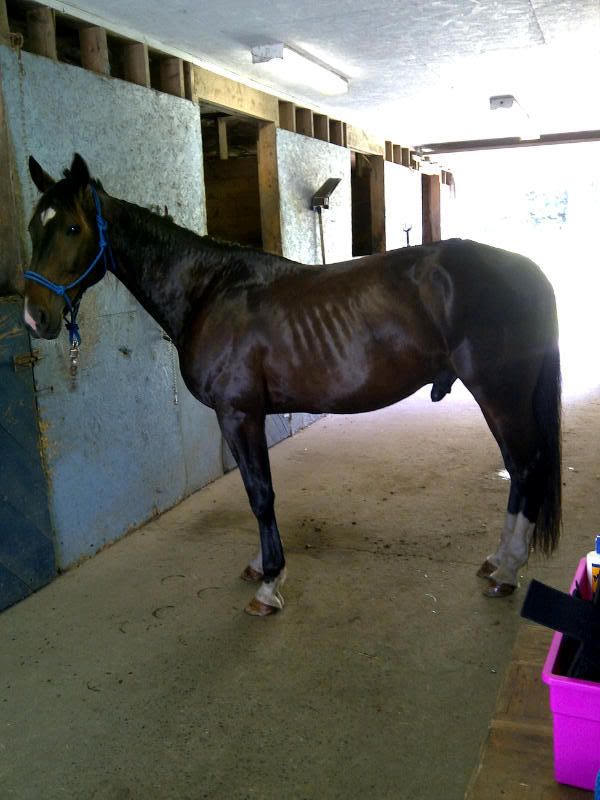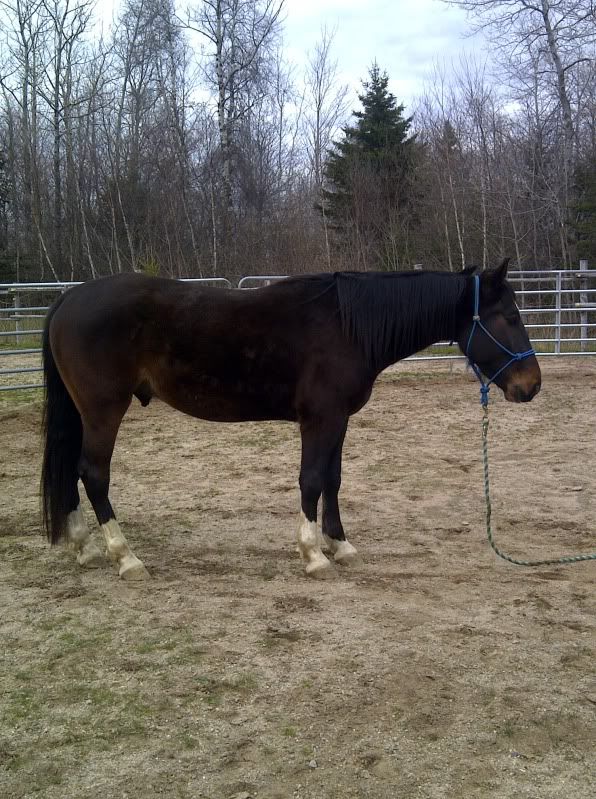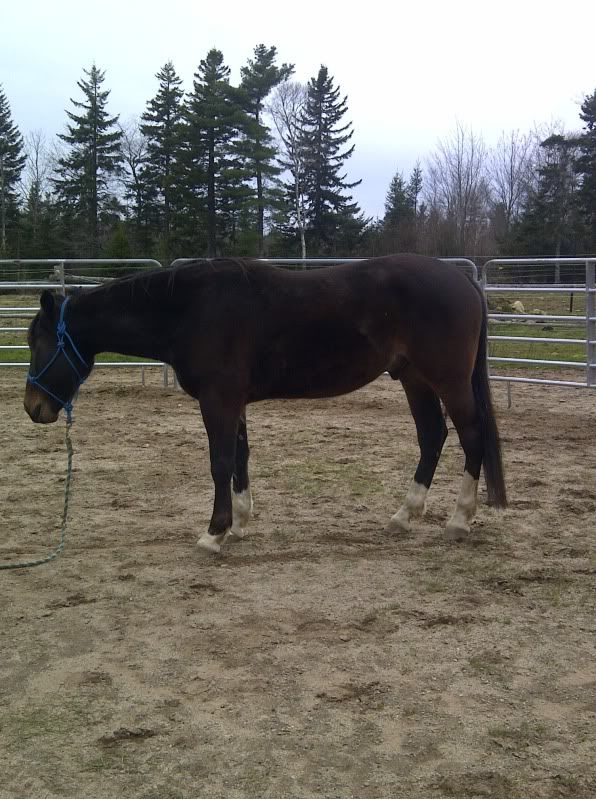 Hard to tell from those pics, as every pic makes different parts of him look weird. Looks like he has a big, cute head though!
Posted via Mobile Device
Yeah his hind end is really unusual. I think he is pretty sickle hocked. But his shoulder looks good and his hip is fine. He doesn't look like he's standing that way due to pain. I think his hind legs just arent' as straight as they should be, but he looks healthy and not stressed of tight.
how does he move?
I like his shoulder. Neck is set just a tad high.
He's a little over at the knee in the front legs.
Long back and somewhat mutton-withered.
Possibly even a teensie bit bum-high, but hard to say.
I like his hindquarters, and yes it appears as though he as added on some muscle there ;)
Sickle-hocked.
---
"If a horse fails to do something that is because he was not trained to do it. If a horse fails to do something properly that is because he was not trained properly."
www.wildestheartart.com
Thanks for the replies everyone. His back end does look very weird, and it bugs me. He used to sway a lot in the back end when walking, but since he's started work and gained some muscle, he doesn't seem to do it as much. I have been going very slow with his training because of his hocks as I don't want to injure them and want to build the muscles up slowely. He used to be very awkward in the canter, but is improving nicely and it looks more like a canter now instead of a bunny hop. He's not completely broke to ride yet, and when he is he'll be for light riding only as I am worried about how his hocks will hold up. Do you think he may end up with arthritis when he gets older because of the way they are put together? He will be 4 in July, and I want to keep him sound as long as possible.
Posted via Mobile Device
What's his breed? He really gives the impression of walker with the hind end confo. Really has some awkwardly low set hocks on him
I think he looks a ton better and it's really heartening to see an owner who is aware of her horse's issues and so concerned with keeping him sound.

He's definitely sickle hocked, but his butt is looking really good with the muscling. The first couple of pics make him look a bit goose rumped and short hipped but I'm wondering if that's the angle instead of his actual conformation.

Good job with him, he's looking really good.
Well, I want my big boy to be around for a long time, so I try to really pay attention to the tiniest details when it comes to his health, food, etc.
He gets checked over well after every session for soreness or heat.
Oh, and he's a standardbred (hence the massive cranium!) He was quite underweight when I got him last year, and had a bad bowed tendon, so it took a while to get him ready for work. His tendon is completely healed, and I can barely even notice that there was ever an injury there.
Posted via Mobile Device