Amazing Tutorial!
---
I just wanted to thank you for taking the time to post such an excellent, thorough tutorial... I will learn a LOT from this. I really appreciate your generosity in sharing your knowledge and admire your ability to present the material in such an accessible, clear manner. You are to be applauded!
Did I do this right?
I can't draw the lines for my new girl, not that great on a computer, but here she is if anyone else wants a practice horse....
Don't worry you won't hurt my feelings, I thinks she's the greatest and nothing anyone says will change that....LOL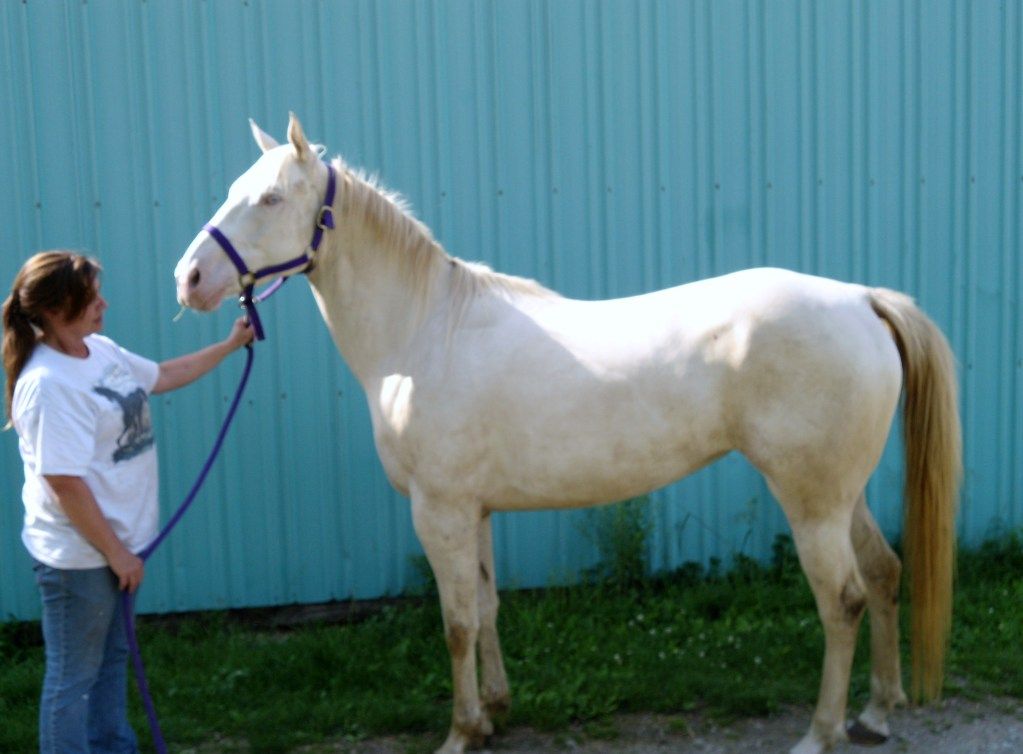 ---
Horses are proof that God love's us and wants us to be happy!
OK here goes... Took me a while to find some bits under all the fat :(
Shoulder – 105
Body – 254
Shoulder/Body - 41%
Humerus – 67
Humerus/Shoulder - 64%
Shoulder slope - 46 deg
Shoulder angle - 78 deg
Forearm - 67
Cannon - 47
Forearm/Humerus - 100%
Cannon/Forearm - 70%
[no view of feet but large and quite round - dinner plates!!]
Illium - 88
Illium/Body - 35%
Femur - 83
Femur/Illium - 94%
Hip - 83
Hip/Illium = 94%
Back - 95
Back/Body - 37%
Ribs – 100
Back/Ribs - 99%
So... long sloping shoulder, short back (I was surprised, he always looks long in the back when I look at him), high in the withers (but he is part TB) and a little downhill and a bit long in the illium in comparison to the hip and femur. But otherwise pretty normal (just fat as anything... in the process of remedying this!!)?
Any thoughts?
Edit: And thank you, amazing tutorial!!
Okay, I don't know if I did this right but when ever I measured everything worked out perfectly...I don't know if she actually that well built?...
Here is my boy if someone wants to measure and play with it :)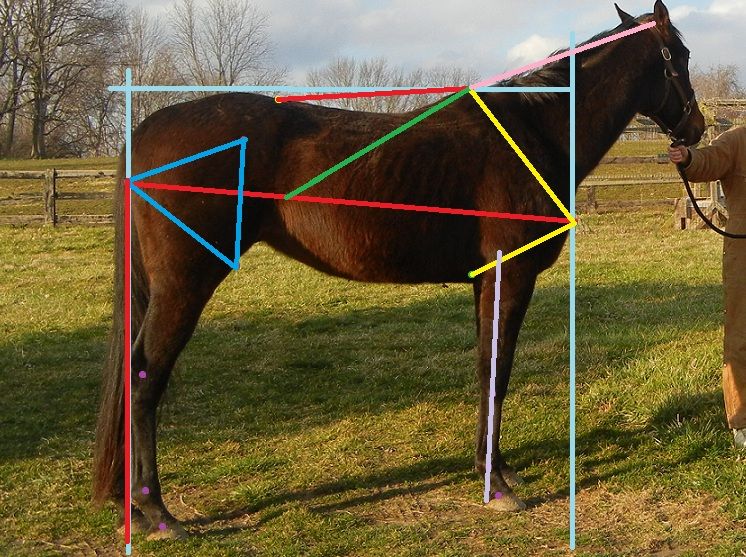 ---
~ When I Die, Remember Me By My Horses ~
* Because They Are Responsible *
.: For Letting Me Live :. (c) xJumperx
Can I add a couple. Let me note the neck on the pali is compressed i think he thought she wanted him to back and on both legs are off and not square but these were just photos lying around. Both are QH. The bay is 15 hands, the pali 15.3 I also just guessed on Shoulder Slope and Angle - if someone could help me measure?

These are the numbers for the pali.
Body Length 95
Shoulder Length 40
Sh/BL% 42%
Humerus 24
H/Sh% 60%
Shoulder Angle 90
Shoulder Slope 50
Forearm 27
Cannon 19
Pastern 8

Cannon Circumference 7 3/4"
Front
F/H 112%
C/F 70%
P/C 42%
Rear
Fore/Femur 114%
C/F 65%
P/C 30%

Illium 34
I/BL 42%
Femur 35
F/BL 37%
Pelvis 32
Back 40
B/BL 42%
Ribcage 43
R/BL 107%
Neck 46
N/BL 48%
And the Bay

Body Length 61
Shoulder Length 27
Sh/BL 44%
Humerus 17
H/Sh 63%
Shoulder Angle 90
Shoulder Slope 50

Front Rear
Forearm 18 20
Cannon 12 17
Pastern 5 5

Cannon Circumference 7 1/2"

F/H 106% 95%
C/F 67% 85%
P/C 42% 29%

Ilium 21
I/BL 34%
Femur 19
F/BL 31%
Pelvis 20
Back 30
Ba/BL 49%
Ribcage 34
R/Ba 113%
Neck 32
N/BL 52%

LS sits just in front of hip.

Both are used for trails. The bay is being worked to muscle him up some. Will be working the pali more in the fall.
---
Last edited by QtrBel; 07-19-2012 at

12:53 PM

.
Dr Deb Bennet does a wonderful conformational analysis. She tells you what effect the changes in the horses conformation make in his movement. For example the length and angle of the humerous can determine how far the horse can reach out with his front legs and lift his knees.

She has written several books and has a nice website.