I know a few of my points are off, but I would be interested in hearing what someone else sees. I don't have a way of doing the angles on this computer, but did the measuring with a sheet of paper and tick marks lol. You would think a seamstress by trade could at LEAST locate a tape measure . . . oh well.
I'm not sure how old Emma was in this photo, it was taken before I got her and I don't have a more recent one decent enough for conformation. I'm guessing she was 3 or 4 in this one and she's 5 or 6 now. Not really sure of her breed, some Appy, some Paint, some Arab possibly and my brother thinks some Walking horse going from how her back end moves. :) Whatever the combination I enjoy riding her lol
So, here's my girl.
So far it looks like she's a little long in the neck and her shoulder angle is a little less than ideal but overall she looks ok. She is a really smooth mover (not as smooth as my other mare), and she jumps really well.
What do you think? I'm not sure if I put the points in the right places...
---
Last edited by KJsDustyDash; 10-14-2012 at

11:57 PM

. Reason: photo link was wrong... oops
Wow this was a lot of fun.
Unfortunately I' am horrible at math and cant understand it.
I took a picture of my horse and I measured him, Used the box effect but that didn't work. I dont have a protractor so i played with one online.
But I cant add measurements into fractions or angels.
I used a measuring tape and string on his body instead
The length of body just almost 77
The length of scapula is 25
The length of humerus is 14 1/2
The length of (Point of butt to hip, to stifle) are all 19 1/2.
I could use a little help. the point of his hip though was tough. its right inbetween three spots more so to the left of the spots if that helps the view
Newbie here :) I've been enjoying learning about conformation from this tutorial. I don't have a horse to feel anatomical landmarks so some of the locations might be off. Can someone tell me how I'm doing? I need to head out but can edit to add my interpretations when I get back.
A couple of local craigslist horses:
Susan Crumrine's:
Averylilly's
:
I only have access to a computer at work, and they wiped off our paint program, and of course limited us from downloading anything. If anyone has some free time on their hands, I would really appreciate if someone would do this tutorial on my mare! If not, no big deal. Just thought I'd ask.

Thank you!
Thoughts?
Critique Topaz
---
Everything that happens, be it the good, the bad and the downright miserable define who we are.
Instagram: TopazCowgirl

Welsh Cob yearling
---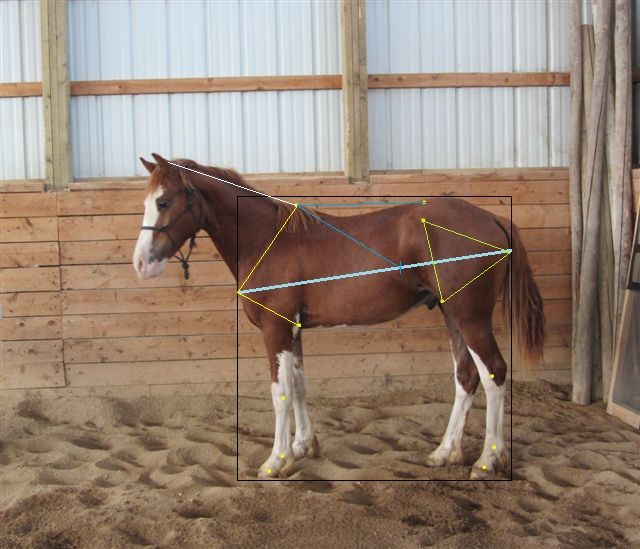 Okay, so here is a guy I am considering purchasing. He's a yearling (just shy of 12 months) so measurement critiques might be a bit harsh on his still growing body, but I gave it my best.
His box is slightly taller than long, but I feel this is typical with youngsters. He is also a bit bum high (children).
So I got a body length of 554
Shoulder is 38% of body
Humerous is 66.6% of shoulder
Shoulder slope is 55.05 degrees
Shoulder angle is 83.7 degrees
For the Foreleg are we measuring elbow to center of knee, or center level with elbow and straight down?
His cannon bone is 77% of his elbow to knee measurement
Pastern is 45.97 degrees
Illium is 33.3% of body (spot on minimum)
But to Stifle length is 92.2% of illium
Pelvis is 91% of illium
His back is 46.5% of body length (if I put the dot in the right place, I'm not too sure)
Rib cage is 95.3% of back length (also, depending on other spot)
His neck is 48.7% of body length
Any other comments? Does he look even for a yearling?
My boy Zeus! Am I right in thinking his neck is crazy long??
Body: 672
Shoulder: 273
40.6% of body
(no less 1/3)
Humerus: 160
58.6% of shoulder
(50-60%)
Sh. Slope: 60*
(40-55*)
Sh. Angle: 87*
(100*)
Forearm: 179
(close or longer
than humerus)
Cannon: 121
(67.5% of forearm)
(>50, <75)
Pastern:56
(46% of cannon)
(30-50%)
Hip: 231
(34% BL)
(>,=1/3 BL)
Femur: 213
(close to hip)
Pelvis: 181
(close to hip)
Back: 204
(44.9% of BL)
(<50% of BL)
Loin: 321
(157%)
(98% or more BL)
Neck: 408
(60% of BL)
(30-50%)
Also, his left front hoof is clubbed, does that make a difference?
Delete please
---
Delete please
---
Last edited by Equestrienne92; 03-15-2016 at

10:40 PM

.