Yes, the box is close enough to right - it could possible be a bit taller, but it won't really change much... one thing to be aware of, she is slightly angled away from the camera, and it will skew things a little - you can practice anyhow though.
I promise I won't bug you with my progress every step, but is this right so far? And where do I put the point of hip?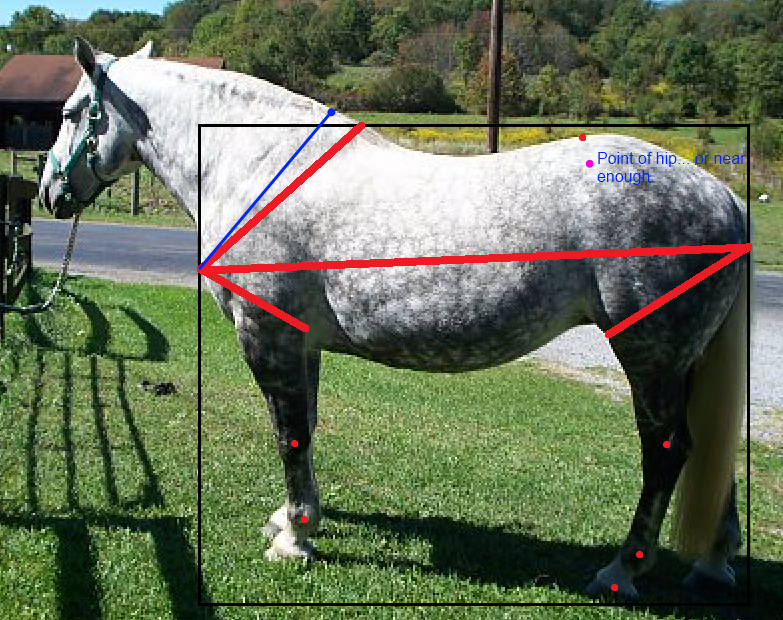 I moved your top of wither... you had it way too far back. The point of hip is not easily seen in this photo (not only is the horse... well covered by fat, but she's grey to boot ), so I guessed. If you have the time, look at her in person and then see if I'm close... if need be, feel for it.
nevermind, I got her all measured I think! Don't think the point of hip is in the right place, but oh well, it's practice, right?
547--body length
202--shoulder length
36.9%--shoulder/body
124--humerus
61.3%--humerus/shoulder
46.2--shoulder slope
87--shoulder angle
96--forearm
73--cannon
33--pastern
165--ilium
30.2%--hip to buttock/body line
166--femur
162--pelvis
236--back
43.1%--back/body
241--ribcage
102%--ribcage/back
Forgive me for taking over this thread! Here's my evaluation of Lenox:

Her shoulder length is great, even a little above the minimum. Her humerus is excellent at 61.3% the length of the shoulder, 11.3% above the minimum (you said the longer the better, right?). The angle is very steep at 61.3 and the shoulder angle is also very steep, but is balanced out by the long humerus and scapula, so the stride shouldn't be as restricted as it would be if the humerus and scapula were short.

The forearm is rather short at only 77.4% the length of the humerus, contributing to a short-strided horse, although draft horse standards accept a shorter-legged horse. The cannon is too long for the forearm at 76% of the length of the forearm. This horse might be prone to soundness problems in the future.

The ilium, femur, and pelvis are quite well-proportioned, being almost the same (or as close to the same as I could get, not knowing where the point of the hip was!) This allows for the powerful drivefrom behind that drafts are known for. It also will help Lenox make sharp turns and stops without as much effort.

This horse has a wonderfully short, strong back at only 43.1% of the body line length. She'll be able to carry more weight than a longer-backed horse and will be less prone to a swayback as she gets older. She also has a ribcage of 102% of the back length, which I think helps her to work harder without tiring as quickly? Allows for lung expansion I think. I'm not sure of the length of the loin, it looks average to me. Perhaps on the long side.

It's hard to critique the back legs here, and the measurements obviously aren't perfect since she's not standing perpendicular to the camera.
So you did a pretty good job... here's a few things I see... her humorous is actually a little too long, but, not so much so that I wouldn't say it's possibly distortion from the photo. You don't want that humorous longer than 60% of the scapula (that was my "late" note... somehow I missed that the first time around). I'd also guess that her shoulder slope is being distorted a little because her front end is turned a little away from the camera - so the angle and the length are going to be distorted a bit too (hence the importance of a really GOOD conformation shot over those "it'll do" photos). A steep shoulder is often found among the draft breeds, so it wouldn't worry me too much anyhow... but the closed shoulder angle does concern me, a bit, because it is paired with a steeper slope. (as a note, you had her point of elbow right the first time, making her shoulder angle closer to 80 degrees). Using my top of wither I got a shoulder slope of 50 degrees though - so that's not SO steep.

Her forearm actually isn't that short at all... at 77% of the humorous length it's well within "adequate".... however, I got measurements that indicate her forearm is closer to 85% of her humorous length, which is more than "fine".

Her back is a nice length, and her ribcage length is showing that her loin is also short - she has lovely loin girth - which adds support to that strong loin. It ties in well to her wither and to her croup. If our hip dot is in the right spot, her LS placement is great as well. Her back should never be an issue.

Her hip construction is nice as well, especially for a draft horse... however, I have a horrible feeling that if we backed up that hind leg so the cannon was verticle she'd lose a lot of angulation to her hind limbs, and sadly become post legged (I might be wrong, that might be the angle of this shot too). If that happens, we'll probably see a shift to the pelvic angle as well - making it more typical for a draft and a little less ideal as a riding horse (not always, but post legged does seem to affect the tilt of the pelvis a little. Post leggedness is one of those "sad" conformation faults, because it takes away from the rest of the "good" this horse has in her hindquarter, so let's hope it's an illusion.

Overall, I really like this Perch mare though.
Unicorn - I think you are doing a FABULOUS job with this thread! I want to say a BIG THANK YOU for your time and effort :)

I too agree, that this thread needs to be a Sticky!

Equiniphile - I applaud you for learning and listening and showing your appreciation to Unicorn for her efforts. I have alot of respect for you :) *tips hat*
---
Thank you so much for this step by step tutorial. I can`t do it now but it certanly do it later. Thanks again!
.
Green Broke
Join Date: Oct 2010
Location: Some times Llanelian - North wales, sometimes Hull in East Yorkshire (UK)
Posts: 3,679
• Horses:
5
Unicorn, brilliant for what you have included, however I dont see at any point where you are evaluating for a horses straightness in the forelimb, you say straightness is important but don't explain how to see that.
Being back at the knee or over at the knee are faults.Being back at the knee can be rather serious as it puts additional strain on the tendons and ligaments of the leg making them extremley prone to injury and breakdowns.

Perhaps an edit or addendum to your realy excellent tutorial. (sorry but horses that are back or over at the knee are a perticular pet hate of mine)
---
RIDE your horse FORWARDS and keep him STRAIGHT


This is Abby, a 7-year old Paint/QH. I'm not sure if I did it right.. This is what I got. I used BitRule to measure, but I dunno if I got the points right. And the picture sucks because it was from my phone, but it was the only side shot I had where she wasn't standing oddly. But this is a fantastic thread!

Body Line
6.9in

Scapula/Length
35.47%

Humorous/Scapula
68.85%

Shoulder Slope
50.67

Shoulder Angle
81.37

Cannon/Forearm
66.03%

Pastern/Cannon
49.51%

Illium
2.21in

Femur
2.16in

Pelvis
2.06in

Neck/Body
49.6%

Back length
2.83in

Back/Body
41.01%

Neck
3.39in

Oh. Oops. You can't really see the dots on her front leg. They were originally green, but when I was measuring, it turned them orange because I had that colour selected on Paint. Ignore the line by her hoof too.