Faye, it looks OK. I'd make sure your neck line is ended at the poll (you haven't gone quite far enough), and make sure your humorous line is landing on the elbow.
Faye - Shoulder Slope is 45 degrees,
Shoulder angle is 81.9 degrees
I did one of Shaffiek, but my parents came home from the store and I didnt get to post it :(
Posted via Mobile Device
faye--ahh, I see
Okay is this right for the plumbline?
Yup... that looks great :)
I decided to try a halter QH to see what I came up with. Are these points right? I had some trouble with the point of hip and stifle....Either my points are way off or this horse shouldn't be a halter horse! lol
---
Last edited by equiniphile; 11-27-2010 at

07:22 PM

.
Yearling
Join Date: Feb 2010
Location: Between two places in Canada!
Posts: 1,005
• Horses: 0
Quote:
I wish I wasn\'t so stupid with paint programs, but I\'ll try and figure it out. I\'d love to do this with my new horse when he comes and I can get some decent pictures of him.

Any suggestions for freeware paint programs that will run on a mac?
GIMP - Downloads
Pretty technical but really awesome. I cannot wait to post my results :)
---
Green Broke
Join Date: Aug 2009
Location: New South Wales, Australia
Posts: 4,847
• Horses:
1
So I just measured my pic up - but I don't know. I think my wither is too far back? The pictures not great either..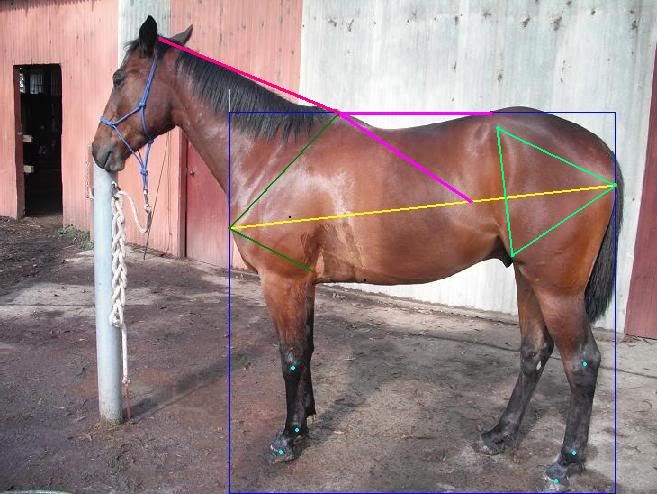 What are the spots like, do I need to move some?
Okay. I think I figured it out. My measurements were so wonky before because my BitRuler was measuring in inches. Anyway, I copied equiniphile's list because she seems to have a lovely understanding of this, but I substituted my measurements, obviously. So here's Attempt #2:

Body Length - 334
Shoulder Length – 109
Shoulder/Body – 32.6%
Humerous - 80
Humerous/Shoulder – 73.4%
Shoulder slope – 57.3
Shoulder Angle – 87.74
Forearm - 80
Cannon - 49
Pastern - 24
Forearm/Humerous – 100%
Cannon/Forearm – 61.3%
Pastern/Cannon – 49%
Illium – 112
Illium/Body – 33.5%
Femur - 111
Femur/Body – 33.2%
Pelvis - 105
Back - 155
Back/Body – 46.4%
Ribcage - 152
Ribcage/Back – 98%
Neck – 146
Neck/Body – 43.7%

Long humerous. Shoulder could be a little bit longer. Shoulder is sloped a bit too much. All of these could just be because she is standing with her front legs back, but I'm not sure. Her cannon is pretty good. I'm not sure the actual length in inches, but she weighs about 1250lbs (she's a big girl haha). Pasterns are pushing being a bit long? Femur and illium are about equal, that's good right? Her pelvis should be a bit longer though. Her back could probably be a bit shorter, but her ribcage is fine. Her neck is pretty average sized, isn't it?
Equiniphile... here's what I got. The thing about big beefy QH Halter horses is you have to make sure you're finding the bone structure, not the musclature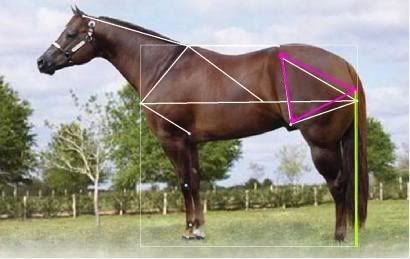 Saskia :