Crit my TB while he was on the track?
---
Hello,
Here's my OTTB. I found some pictures of him from when he was racing and was just curious as to what you thought of his conformation when he muscled up. He was 8 in these pictures (Yes, his last race was at age 8). He is now 15. He actually has a club foot now, but I didn't really see that in these earlier pictures. Can that be due to bad farrier care for a while? I bought him when he was 12 & apparently he just sat around in a pasture for about 5 years til I came along. Pretty good racer. Made about 200k. He is used as a lesson horse now jumping around 2-2'3". He isn't crazy about it and I think he still wishes he was a racehorse. He does have a bad tendency to bolt. Anyway, here he is.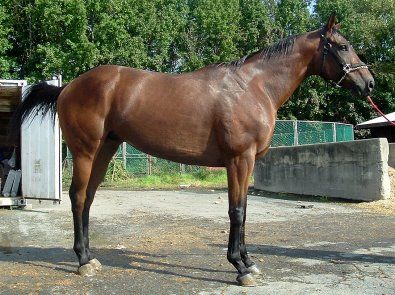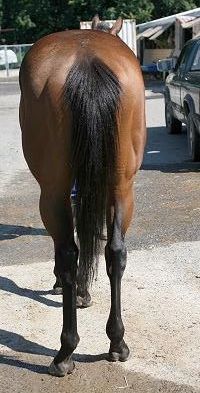 and here he is now.
A lot of his muscle definition in his shoulders is gone, a lot of weight has been gained. Are his legs swollen? They look very swollen, that concerns me. He looks a little sickle hocked. He actually looks pregnant to me -.- I really really liked the way he looked before.
I like his shoulder
Plenty of good depth through the chest
Neck is set a tad high
Over at the knee and long, sloping pasterns
Back is a nice length
HIgh in the wither, but very common of the the breed
I don't mind the overall shape of his hindquarters
Not so much sickle hocked as he is very posty in the back legs
---
"If a horse fails to do something that is because he was not trained to do it. If a horse fails to do something properly that is because he was not trained properly."
www.wildestheartart.com
The main thing that jumps out at me is his hind legs: he is very post-legged. He also could use some butt work...hills and such would really help with his hind end.
---
National Horse Bowl Reserve Champion Individual
Thanks for the critiques! Yeah he has been out of work and just getting over being a little sickly. We put him on pasture board for the summer & he really didn't do too well. He loves his stall lol. I didn't notice his legs looking swollen. He should probably have another chiro adjustment...
I like your OTTB. While it is nice to have these other pictures, a horse's conformation doesn't change, just like your bone structure, height, shoe size and whether your are short-waisted or long-waisted does not change if you are over, under or the perfect weight and shape.
In fact, those people who rescue underfed horses get a really good look at that horse's conformation, minus padding, which can hide things.
Super Moderator
Join Date: May 2012
Location: CT USA an English transplant
Posts: 24,896
• Horses:
3
I think its a good comparison between the same horse that look lean because its fit and muscled and a horse that looks 'flat' and lacking some condition. In the first picture the muscle contours are rounded and he seems to be a much bigger animal in the recent ones he has nothing there
You'll never have him racing fit but at least you can see where you can make improvements but any increase in work should be gradual
Conditioning makes a horse look WAY better, and kind of distracts from the conformational faults- but the conformation never changes lol.

I agree he is post legged and the neck is set high. He does have a good shoulder though which is great for jumping. Overall he looks like a thoroughbred- long pasterns, tall withers and lanky :)
He has foot issues when he was racing. His right side looks much different than his left.