Critique?
---
So I'm pretty sure I already know what her flaws are but I'd like to know what other people see. My little quarter horse mare.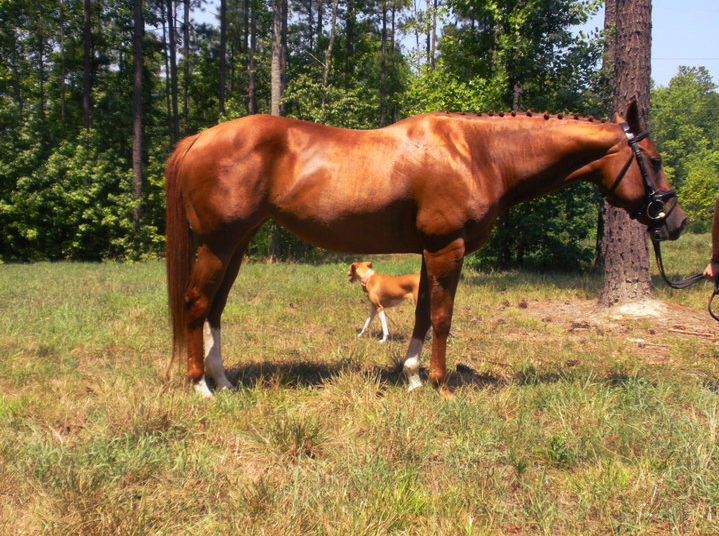 Sorry I don't really have a back or front view of her right now.
---
Holy copper penny, Batman! lol Boy, is she shiny!

Okay, so her neck looks a bit long to me. Her shoulder angle looks pretty decent. Her back may be a touch long? I like her hind legs, but something about the way her barrel ties into her hip bugs me. Not sure what it is, though. Sorry, keep getting distracted by the shiny. lol I want to say there's something going on with her knees (not sure if she's over at the knee or if she's tied in behind the knee...or both?).

Overall, she's beautiful and looks like she's well-cared for. Anything conformational I'm seeing is relatively minor, honestly.
---
Do not tell me I can't...because I will
show
you that I can.
Lol thank you... I think she has an undescended testical ;) she's got a crazy stallion shine. She does have big knees, if I showed you a pic of the front it might help, they just seem to be large. I think that might be what your seeing?
---
As for her back I think maybe it's because she has the "jumper butt" croup so where it should tie in there's an extra little mound?
---
You know what, I'm crazy. lol Guess I was tired last night when I was doing this critique because I don't see the funky thing I was talking about where her barrel ties into her hip (it's actually more where her barrel ties into her flank, but I think it's just an effect of the shadow/shine).
---
Do not tell me I can't...because I will
show
you that I can.
ah okies :) this picture of her is a bit blinding lol
---
Wow, I can tell that this horse is loved and well cared for! Her neck is a bit long, hard to notice anything else because she's so shimmery!
Posted via Mobile Device