Critique 2Y/O Quarter Pony
---
I just wanted to know your opinions on this girl's conformation. These pictures were taken in November, and she would be 2 in April. I'm sorry I don't have any better photos of her, I'm trying to find ones of her shed out.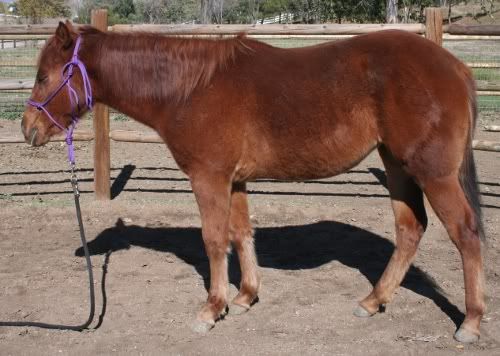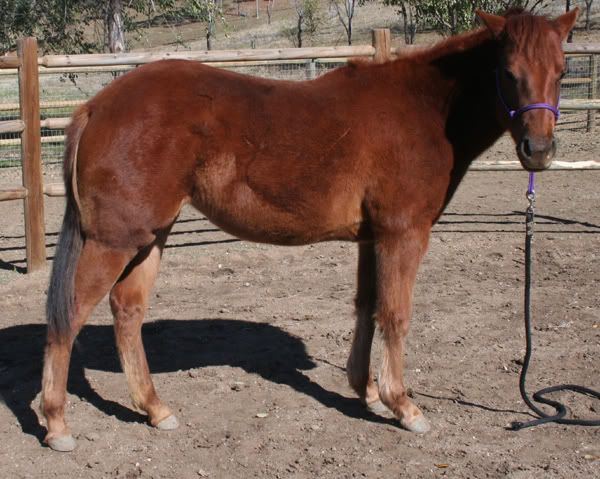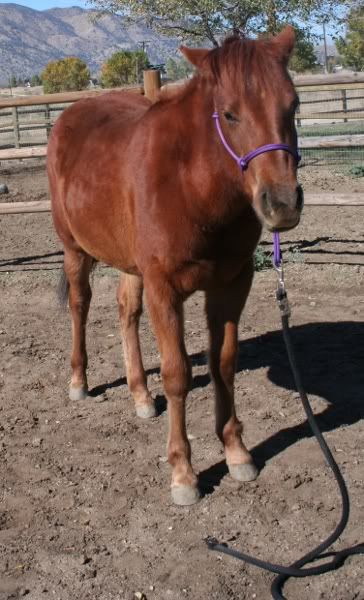 Looks like she will be a good, solid horse.
Shoulder angle could be steeper and her neck is set low.
Good depth of girth so far
Nice short back
Front legs look good, however she does appear to sit back on her pasterns.
Very sharp slope to her croup but he hindquarters look like they will pack on the muscle well ;)
A tiny bit sickle-hocked in the back legs, but not to the extreme
---
"If a horse fails to do something that is because he was not trained to do it. If a horse fails to do something properly that is because he was not trained properly."
www.wildestheartart.com
She did put muscle on very well. And she definitely was solid. I no longer own her, she was my 2009 foal that I regret selling. I just wanted to get opinions on her conformation.
Unfortunately she was re-sold after a few months after I sold her and I'm not in touch with her current owners, though her being my first baby I would love to get an update.

Thank lilruffian!
Well lets get the bad out of the way..

BAD -
• Quite butt high
• Quite high withers
• Fairly small head (not a bad thing but may result in her bobbing up and down whilst cantering?)
• Quite a scoping and small hoof (probably not a problem but may not be able to ride for as long periods in her old age)
• Quite a short tail, maybe consider grading for growth?

GOOD -
• Nice amount of arch on the back
• Good length legs
• Beautiful shining and healthy eyes
• A lovely healthy and shining main
• Great healthy coat, looks a good length
• A nice shoulder
• Very nicely structured neck, and well in proportion to head and body + good length.

Hope this helps :)
worst thing that pops out are her feet, very underrun. would get a competent farrier on her stat!