Critique Luna please, and teach me stuff
---
I
have
read the 'how (not) to take pics for confo critiques' so I know these pics aren't great - however since I'm in the Congo and she's in Chile, I haven't got a chance to take others. Sorry. Still, I'm looking to learn more about conformation, so any comments are welcome.
She's pasture-fat in these photos
. And I know the light doesn't really let you see her legs properly.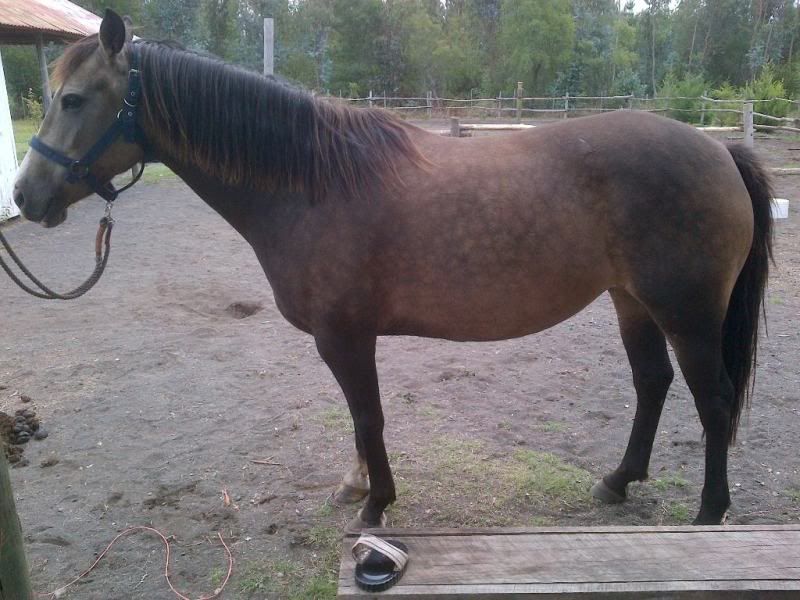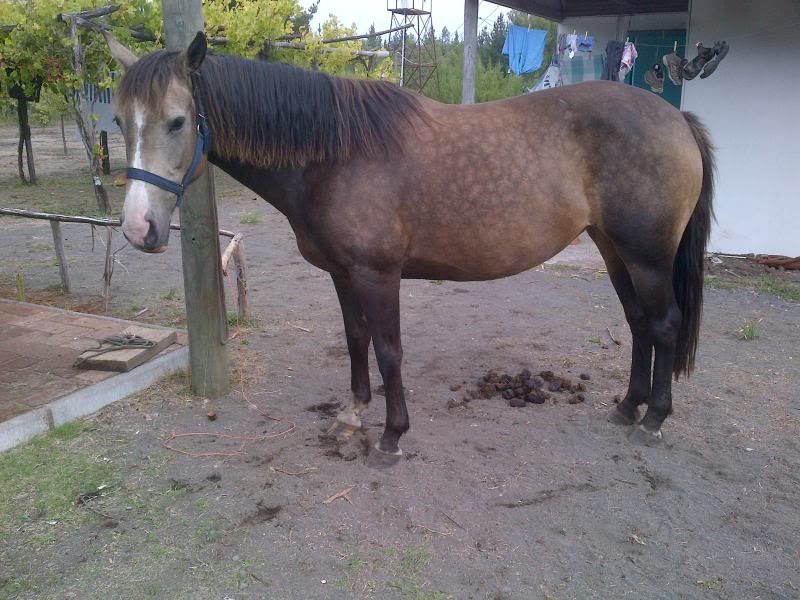 Play with your angles.
3/4 shots are better that straight on.
Play with what works for you....
If you have to do a straight on shot, back up.
Horse photography is difficult.
And move either the horse or, the poo.....
Yep, all this I know - but I didn't take the pictures to be conformation shots. They're just, well, basic photos of a horse.
Edit: I've just realised that you're teaching me stuff about taking the photos (not very quick today). Thanks! I did mean about confo, but all advice is welcome...
Point taken on the poo, but with eight horses and only a couple of tie points, the risk of poo/photo interface is high. I'm sure it got picked up later...
---
Last edited by AnnaHalford; 04-16-2012 at

09:40 AM

.
Quote:
with eight horses and only a couple of tie points, the risk of poo/photo interface is high.
Yeah, that would make poo interaction almost a certainty LOL
I like her from what I can see.
---
I miss you Rascal. Every day, all day.
Teen Forum Moderator
Join Date: Dec 2010
Location: South East Texas
Posts: 7,157
• Horses:
2
I like her. Very feminine and a lovely head that ties in well at the wither, and a good topline. Maybe just a smidge butt high (how old is she?) and she appears to be tied in at the chest which might inhibit foreward movement, but she has nice clean legs.
---
Everyone in your life is meant to
be in your journey, but not all of
them are meant to stay till the end.
Thanks for the feedback so far. She is 6 years old so I don't think she'll level out any more. Is she a bit pigeon-chested or is that just me?
She is a bit pigeon breasted. She's also a bit tied in behind the knee.

Overall, I agree with Endiku. I like her.

Her shoulder has a nice laid-back slope to it, which usually indicates a smoother ride. Her neck does tie in a little low on her chest, but I've seen worse. Her hind legs are nice and correct, with lovely low hocks. Her back may be a touch long. Her croup is a bit steep, which almost makes her look like her back is slightly roached, especially with her being a little bit butt high. Lovely muscling through her gaskins. Her stifle is set nice and low.

Honestly, everything I see that's "wrong" with her is incredibly minor and, because it is so minor, it really won't effect her usability or performance overly much.
---
Do not tell me I can't...because I will
show
you that I can.
Thanks. I think the appearance of slight roaching is actually fat... in that photo we'd had her for a couple of weeks, and we were working on suppleness rather than fitness. Although not obese, she was definitely carrying a few extra pounds, especially over her ribs.

She has a smooth walk and a nice working trot (when one can keep her in it) but she crossfires at canter; she was broken at four and basically had no work except carrying a few kids bareback round a field - she needs to learn to balance herself under an adult rider and develop her muscles to do so. I foresee lots of trot in her immediate future...

Is being tied-in at the knee something that can be improved (ie. are there exercises to build up the appearance of bone under the knee?) or is it just like that?
Tied in behind the knee refers to the tendon that runs down the back of the canon being smaller in diameter at the top (below the knee) than it is at the bottom (above the fetlock). It gives the appearance of the leg being cut in behind the knee, instead of straight and parallel, as it should be. Being tied in behind the knee affects mostly speed events (barrels, poles, etc) and concussion events (jumping, endurance, etc). It limits the strength of the flexor tendons that are necessary to absorb the shock and diffusion of impact through the legs, making the horse prone to tendon injuries. The leverage of muscle pull is decreased as the tendons pull against the back of the knee rather than a straight line down the leg. This reduces speed and power. Horses that are tied in behind the knee are best suited to sports that shift the weight to the rear, like dressage, driving and cutting.

I wouldn't say Luna's is bad enough to severely limit what she can do, it's just something to keep in mind as she gets older and is used more. Knowing your horse's faults, regardless of how minor, is always a good idea, so you can know what to look for as they age and know how their conformation affects their performance and usability, as well as knowing how to protect them from injury.
---
Do not tell me I can't...because I will
show
you that I can.
Thanks for the explanation. She is my riding horse for our forthcoming distance ride - no discipline in particular - so needs to be solid and all-round capable. Lots of walk!

She tends to fall on the forehand at the moment, which we are working on (well, will be working on when I get back there). I need her to be able to manage her own body shape rather than depend on me to hold her up - actually, I suppose that's the case for all horses - but in general she's about where you'd expect her to be given her history. She's very careful about her feet, which I like.