Critique my AQHA mare
---
So I've had this mare since May, where I picked her up for a measly $200 bucks. She was SUPER skinny and SUPER wormy. She's spent the last few months out to pasure gaining her weight back. Virturally, she's 'wild'/unhandeled. She came off a big breeding farm where her and her broody band were turned out on hundreds of acres. Come spring mares were brought up to the smaller pasures I guess, where they were turned out with the studs to be covered. Their owners told me that all their mares go pretty much unhandeled.
So wha-lahh here she is. Registered Grulla AQHA mare -
Go Miss Snip of Jaz Quarter Horse
- let me know what you think of her breeding. Please don't mind her coat, she sweaty and sunbleached so she looks really patchy. This was after our groundwork workout today.
In her, I see that she has a sort of ewe neck, longish in the back, toes out in the back....and??? Tear her apart.
Best I could get of the back legs: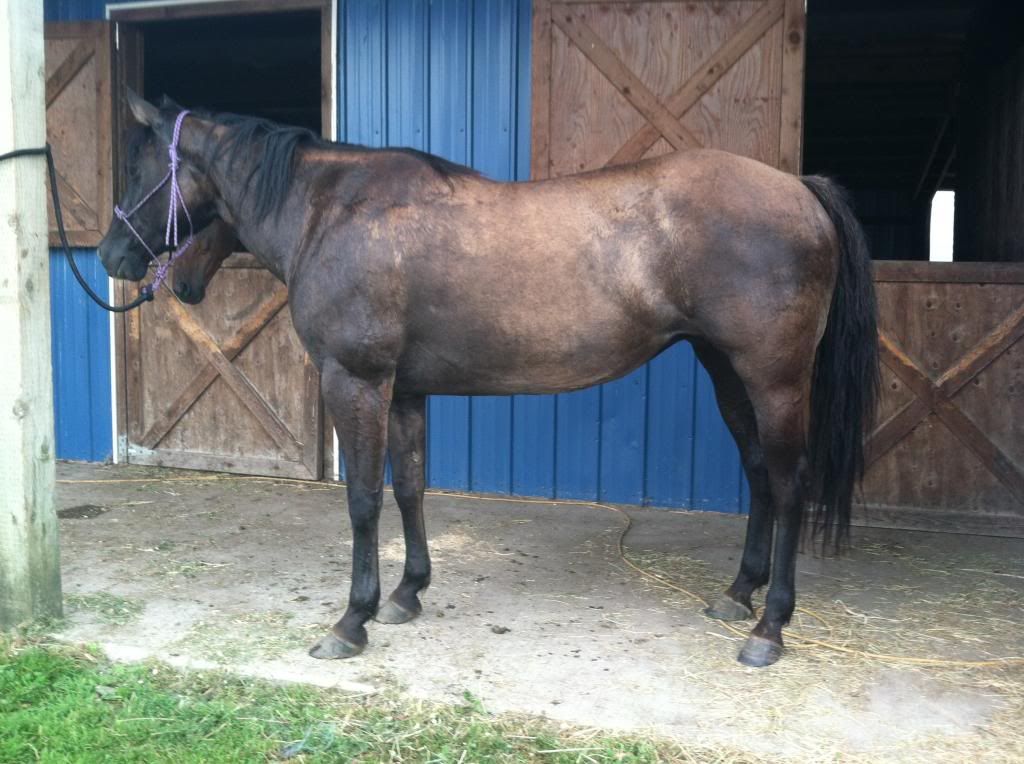 **Mind you - this mare has never really been handeled prior to me. We are still learned how to pick up our feet...so, yes, I know, they are horrid.
Yearling
Join Date: Aug 2011
Location: Central Texas, easily mistaken for a big bowl of dust!!
Posts: 1,427
• Horses:
1
I'll give it a shot, but I'm no expert. Anyone correct me if I'm wrong!

Front to back, she does appear to have an ewe neck, which is also short and ties in kinda funky.
Her shoulder is pretty straight/upright which will likely make her a rougher ride (short strided)
Her front legs look okay, but I'm no good with the whole (over/back/behind the knee) pasterns look to be a good angle/length and she "looks" to toe out a bit
Her back looks maaaybe a tad long, nice length and angle of her croup, nice tail set
She's posty/straight in the back legs (which I see a lot in Quarter horses and Paints) and she does toe out quite a lot.

Overall, in my opinion she's a useable horse :)
Posted via Mobile Device
Looks to have a decent hip on her! Nothing sticks out to me, maybe a slight ewe neck?
I think a lot of her neck is lack of muscle, it's still ewe'd, but I think once I start working her she may build up some muscling to make it look a little bit better.
Her neck too short, her back too long, not bad, but def not perfect. A slight ewe neck and it tied in funny to her shoulders. She seems to toe out slightly in the back legs, but maybe just the way she's standing?

She does have nice hips, she's fairly wide in the chest, and I think her head is pretty.

She'd make a nice riding horse, but I wouldn't be big in breeding her.
Posted via Mobile Device
No more breeding for her! She's going to learn to enjoy a little bit
More of a domesticated life now haha
Good! For that, she'll be fine. :)
Posted via Mobile Device