Critique my mystery horse...
---
Greetings all,
I'm new here and just purchased this fellow. The pictures are the best I could do for now, he was very excited and nervous to be released from QT and did not want to square up or stand still!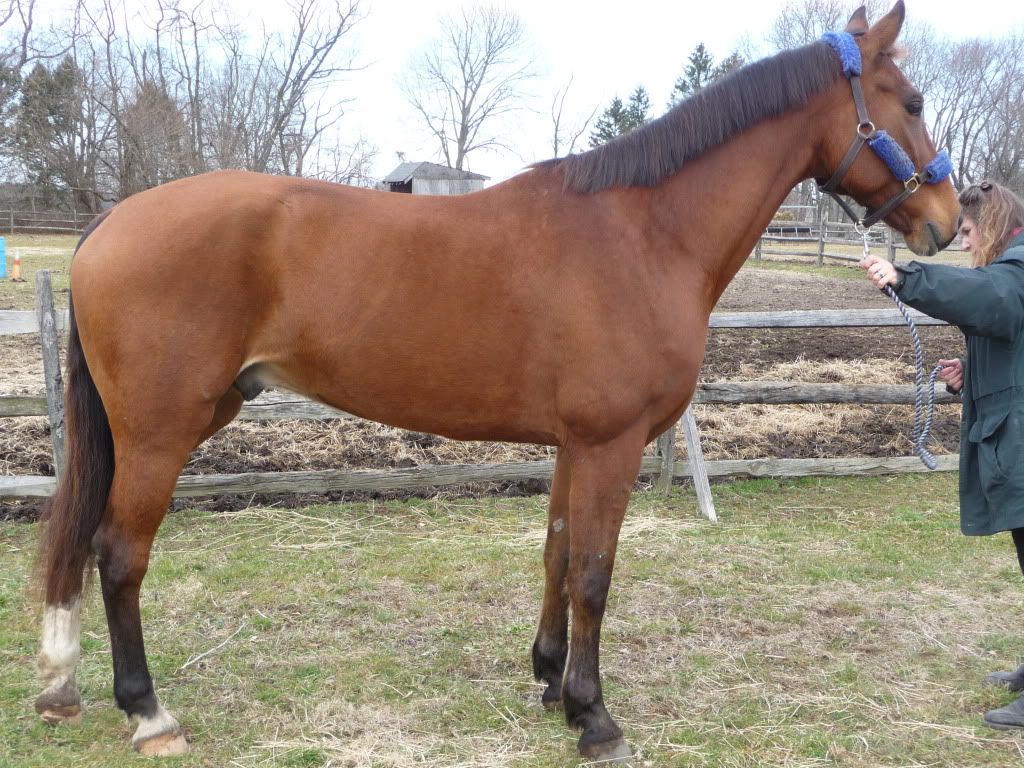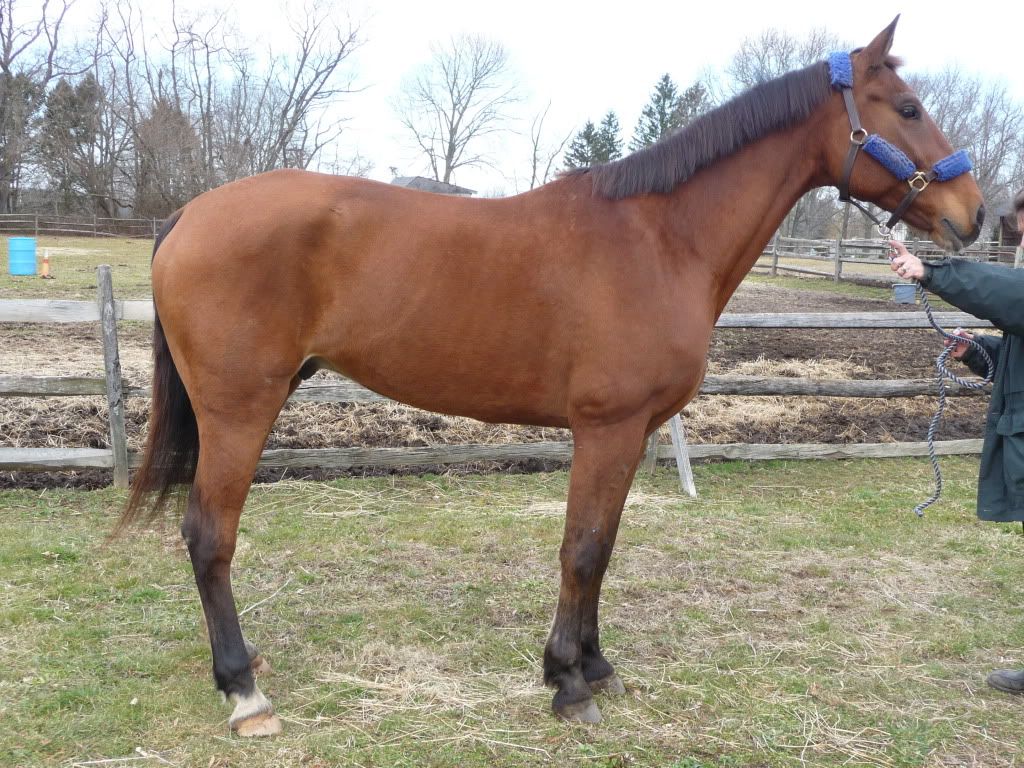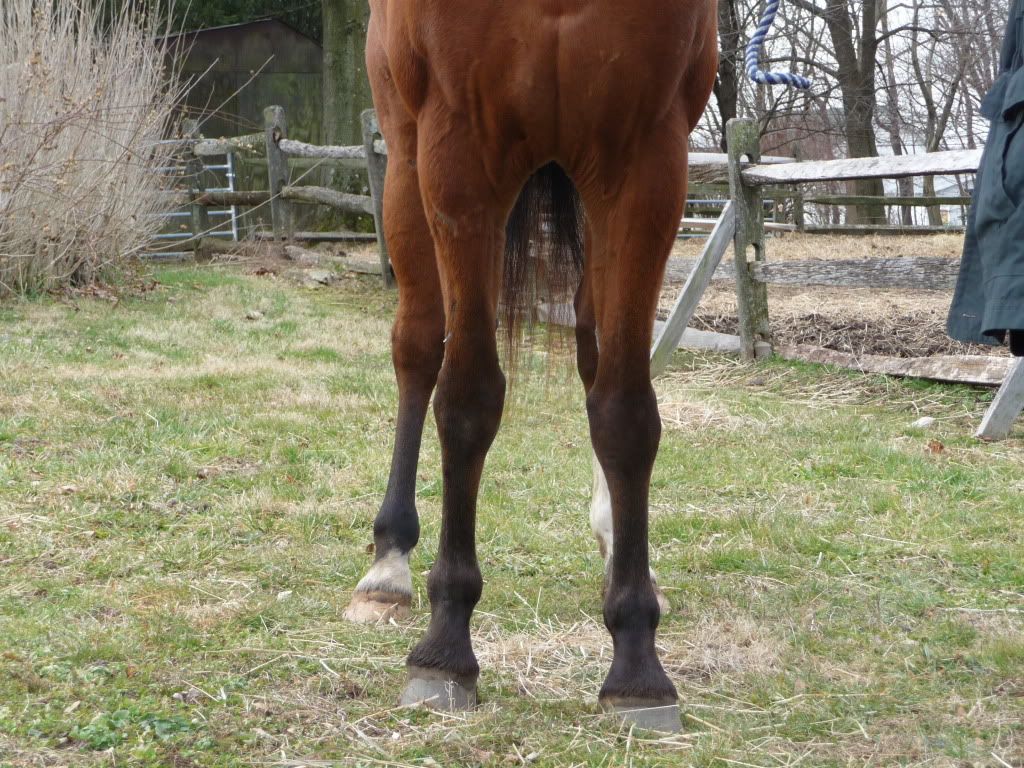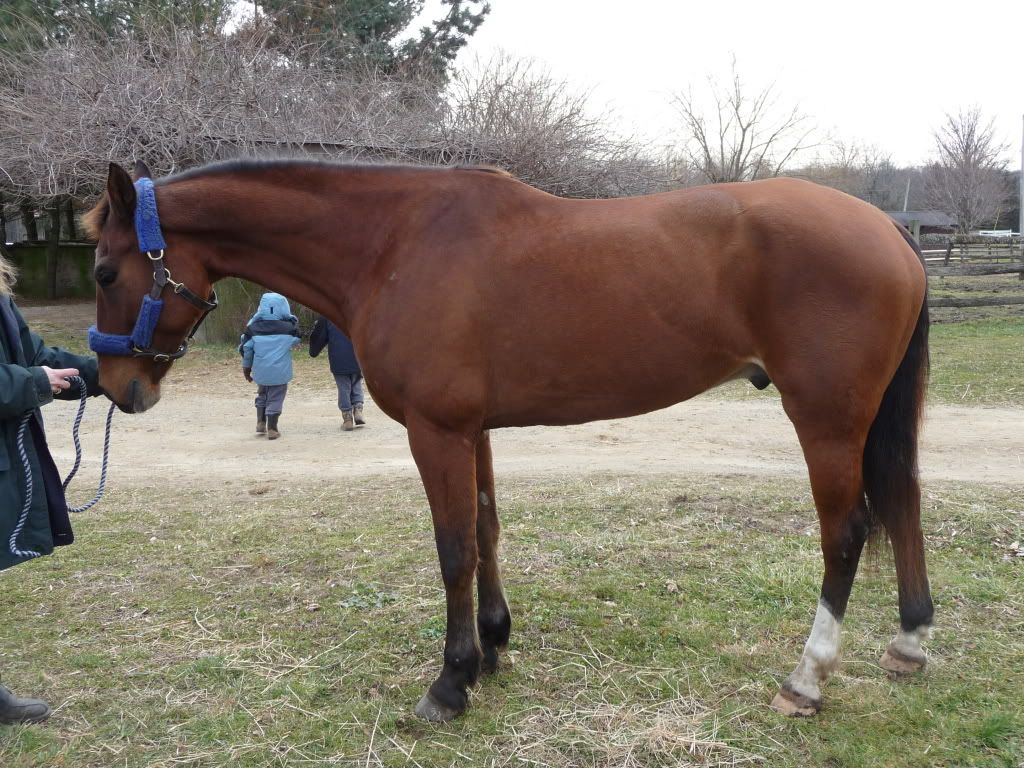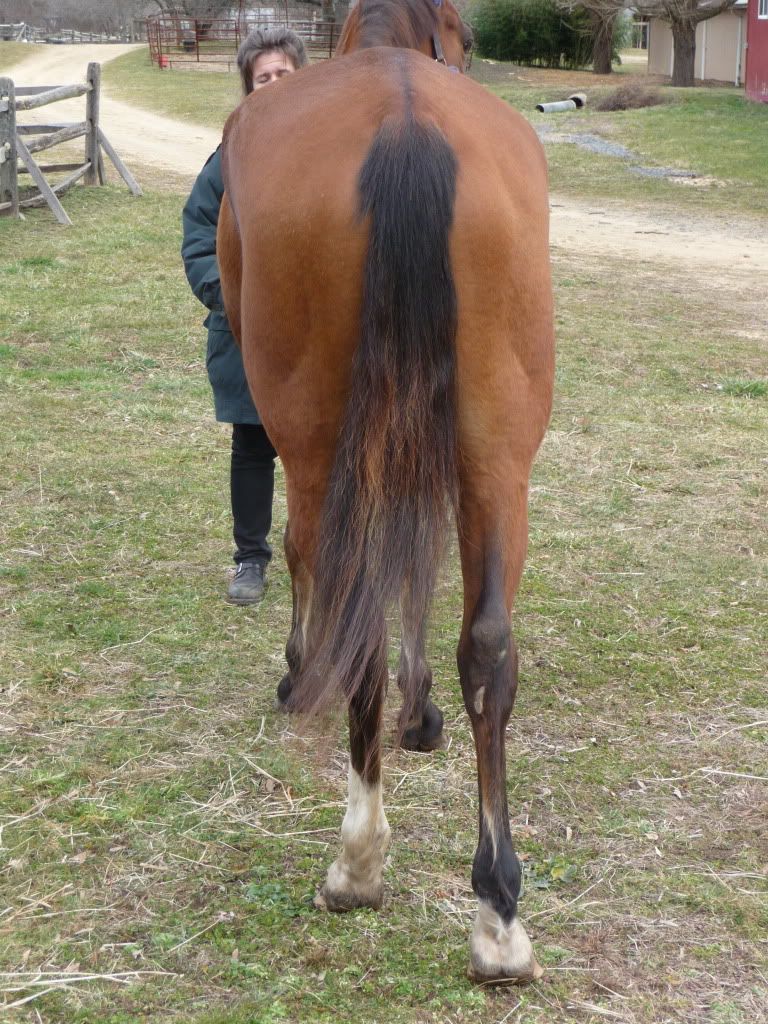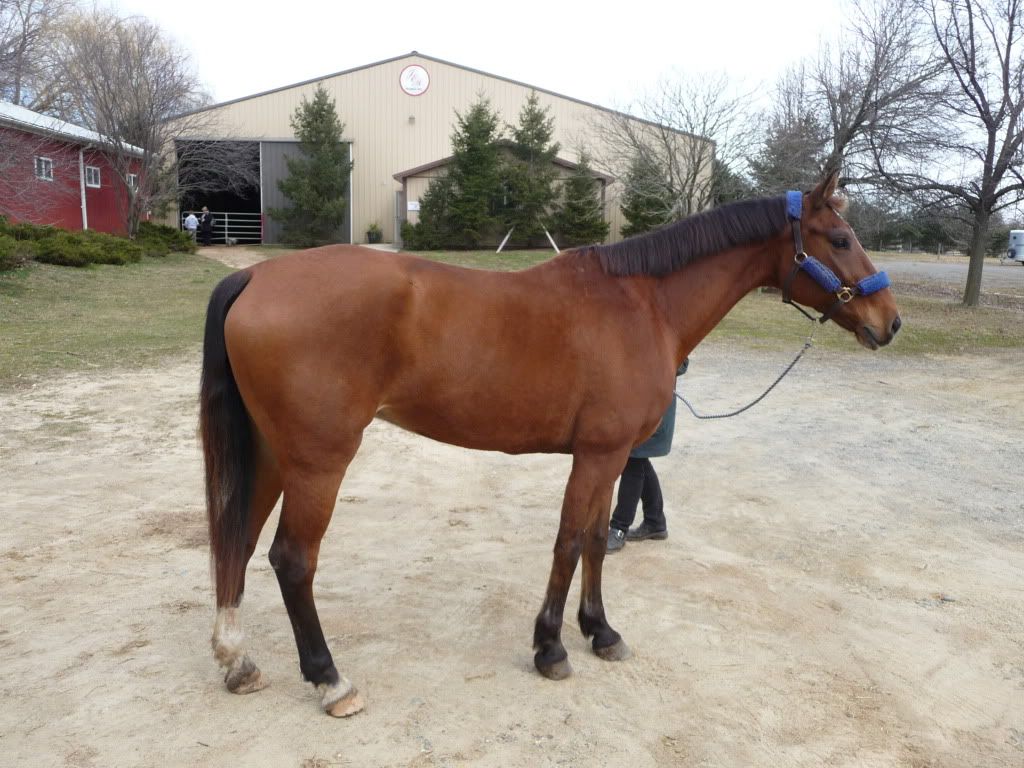 I have had him one month tomorrow. He is still quite skinny, though he has started to gain. And his feet were a nasty mess that the farrier trimmed as a start last week but will need several more trimmings to get where they need to be. He is about 17h and 4 years old, ridden through New Holland bareback and the only info given was that he was from Florida. His coat looks like he was clipped and is growing in. He has the American Warmblood Society brand on his hip, they confirmed from the photo of it that it is theirs, but there are about 3000 bay geldings about his age so they couldn't tell me who he is... So he is my mystery horse.
He's beautiful! :)
---
"Strength is the ability to use a muscle without tension"

Thank you :) I am adding a couple of videos of T in his little QT paddock so you can see him move around a bit. He has not been ridden yet. His trot screams dressage to me but we'll see what his forte is when he is up to a good weight and I get some condition on him. We are going to start some longe and roundpen work now that he is allowed to be near the other horses and has a clean bill of health from the vet and farrier.
I also wanted to say that if anyone happens to recognize him please let me know! I would love to know about his previous life but New Holland won't give out the consignor's info and there really isn't anything else to go on to try to track him other than hoping maybe someone will see the pics here and have some info.
---
Last edited by Dragonrider; 02-06-2012 at

09:52 AM

. Reason: videos didn't show up, fixed it.
Beautiful boy, the only thing I can see is that he may be very SLIGHTLY sickle hocked. It could be the pics though. and maybe a bit roach backed?
I wouldn't say whether or not he was roach backed until her was up to weight. I am betting that that appearance would disappear.
Quote:
I wouldn't say whether or not he was roach backed until her was up to weight. I am betting that that appearance would disappear.
probably, i know legs and feet, still learning all the other parts......
Thank you for your replies, yes he does have a slight "hunter's bump" but I am thinking when he gains a couple of hundred pounds it will be less pronounced. I've seen worse, but they are always much more noticeable when a horse is too thin.

Take a look at his front right hoof and tell me what you think. Farrier is working on that one especially to get the angle better, it was less than a 1 but still a little clubby. All the feet were really overgrown, but the other 3 look much better than they did. The one with the clubby tendency still bothers me to look at though.

He was very frightened, depressed and sick when he arrived and couldn't be talked into eating anything except for a little warm bran mash a couple of times a day for a good week and a half. He had a pretty bad respiratory infection but I have a very good vet who took good care of him. He is still not the most enthusiastic eater, but eventually he cleans up everything we are putting in front of him so I think it won't be long before I get him where I want him weight-wise.
Thank you everyone who has replied. Are my pictures not good enough? Wondering why only 3 kind folks responded here yet many pages for the young girl with the little pinto filly saying the same thing over and over again when she clearly won't listen to anyone about anything. Poor kid, life is going to be hard on her, and most unfortunately on her horses as a side effect.
I, on the other hand, take constructive criticism well and would love some insights so that I can do the best I can go give this boy a job he'll be happy with and capable of in his new second chance at life
I love him!! What are you planning to do with him? I love his build. Great neck, especially in the last picture.
You aren't going to receive as many replies as on the other thread, simply because her horse needed the bare basics (Vet, Food, Farrier, safe living environment) and you already have seen to those.
I don't know much about conformation in horses (I paid my trainer, who does, to help choose my horse), my comments to that girl were limited to "provide that poor horse with the basics that ALL horses need" and it would be a waste of time for me to tell you that, you obviously know the basics already as you aren't insisting your horse doesn't need more weight, that his feet don't need a farrier and that random sharp objects and barbed wire make for a great pasture!
I think your horse is lovely looking and absolutely TALL!!
but as far as actual conformation, I haven't got a clue. I adore warmbloods though.... should you tire of him, there's a nice barn here with several other warmbloods who would make great friends for him.