Thank you both :) I do have all the basics covered and he is coming along well and making a lot of progress. He was very fearful when he arrived. He is still nervous around his head but much better than he was, I am afraid he has some bad memories from his previous life.

I was thinking we would work on some dressage to start off when he is ready, though one of the trainers I know is dying to see him jump. Not so sure about that with his right front issue. I just want him to be sound, healthy and have some work that he enjoys. He is a real sweetie.
He does, as you have noted, have a hunters bump (not bad). He has good bone but he is a little tied in behind the knee. I could tell he was large due to the flares on the outside of the hind hooves. I also expected he needed foot care. Probably be good to have him shod all the way round!

He almost looks to be a cross between a Thoroughbred and a Cleveland Bay. He has the size for that cross and the refined head, neck and throatlatch.

Nice horse. Good potential. What do you plan to do? I see (maybe) some lower level eventing.. maybe some hunting.. some dressage...
---
There is something about the outside of a horse that is good for the inside of a man.
~Winston Churchill
(or woman!!!!
) Dinosaur Horse Trainer
It's a wonderful things you did giving this beautiful horse a chance for a better life, luckily he is young. My horse has a club foot due to navicular(hopefully not your case) and I massage the leg and do simple stretchs. It helps alot with circulation which is
veryimportant. Good luck
Posted via Mobile Device
He is absolutely adorable! I LOVE his shoulder. He does look slightly sickle hocked, but it's no big deal. Mudpie had a "hunter's bump" when I first got him, but it was really just a result of him being so skinny – the vet said that it was just the shape of his spine and was obvious because he was underweight. With groceries, love, and TLC, as well as some muscle through his topline and neck, he should be absolutely fine!
He looks like a huge beastie, or else the person holding him was tiny! xD I look forward to seeing more of him!!
---
The hills were bathed in moonlight, the shadows not so stark;
Silver light reflected off his brown hide as he held me in the dark
– I love you, Mudpie!
LOL, that's me holding him and I'm about 5'7" and add on another inch or two for the boot heel ;) I have to dig up the picture of him when he was waiting for pickup, he had lost a tremendous amount of weight in just the week between when he went through New Holland and sold to the meat man and when I picked him up the following Monday. Poor guy, he must have been low man in the lot because he was really beat to oblivion. Here he is waiting for his ride home at the pickup barn on the day he came home to me: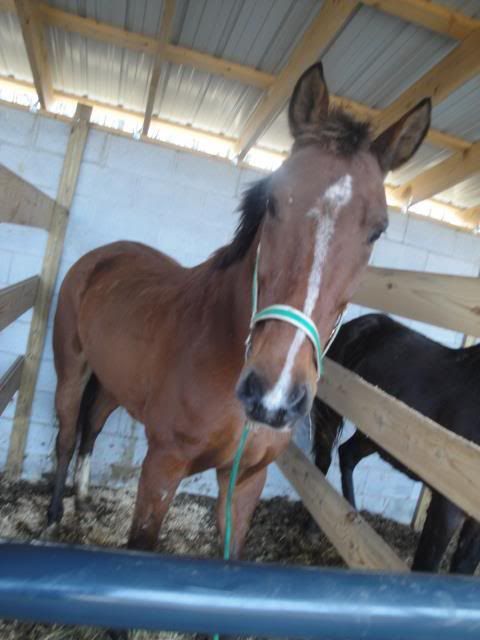 The vet and farrier are reserving judgement on Navicular until the farrier has a few corrective trims on him. His feet were horribly neglected and in very bad shape. My farrier didn't want to put shoes on him just yet, he is on a 3 week trim schedule and he may want to put the shoes on after the next trim, we'll see how they look then. He is optimistic that he can be managed with good foot care and sound for most work, but time will tell.
---
Last edited by Dragonrider; 02-09-2012 at

03:15 PM

.
**waves at a fellow New Jersey-an**

I know nothing about conformation but wanted to say he is simply gorgeous. I just love bright red bays! Good luck with him!
---
Started
Join Date: Jan 2012
Location: An English Girl living in beautiful Alberta, Canada
Posts: 1,606
• Horses: 0
What I know about conformation could be fitted into a small sparkly handbag, but I will say that I think he looks like a very handsome chap. When he has got that weight on, and the muscle built up he will look stunning.

I've had to google 'hunters bump' because I really didn't know what what you were referring. To me, it just looks like an under-fed and under-worked hindquarters.

Nice face, kind eye. Can I have him please?
---
Get up, get going, seize the day. Enjoy the sunshine, the rain, cloudy days, snowstorms, and thunder. Getting on your horse is always worth the effort.
Waving back, I'm in Mercer county :)

LOL, I'm afraid I have to keep him, my two little boys who named him (from the movie How to Train your Dragon) would be very sad if he went away! They enjoy stuffing him full of treats and brushing his face.
He has flaring on his feet. I thought his neck looked like it could use a little muscle building on top, but both these things can be changed. Apart from those I really like him.
Very cute little guy, he looks like a TB to me......nicely put together.
I also agree with the comment made about the back/weight thing, he could def use some added weight.

My only question is about his feet, def looks like some flaring on his back feet.
I also want to point out this picture, is it just dirt at the top of his hooves or are they growing in funny?