Critique my rescue mare
---
This is Zoe, a 17hh (when barefoot) mare. Her last owner said she was a TB warmblood cross but we haven't spoken to her and I am more inclined to think she is full tb. She was extremely underweight when we brought her home in November and had reportedly been that way for at least two years, if not more. She has extreme anxiety (yes she is on calming supplements) and evidence of a bad crash over fences some time ago. She is probably around 11 or 12.
So here she is, a little rough around the edges thanks to her injuries but about as good as she is going to look unless we can get her to settle again.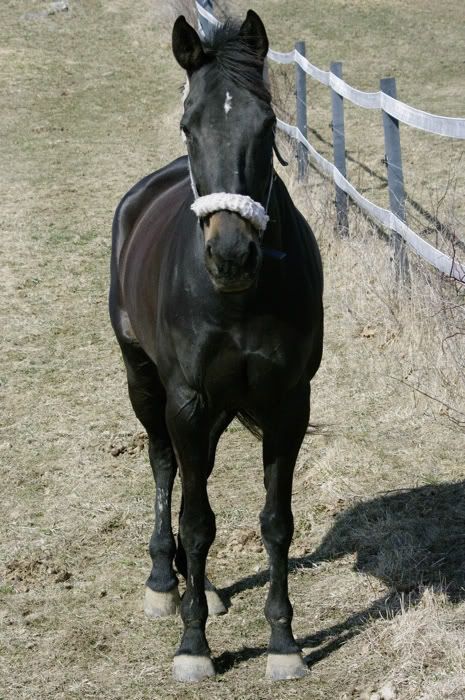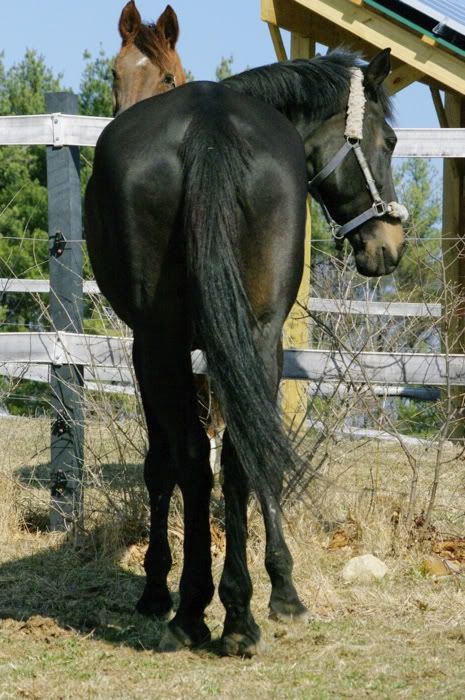 Thanks!
Cute!! BIG pony:)
---
"Just because I don't do things your way, doesn't mean I don't have a clue
"
whatever you're feeding her is working, she is in gorgeous condition. nice flesh and beautiful coat and that color, super eye appealing. she is really well balanced, nice trapezoid shape to her body. legs look straight and clean, is she standing under herself a little? I think she might be although others might say a little sickle hocked. great angle to the hock, maybe a little upright through shoulder and front pasterns, I like her neck tie in, she should be able to keep off the forehand nicely. Top line looks strong and supple, muscle is great, maybe I'd like a tiny bit bigger hip but for a tb it's pretty good. Not much not to like about this mare!
Thanks! She has packed on muscle really well (another reason we think she is a tb) and I have smartgain4 to thank for it as well, along with good grain and plenty of hay and beet pulp.

She is standing under herself a bit, probably a side effect of some of the tendon injuries and her low heel (her feet are really good but the angles need some work since they weren't done for months over the summer). Sadly she really does toe out in the back and she tends to kick herself behind but at this rate we can't get the muscle on her haunch to fill out any more due to her nerves and the existing injuries to her hind legs so the poor baby will probably forever toe out.