Critique possible buy?
---
This is a horse I'm thinking about buying. I think he has the cutest face ever!
He is a 15.2 h TB gelding, 8 yrs old. I know the pics aren't great for conformation, but if you could get anything from them that would be great.
If I got him I would probably train him English..at least to jump. Since he's a TB, shouldn't he be a good jumper? He would just be to hack around with, no shows or anything. He doesn't need to be a fancy showjumper or anything.
He looks very sweet :) I can't see anything major, but I do notice that none of the photos really show his knees except from behind, which makes me wonder about them. Slightly over at the knee is okay but if he's back at the knee don't touch him, not for jumping, not ever. Just be watchful.

So long as those front legs are okay and he's got a temperament that you like, go for it!
---
REGAL PRINCESS
I know this seems like a dumb question, but what does it look like if they're "over the knee"? I've been riding at a trainer's for 3 years, but I really only know basic care and how to ride, etc. I am jumping about 2'6"-3' now. I don't know much about conformation.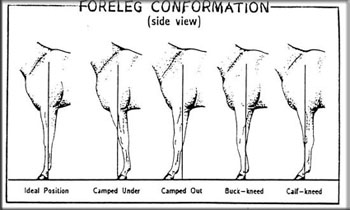 Of most note are the last and second to last. The last is back at the knee [aka calf-kneed] and the second to last is severely over at the knee [aka buck-kneed]. A horse that's only mildly over at the knee puts a LOT less pressure on its tendons as it works than one that is ideal, but the tradeoff is that arthritic changes may occur a little earlier. A horse that's severely over at the knee is prone to buckling on landing after a fence, but such a fault is a very wonky-looking leg! A horse that is back at the knee to ANY degree is not a horse that is at all suitable for any performance discipline because it puts a lot of pressure on the tendons and there is a high chance of early arthritic changes.
---
REGAL PRINCESS
No problem :)
---
REGAL PRINCESS
Weanling
Join Date: Apr 2013
Location: Baytown, TX Close to Houston
Posts: 422
• Horses: 0
He's sp pretty, I love his sweet face, he looks like a real gentleman, I hope he works out for you.
Too bad the photos don't give a good idea of his conformation, but he certainly is a handsome son-of-a-so-and-so
Just beautiful head and coloring!
He sure looks like a cutie, but as others said, there's nothing we can tell about his confo from those pictures.
what a cute guy! definetely go check him out and post more pics please! :)