Critique these two possible "buys" please!
---
I have an opportunity to get a project horse. They are completely free, (I know, no such thing as a "free" horse
)as the two ladies that own them are in their 70's and 80's. The lady who is trying to find them home's is a daughter. They have absolutely NO horse experience, so of course, the daughter wants to get rid of them ASAP. She doesn't understand why her mom and her friend got these two in the first place, but they are here now, so she needs to find them homes. These aren't the best pictures, but I was curious to see what you thought.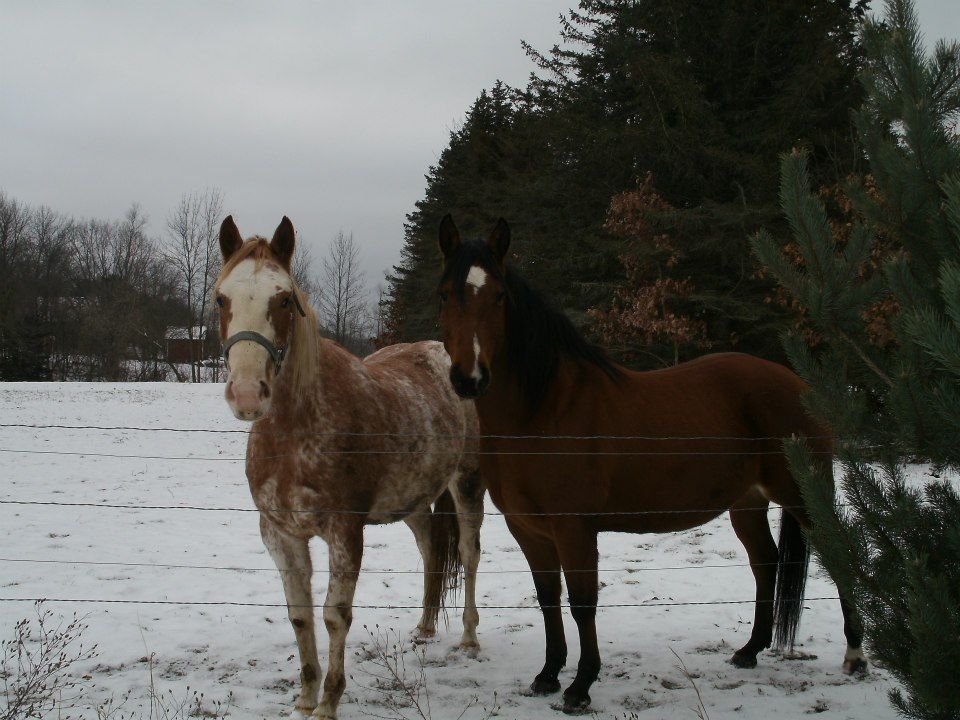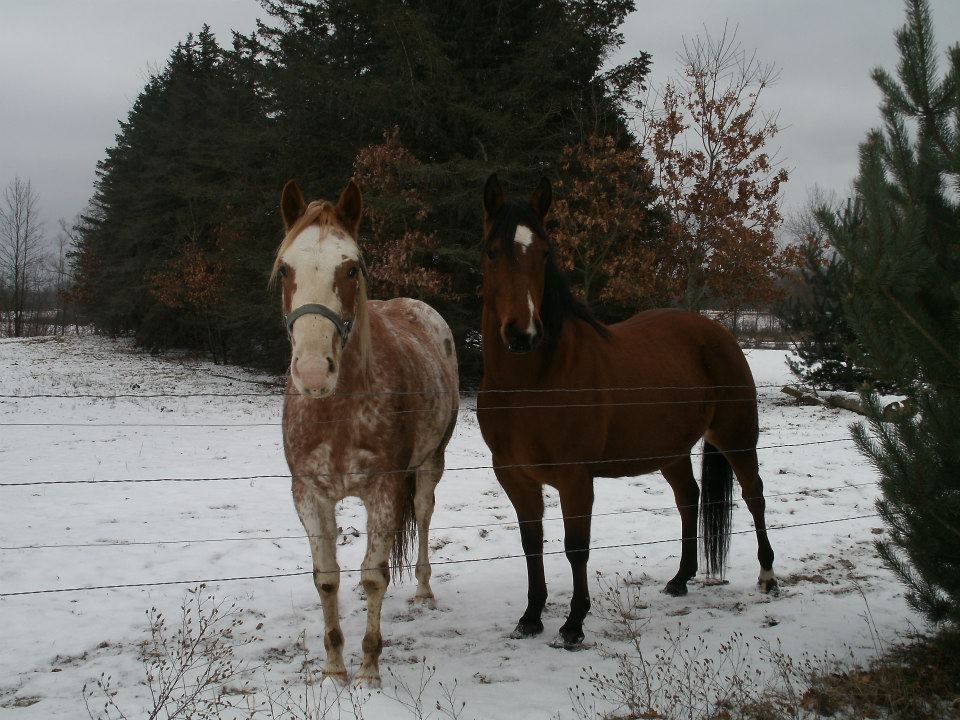 The one is a registered 14 year old QH mare. I can't remember her registered name, but her dam was zippo bred. Her sire was Tomboy's Garcia. She is about 14.1-14.2 hands. She is broke to ride, but it has been quite some time. The last time she was ridden, the people hadn't ridden her much at all, she was herd bound and the paint filly was freaking out. In the end, she bucked the guy off because she was so excited. But they had ridden her once prior to that just fine (remember, they have NO horse experience). She was very sweet, in your pocket type mare. Seemed quiet and willing.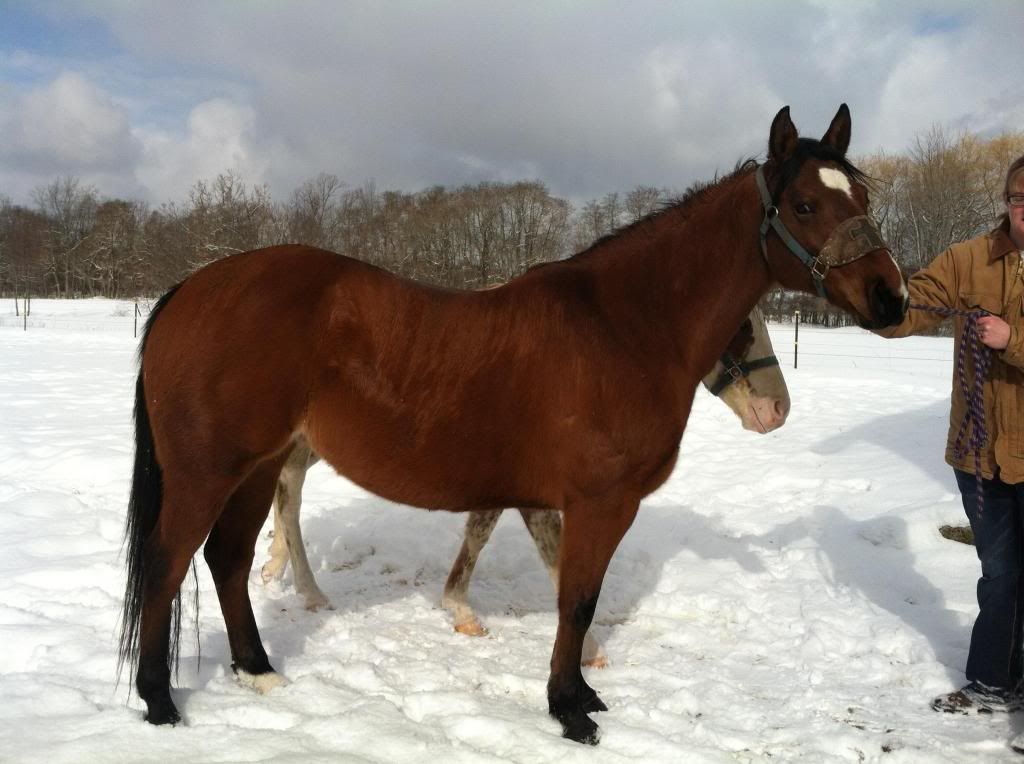 The other mare is a 4 year old Paint mare. Stands about 14.2. She is registered, but she couldn't find her papers for me to look at. She promises she is registered and they have the papers somewhere. She was born on the farm and had NOTHING done with her much. She leads a little and picks up her feet, but that is about it. She seemed smart enough and willing. Very focused on the other mare (but they have been together for pretty much the filly's whole life), but she picked up on backing when I asked after two tries. She let me touch her all over, apprehensive of me, but she has also not had a human to bond with really as she has been an ornament.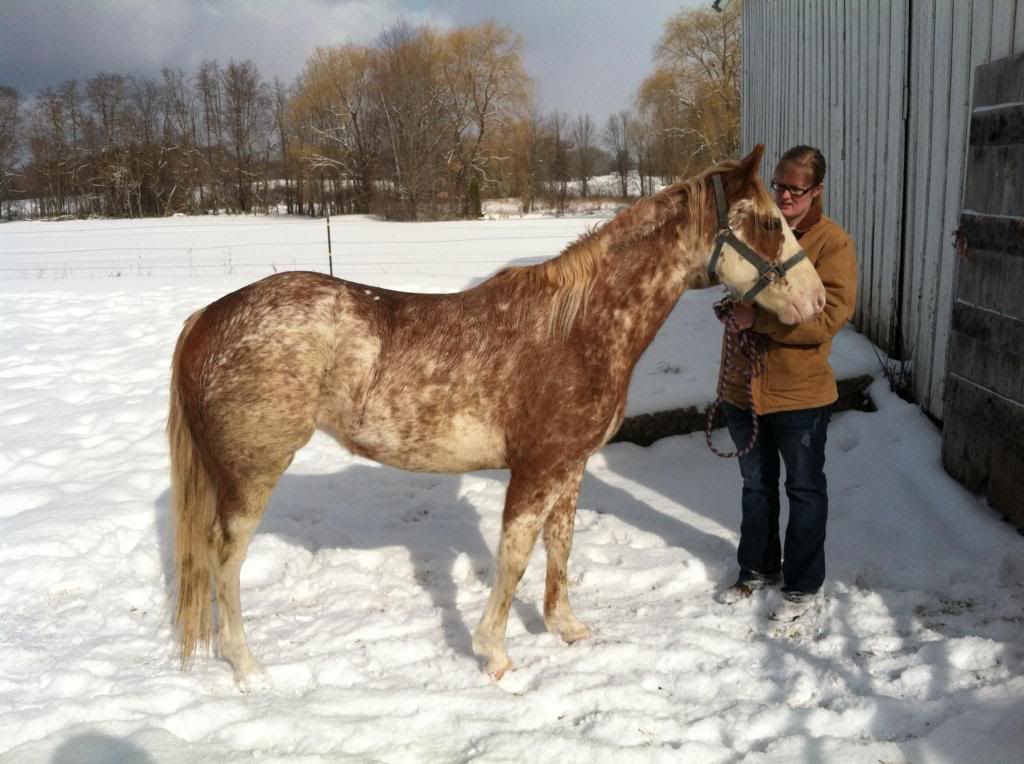 So, what do ya think?
Eh, I'm not a huge fan of either of them. I really dislike the bay's back. She's really downhill and her withers are large and sharp. I can imagine that would make saddle fitting a pain in the butt. I do like her legs though.

On the other hand, I like the paint's body quite a bit more...but it looks like she's maybe pigeon toed on the front and she may be badly base narrow. She might also be bow-legged on the front. Of course, I'm just judging the pictures of her standing in the pasture...and sometimes horses stand funky even when their legs aren't funky.

If her front legs are straight, then I'd probably choose the paint. She's younger, her body is better, and she won't have under saddle issues to sort out.
The paint is probably the wisest choice, since she's younger. The bay has a sweet looking face though.
---
So in lies the madness, the pursuit of the impossible in the face of the complete assurance that you will fail, and yet still you chase.
That bay has some serious conformation issues. I definitely would not go for her. REALLY down hill, high withers, super short back (she even looks a little roach backed). I'm guessing it would be really hard to find a saddle that fits properly, she may even need a custom. Looks back at the knee in front and camped out behind, and her legs are too short for her body.

The paint is better, but still has some issues. She's got a fairly upright shoulder and from the first picture she looks base narrow. She has a really steep croup and something just looks a little odd about her hind end. However I think her problems are much more manageable, and I think she will really shine once she gets some muscle tone all over.
Ok, a random question....I know that downhill is undesirable, however, what about it makes it so bad? Heavy on the forehand? My husband remembered her registered name: "Sheza Zippy Leo". Oh! And another big change, she isn't 14, she is
SEVEN!
Might explain why she bucked on the beginners...if she was started late, when they got her she would have been green broke.
Sheza Zippy Leo Quarter Horse
Here is an old ad I found from when she was 3:
Zippy is a calm, quiet girl who loves attention. She loads, stands for farrier and has a stocky build. She gets along well with other horses and has been pastured with cows, showing a great deal of interest in them. She will "push" them to where she wants them. She was born in Minnesota. We have watched her grow and now she is ready for the next step. She is not broke, she has had a minimal amount of ground work, but learns quickly and is ready to start her under saddle training. She has a good disposition, good feet and a big butt. She is quick on her feet, stopping and turning quickly. She is not spooky and is inquisitive of new things. She is easy to catch in the pasture and comes when she sees people. She also has seen many deer and wild turkeys.
I agree that the paint looks more narrow in that first picture. However, I don't think she was that bad in person. As it was stated, I think she was just standing awkward. Of course, stupid me, I forgot to take pictures of her front and rear...Here is another picture of her. Not the best one AT ALL because she is kinda camped out (no, this isn't how she stands). She wasn't used to being handled and instead of bringing her back legs forward, just kept stretching ....
---
Last edited by Cait; 02-16-2013 at

03:10 PM

. Reason: Forgot the picture!
With her being as badly downhill as she is, not only will she be heavy on the forehand, but keeping your saddle in place will be a b***h. It will want to slide forward and put all the pressure right on her shoulders...exacerbating the heavy front end problem. With her being shaped the way she is, with the severe downhill build and the large withers you'd have hell finding any saddle to fit her well (which might explain the bucking problem). It looks almost like it's a sway back and, even though it's really not, you'd probably have to treat it that way and likely have a custom saddle made to fit her.
After seeing that new picture of the paint... I'm really not too fond of her anymore either! It could just be that she's standing awkwardly and whoever took the picture kind of looks like they were taking it looking down on her, which doesn't help. I do still think that muscling/conditioning will help her a lot. It's just that neither of them are very conformationally correct.

and she looks a lot smaller than 14.2!
Maybe I should just take that second one down...I am 6 foot tall (the one holding her). My hubby, who took the pic, is 6'4, so yea, he is probably looking down on her...AND she is standing awkwardly! lol Don't know why I put it up I guess...
Is the bay standing on level ground?
It's a shame about the bay... there is something I really like about her! But her being (possibly) butt-high with that almost "swayed" dip/lack of back muscling and downhill build are a real bummer. I am curious what she would look like after a few months of ground work to work on that topline, though. Do you have any other shots of her standing on level ground?

If you have the time and patience, the filly could have some potential, but in your situation I'd probably move on to look at other rescue or "free" horses.