Hate the legs on both of them.
Posted via Mobile Device
I would use neither as a project.. only companion. They have their own sets of issues that would make riding difficult

The legs/pasterns on the paint for starters.. I don't think riding the pain would be very safe... and that butt high bay mare.. saddle fitting will be VERY hard.. not to mention you'll be fighting gravity all the time to stay on your seatbones or pockets even...

Just allow them to be companions and look elsewhere for a project horse.
---
"Strength is the ability to use a muscle without tension"

Crappy photos.. and remember.. horses and advice are usually worth what you pay.

If you are looking for a horse to train and learn from and maybe make into a trail horse then the paint is the better horse. If you are looking for something more.. well... read sentence #1 (and remember advice here is also free).
---
There is something about the outside of a horse that is good for the inside of a man.
~Winston Churchill
(or woman!!!!
) Dinosaur Horse Trainer
New Pictures!
---
First of all, note to self...get a better photographer
We went back out to the horses today in an attempt to get better pictures of the Paint mare. I guess maybe the ones we got were a bit better, but not too much. I also attempted to get a video of her moving. Again, this was difficult because the bay mare is VERY friendly. So the entire time, she was trying to go to my "camera man" or come to me with this look on her face like "Why are you chasing me? Don't you love me?" They have about a 5 acre pasture, but wouldn't leave us, so again, not the best video.
But anyways, hopefully these will be of more assistance!
Video: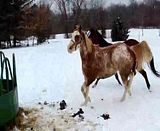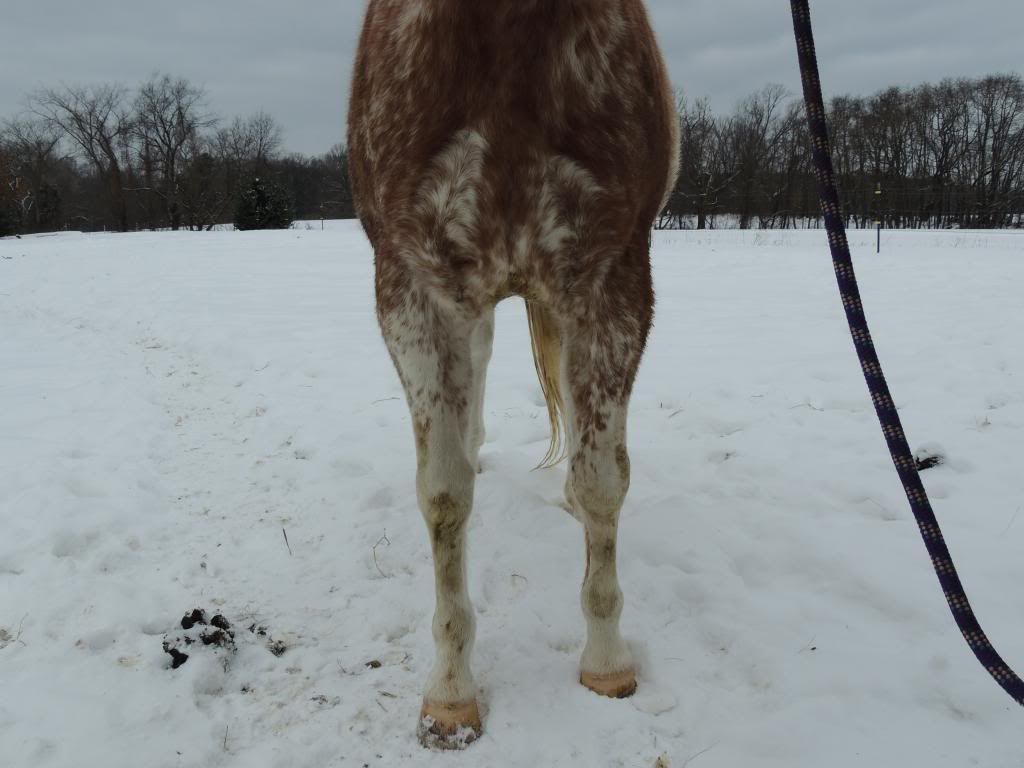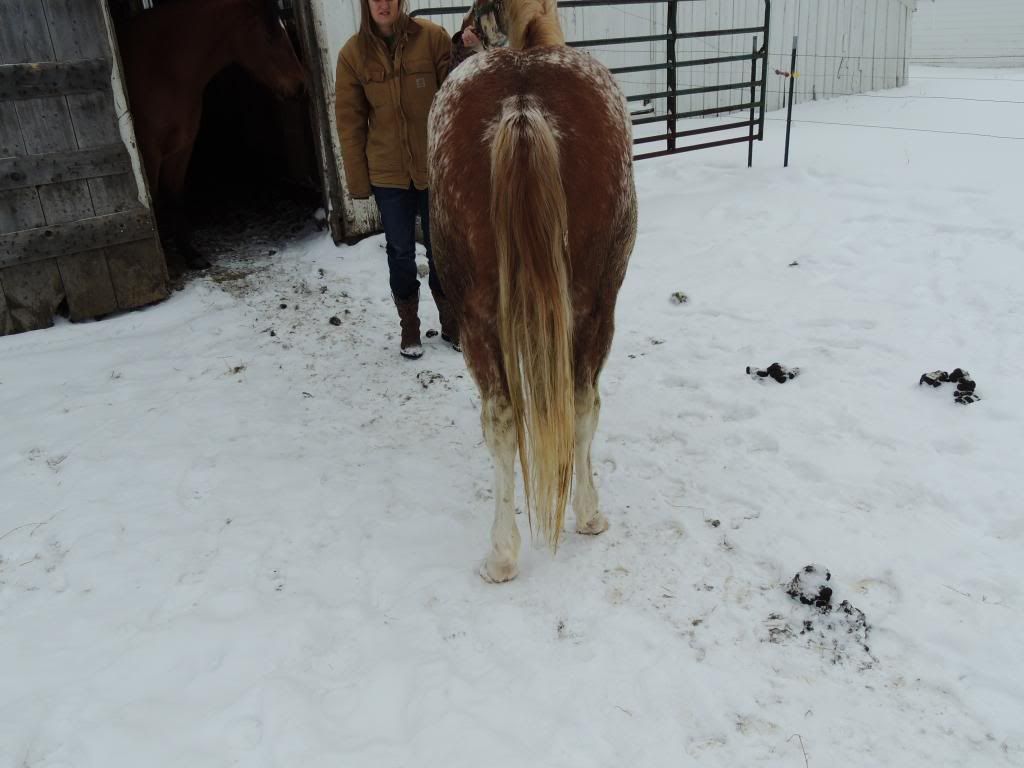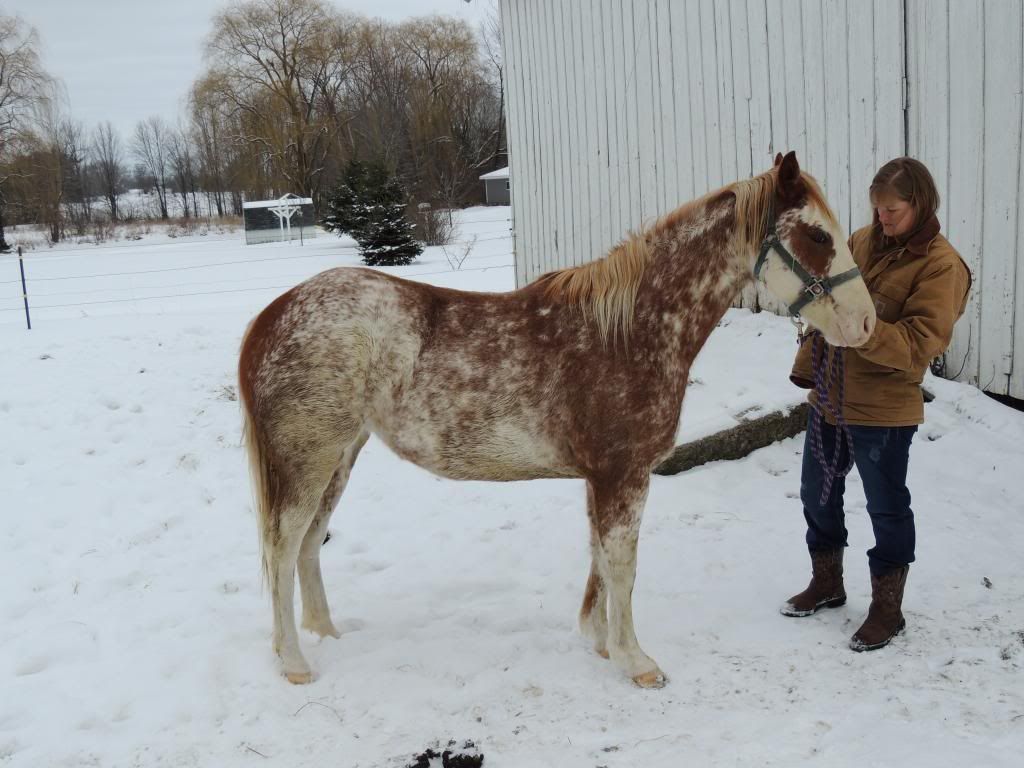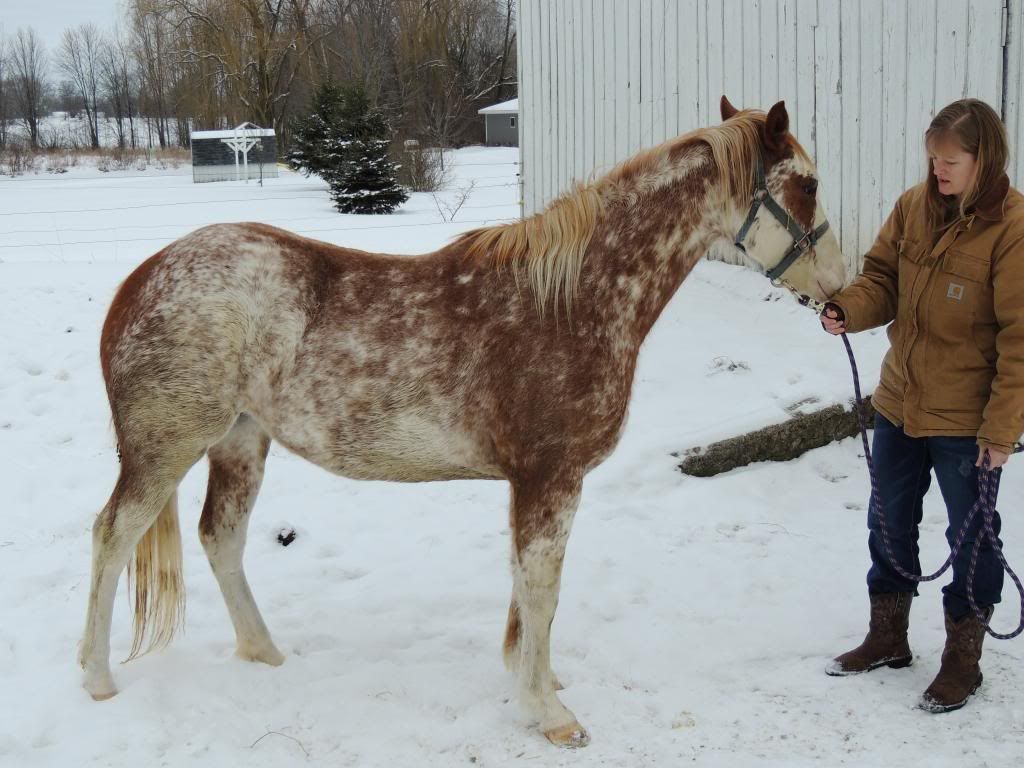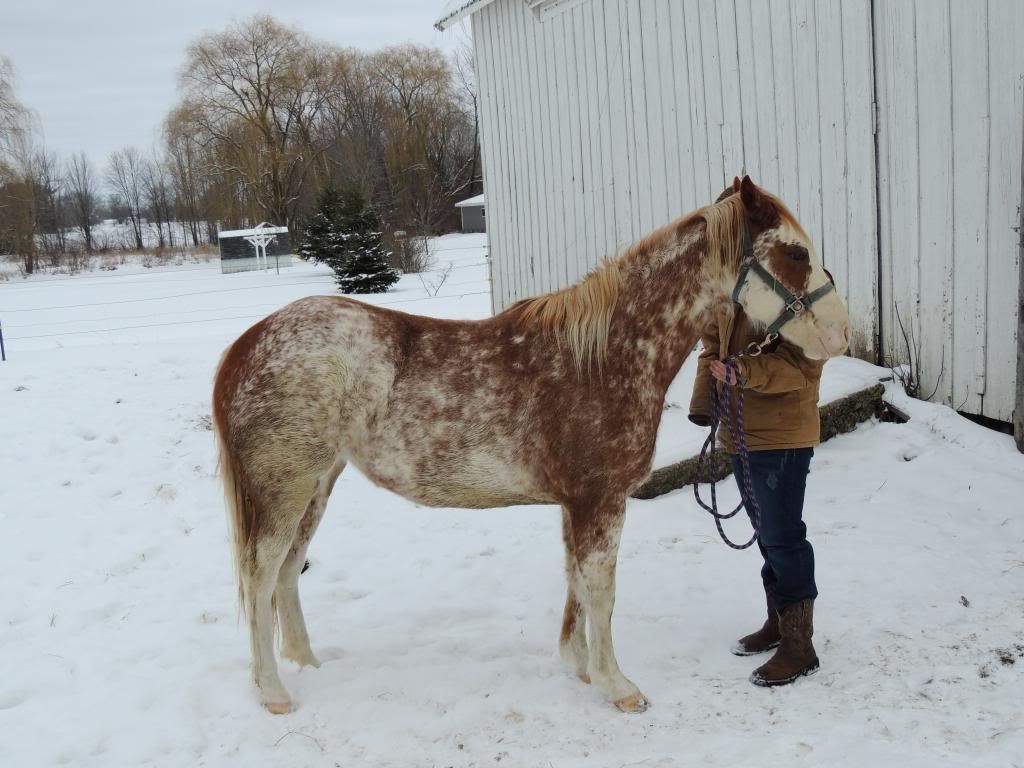 Not sure these last two are worth it...she was standing up on a snow clump in the back and I couldn't see very well. My husband said it was fine (he was also freezing and ready to go), and when we got home I noticed it...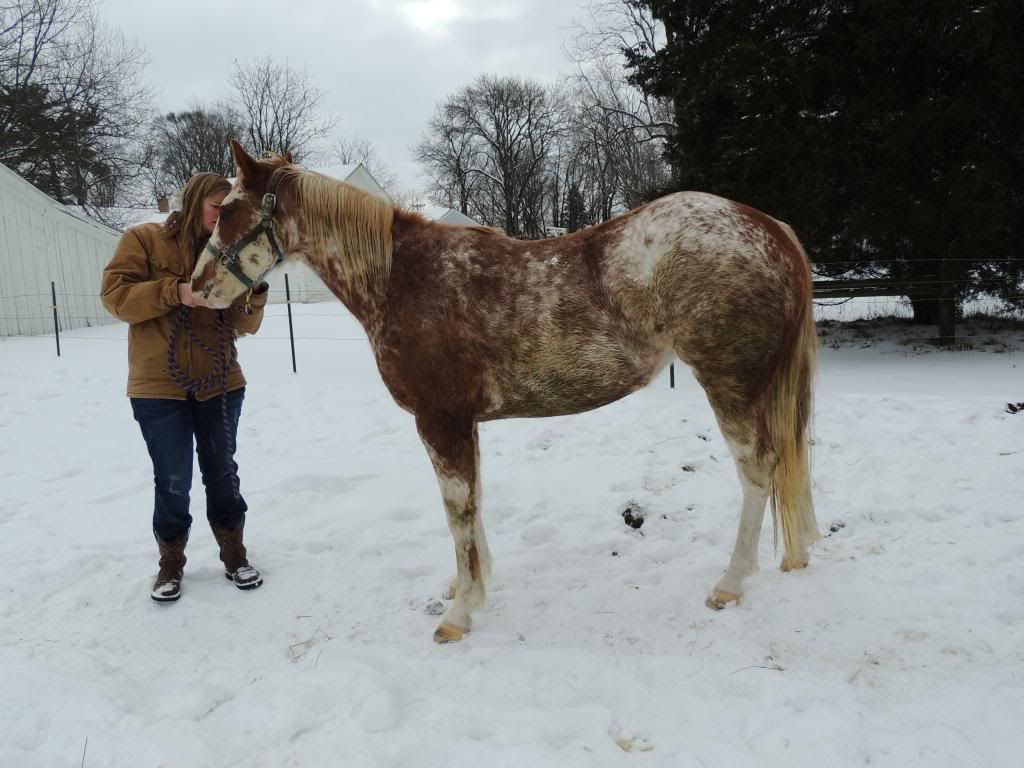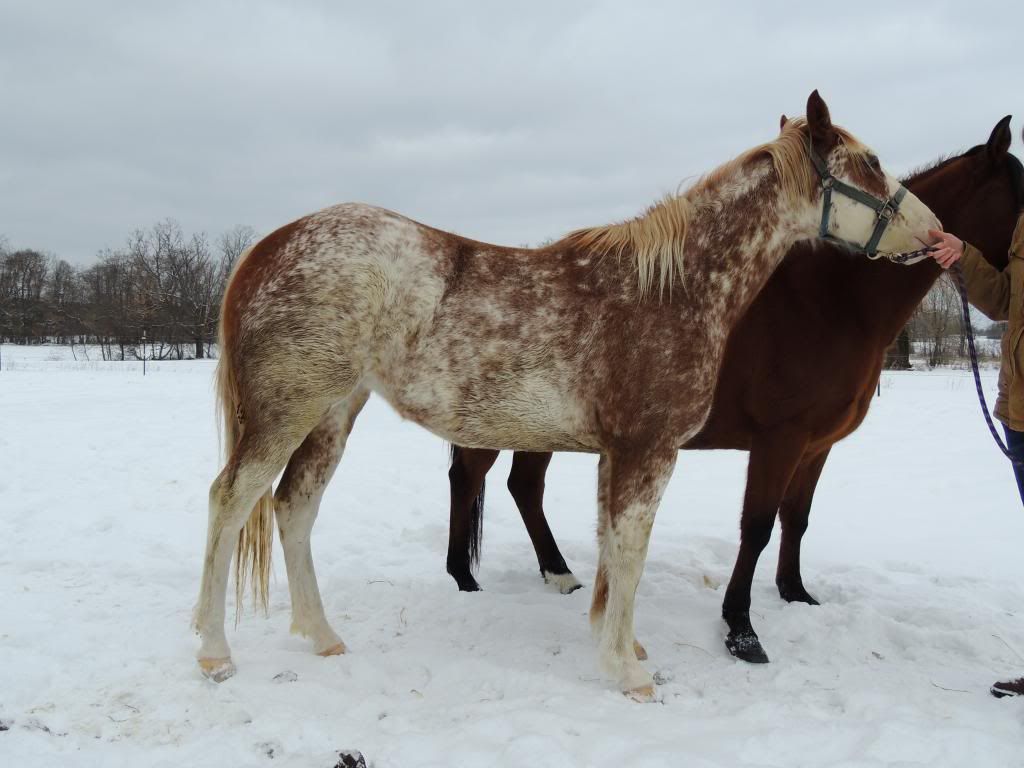 I also discovered the the paints tail is practically one big mat...oh boy...
Any more of the bay?? And what is it with husbands? Oh its fine, looks great, um, not, ha ha ha.
---
Melinda
Oh, forgot to update! The lady is a distant family member so she offered them to me for free, but someone approached her about the bay and offered her money. I told her to go ahead and take the money instead of giving her to me for free. I figured it helped her mom out and it helped me make a decision!
But yes, definitely need a new photographer next time
The paint looks to have a very vertical, bouncy trot. The bay is much more smooth. However, the paint has better conformation than the bay, which isn't saying much.
Posted via Mobile Device
The paint looked better in the video then in any of the pictures! lol. Still not put together great, but she seems like she is sound enough to use for trails and probably small jumps/ low level disciplines.
The video isn't playing for me..
---
"Strength is the ability to use a muscle without tension"

Just a tip: If you do decide to take the paint, even though the horse is free, it would still be very wise to get a vet out to do a pre-purchase exam.
Would be a shame to get the horse home, only to find out it has something wrong with it that could prevent you from riding it and/or cost you a bunch of money in vet bills and care.