Critique Un-Araby Arab
---
He is 6, 14.2-3 hh, and pure Arab. I am very aware he is not a very typey Arab, and that he has a rather fat, un Arab like neck, and you can especially see it with all his winter fuzzies on, which attempt to make it look... bigger. And also that he looks to have a giant jowl and throat latch in the conformation photos. But, he
doesn't
have a giant jowl and throat latch up and personal, maybe a largish neck though
Any how, here is his
dam
, and
sire
.
Also, when critiquing, seriously ignore his throat latch- forward. Currently we are jumping. And oh, please, I am aware the lead rope just lying their was
not
the safest thing to do.
This is our first attempts at standing square while being ground tied, and honestly its the best 'square' position I can get him in as of now, while no one is holding him. vvv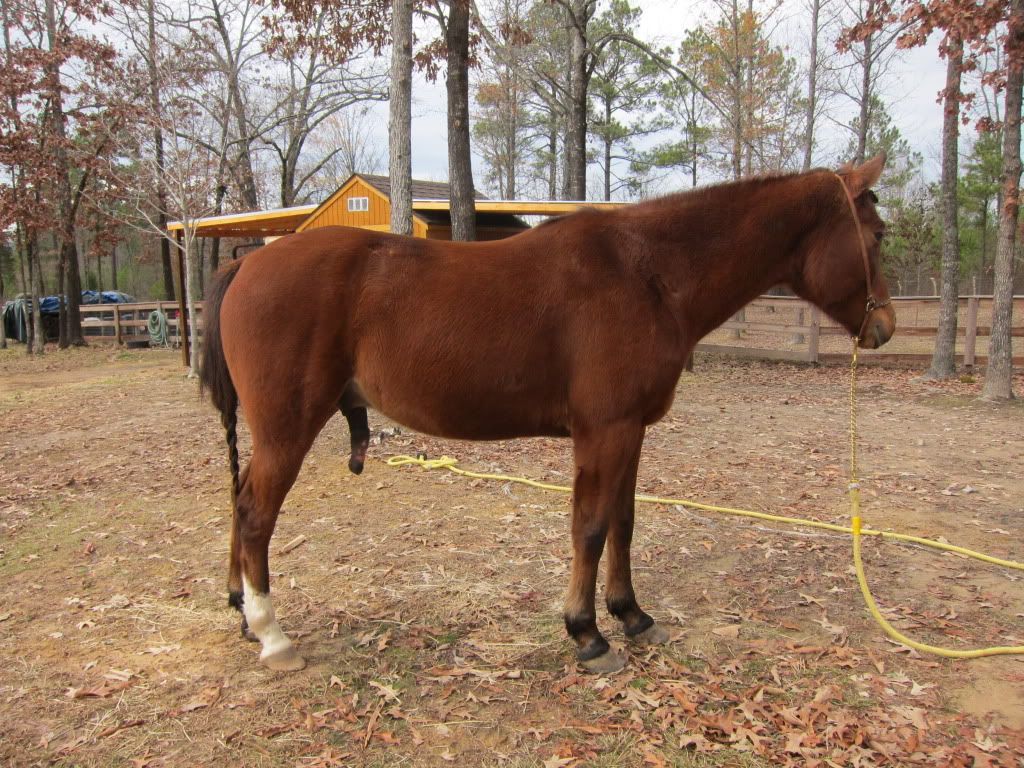 Also, the little goober 'drops' at every chance he gets. vvv
Yes, he looks to have a ginormous head compared to his body... I swear its not true. vvv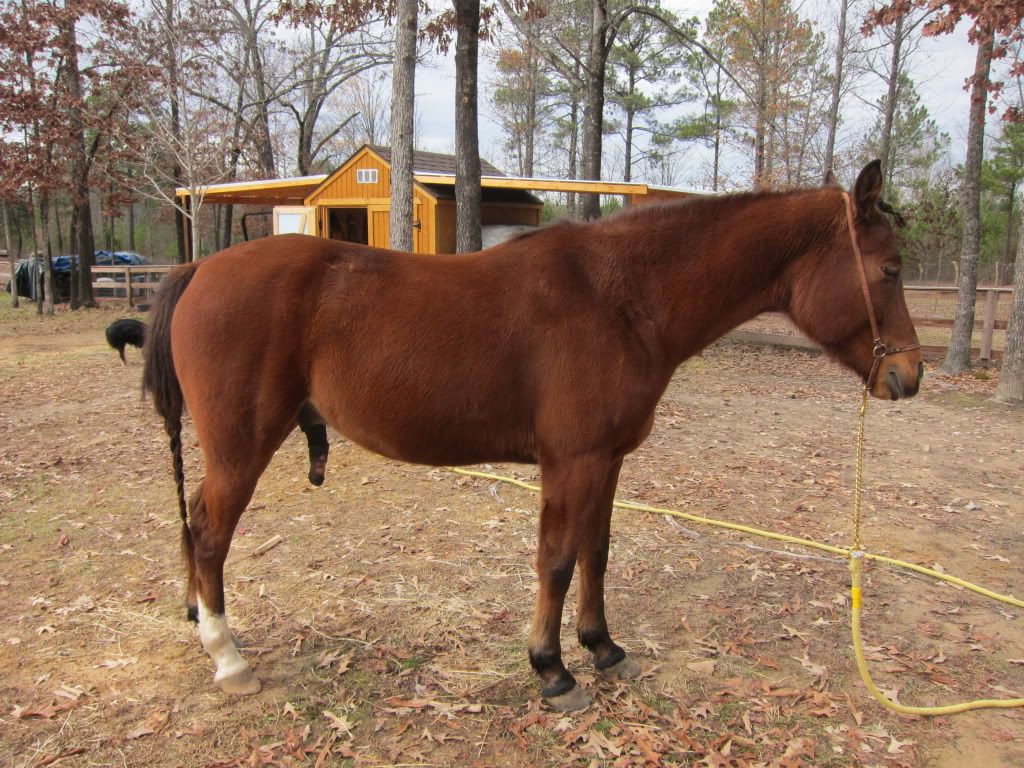 This photo is to show that his head is not as bad as it looks, and he does have a rather Arab face... kinda... not really... vvv
His neck is short, but not as bad as some of the photos make it
vvv
And also, the conformation photos look all the same, but they are not I assure you. I had the camera on a ultra fast shutter speed. (I believe thats what its called... but I am probably wrong... it took like 3 photos, almost instantaneously... so whatever thats called)
---
E v e r y horse is good for something. You dont throw a whole life away just cause he's banged up a little...
---
Last edited by Gallop On; 01-06-2012 at

11:02 PM

.
first of all, if he knows how to release himself from the rope, when he steps on it, then he'll be fine. If he doesnt' know, then he will learn. I wouldnt' worry too much about that.

He's real solid. Got great bone in both front and rear legs, a good vertical rear canon and both rear and front are pretty short. His hind end has nice slope to it, which a lot of arabs have a really flat croup. This horse's hind looks more qh horsey, but I like that. His back is short and uphill, his shoulder is not his strongest point, being a bit upright and not as hefty as would look best for him. The arm bone is rather short and elbow a bit tucked in. Does he tuck up his knees ok when jumping?
He has a bit of a teacup muzzle and , to me, a pretty head. I like his build . It has that rugged, "i will stay sound for ages "look.
He looks like an Arab to me, and his fine dry skin is quite noticable in his summer shots which is a traits some Arabs are missing with their meatier profiles. If you mean lacking type by no table top croup, I would not worry about it and he looks like a doing horse, exactly what an Arab is. As for the bigger head, I have one of those in my paddock and there are lots out
There like that. Some are very long headed, but not larger jowled (which they are supposed to be) and they look more off type in the head as a result. For the neck don't worry, Ecaho and Banat ( i think its Banat but some polish sires come to come to my mind as shorter necks) but quite flexible so all is good. How does he carry his neck?
Raye Anne
Posted via Mobile Device
---
Last edited by SilverShadowStable; 01-06-2012 at

11:44 PM

.
He's actually quite typey and you wouldn't miss the Arab in him if you are reasonably familiar with the breed. I like his sire line very well, not into the Egyptians so not familiar with his dam.
While he's not EXOTIC and sea-horsey looking like a more mondern halter horse, he's very much Arabian in his overall look. His neck is balanced, not particularly short and I don't find it thick at all. Actually, I'd like to see more weight on him but that's personal preference, he certainly isn't skinny. I think he's CUTE and probably got more try and do in him than any other 6 breeds.
---
He is the type of Arab I used in my Araloosa breeding program. That type Arab with a bit higher croup, heavier bone, and more substance than more typey Arabs, while obviously having the Arab muscle composition, makes a far better cross on Appys and Quarterhorses than the more typey or exotic Arabs...
When he jumps, his knees are tucked in well enough. Defiantly not the most they could go, but he does tuck alright. DEPENDING on each jump. Sometimes good, sometimes not.
When I first started training him to jump, his kneed hung horribly, but now, they are good enough
Here are some examples
I am not familiar with his dam or sire, what makes you like his sire line?
You really think he needs some more weight? In all honesty, I thought he was getting a
tad
bit fat
---
E v e r y horse is good for something. You dont throw a whole life away just cause he's banged up a little...
He looks just like my wildey boy, also pure Arab. If he is anything like wildey he will be a great jumper for you - wildey and I cleaned up for years jumping, because he could be super speedy but turn on a dime and jump out of any spot, we were rarely beaten in a jump off.

I love a good using Arab.
Posted via Mobile Device
Re: his skin. Arabs are noted for their fine skin and dry facial features. This is noted in the summer because they can shed on their face much more than other breeds. Some arabs can even be pretty much whiskerless. Hence the look of the shaved face for halter. Some take years to dry out on their face, and some are like that since foals, but you can easily see well defined tear bones, even muscle definition on jowls, defined eye sockets and every wrinkle in their skin. I did not really understand the description until I bought a stallion who was extreme on the fine dry face features. He had tiny sparse whiskers, barely any face hair in summer and a network of small veins that were close to the surface of his skin on his body that popped out without a work out. When he got old I could see all the extra wrinkles. If you took your guy, shaved just his muzzle whiskers and oiled his face lightly, he would look pretty showy without any of the face shaving other Arabs have to go through. He has nice length of ears too.
Posted via Mobile Device
This can be a very dangerous way to free work a horse
I like him a lot he reminds me a ton of my boy. I think he looks fine weight wise and I love the sturdy look. His face definitely shows the arab, most of our arabs don't have the dainty little halter heads so its perfectly fine :]
---
just a small town girl with a big town dream :]