Quote:
Originally Posted by
Dreamcatcher Arabians
View Post
Somehow I got lost before I could answer your halter question. In Arabian Main Ring Halter (vs. Sport Horse in Hand which is a whole 'nuther ballgame), the front feet should be just a tiny bit in front of the shoulder and very slightly split is ok, the back feet should be split (one farther in front of the other) but not to the point where the horse isn't bearing weight on all four feet.
In this picture, Cloney should have is front feet about 1/2 step further forward and his back left foot, he's just starting to "cheat" on by sneaking the weight onto the toe and not keeping his foot completely flat.
Ideally, he should be rocked further back on his haunches so that his neck would come up straighter out of his shoulders and then break at the poll to reach for the whip or hand that's being used as his 'target'.
If I can ever figure out how to get some pics from my phone onto photobucket I'll try to post the ones I took at Nationals this year, he was standing a lot better there.
Here's a pic of him as a yearling, just before Scottsdale, he's standing a LOT better here.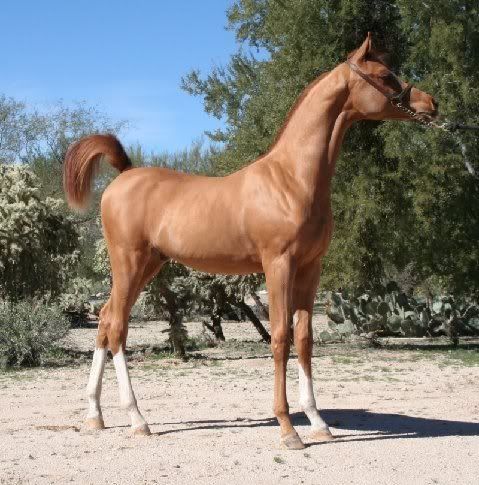 That is quite the gorgeous boy! So, typically it depends on the different breed of horse that tells how they are supposed to stand? Getting Rusty's front feet to be squared is simple enough, but I tried the back feet and... wow, its hard to get those square, and stretched out behind him! One more question, how do you get their necks stretched out like that?
---
E v e r y horse is good for something. You dont throw a whole life away just cause he's banged up a little...
Here's a link to a training video:


Hopefully this will answer your questions. She's very non-abusive and still gets a good attentive look from the horse.
---