Dressage horse progress
---
So it's been a very interesting past months. After a bad fall on cement soon after he arrived, he was lame for a good month. Finally got a good chiro out, and we found his hip was rotated (she also pointed out a calcium deposit right beside the croup, probably due to overcompensation, which may or may not be permanent). So she managed to correct that and the very next day, he was no longer lame. (and has stayed not lame, except for the week before when he hit himself in the back leg and his pastern swelled a little...)
I tell you this so you know that his training has not really been smooth, especially since I dropped my previous coach in the beginning of July. (and I just found a great coach a couple of weeks ago, but due to her being super busy, have only had the one lesson so far... hopefully one this week...) So I've been on my own.
If anything, I'd say we've really got back on track with training a few weeks ago. So, knowing that timeline, I'm curious as to what you think of his progress (in pictures) so far??
From
April
, before his chiro:
From early
June
, probably a couple of weeks after chiro:
And another, not set up right, but the light hits him differently:
http://i1226.photobucket.com/albums/..._confo_def.jpg
From
August
: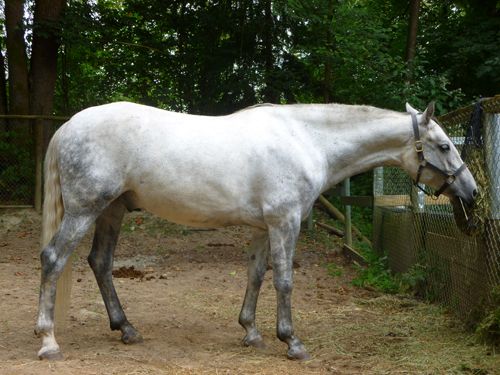 And another, from same day:
http://i1226.photobucket.com/albums/...ug_confo_1.jpg
I think, in another couple of weeks, there'll be a far more visible change. These last couple of weeks he's just been so amazing. He's been really working his butt off for me. You can feel him REALLY lifting his back (which I had never quite felt so strongly in another horse before), and I don't think I can take the credit for that, he just seemed to switch 'on' a few weeks ago and he's been really working hard.
So! =) Advice, comments and critiques welcome!
Actually he looks more comfortable in the top photo standing.. but this is what a photo can do. He looks relaxed and his hind legs look like they are supporting him.

In the next photo his hind end conformation flaws show up much more significantly. He appears to have a capped hock (right) and his gaskins are short and his hocks are set to high. His back leg placement looks stilted and stiff.. like he has a sore lumbo sacral area.. and with his hind leg conformation, I am not suprised. He is a bit camped under as well. I expect he does not have a lot of action behind.. and wonder if he drags his toes or stabs his feet down.. I suspect he is short strided behind.

In the last photo he has his front feet under him and looks like he is trying to take more weight on his front legs to take weight off his back.. like a person with lower back pain who leans on a shopping cart in the grocery store.

I do not know how advanced he is.. but from the over all muscling, he is not advanced and I am not sure where you are planning to go with him. I do like his front and he looks to have a lovely disposition.
---
There is something about the outside of a horse that is good for the inside of a man.
~Winston Churchill
(or woman!!!!
) Dinosaur Horse Trainer
I'm afraid your eye is a little off today, Elana!

Most of the issues you've mentioned have to do with my poor positioning of him. Except for the first one, they are all the aftermath of me and him arguing to get him in a square halt. Obviously, not succeeded! Lots of back and forth, etc, so he looks stiff, annoyed and not really holding his weight as he normally does. =) But yeah, standing square is still hard for him, which is why he's so stiff looking. I'll find you a more natural 'halt' but he won't be completely square. I never have the camera when that happens!

His high hocks and high stifle is his biggest flaw, and something I was aware of before purchasing him. But he has a great mind to use himself as well as he can. Would you believe me that he has a GREAT overtracking walk? He uses his hind leg pretty effectively, usually tracking up at the trot now (so long as I keep him forward), and actually has a few clips to the back of his front hooves from his hind legs. Been thinking of getting overreach boots... I keep meaning to video him when he's turned out-- wow, such reach in the hind and front! Which is why I know I restrict him a lot when I ride.

No, afraid that's just lighting in terms of a capped hock. I just examined him, and doesn't look like there's anything. I'll see if I can find another picture that shows his hocks more if you don't quite believe me. And either way, it shouldn't effect his performance, as far as I know.

And yes, he's fairly green. We only finally got our steering solid this last month!
Back with pictures! No video, can't find the portable harddrive where they're in.
Here's him naturally at (not square) halt. This is the exact same day that I took the august ones in the OP:
And a few movement ones, hopefully you'll get the idea. In none of the ones where I'm riding did he feel like he feels now, so he's far more effective now. None of the following are recent, most are from May if I remember correctly?
(I am aware of my riding position... like I said, I know I restrict him. But it's been hard without eyes on the ground!)
As a two year old:
Here, I did have this one uploaded. It's from Feburary, a video taken by the breeder.
Here's a larger copy of one from the august session, zoomed into the hocks. It doesn't appear capped to me, but I'm still learning, unless it's mild?
http://i1226.photobucket.com/albums/.../hocks_aug.jpg
---
Last edited by teamfire; 08-20-2012 at

10:18 PM

.
Yup, he does have reach but he also does stab his hinds into the ground a bit. This may improve as he learns to work more off his hinds and learns to flex his hocks, if he can. You are correct.. the photo makes him look like a capped hock but the other photos show it is not capped.

Having been a professional photographer for a number of years it is absolutely incorrect to look at a photo of any horse and say "that is it." ALWAYS see the horse in person.

I offer up critique based on what I see in a photo.. which is a 2 dimensional representation of a 3 dimensional object. Standing opposite the horse's hip with the camera and having the horse's front end slightly further from the lens than the back end will almost always give a more pleasing image than a photo taken with the horse standing equi-distant to the lens and opposite the horse's heart girth (for instance).

The other photos of this horse are more pleasing. I believe the reason this horse objects to standing square is because, with his conformation, he probably finds it uncomfortable. You will probably find him more cooperative when he has his ring of muscles working better.

BTW I notice your lunge set up is correct. I would like to see (loose) side reins on him and I would like to see him more forward from the rear and less on his forehand.. (and I am sure you would too and that is what you are shooting for).

I suspect he will do OK for you but with those high hocks I am not sure he will do real well at the higher levels. That being said, you will learn a lot from this horse as he progresses.
---
There is something about the outside of a horse that is good for the inside of a man.
~Winston Churchill
(or woman!!!!
) Dinosaur Horse Trainer
I am by no means good at critiquing pictures but the August pictures (both the one of him squared up and the natural stance) look to me to be a horse in pain. I actually winced when I saw both pics.

I would give him some more time off and work with the vet/chiro to get him completely sound before riding/working him.
---
Nike, did you look at the natural halt for august? I wouldn't say he looks stiff in that one. Like was mentioned, he looks uncomfortable due to me forcing him to stand in a way that is hard.

Absolutely, Elana! Forward is still the game. I've not got sidereins on yet since I haven't been taught to use them yet and am afraid of doing more harm than good!

He is my first horse, so never had high hopes of competing to win. Wanted a horse I could learn on, and to get the feel of the mid levels. Passed on a horse with wonderful conformation... But temperament was more important to me.

And thanks for the photo tip! Been doing it wrong oops!
Yes... and I felt he looked uncomfortable in that one, too.... sorry!

I had a gelding that reared up and over backwards onto a Western saddle... his back was messed up for awhile. It ended up taking him a year to completely recover, although I admit I always err on the side of being cautious.