I like him, but that stifle is a tad scary. Minus the weak stifle he is lovely though!!
---
They say money doesn't buy happiness -- well happiness doesn't buy horses!
I'm actually going to look at one this Sunday.. bit naughty pre-epmting Duffy's sale.. but its 5, and it hacks, so my mum will be able to ride too.. 162cm.. so 16.1hh... will get the link- no confo pics though :/
is it just me or does that horse have a rather long back?
Possibly, or a small rider :P

I'll be taking confo pics and a video when I go and try!
haha - good point!
i'm used to seeing about this much back behind the saddle: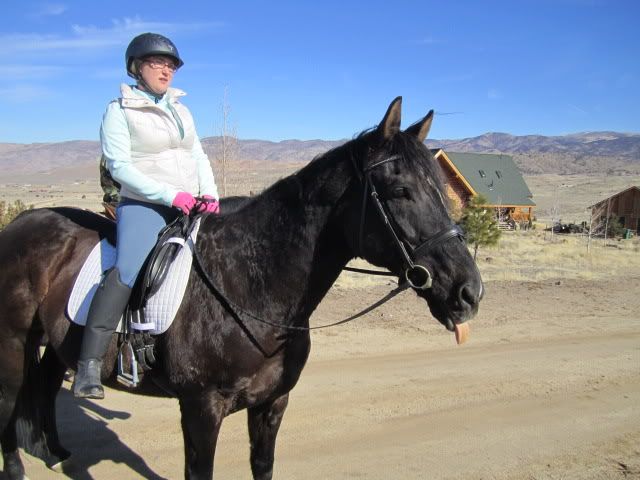 forgive the facial expressions!!
Teen Forum Moderator
Join Date: Dec 2010
Location: South East Texas
Posts: 7,157
• Horses:
2
looks like both to me xD long back and small rider.
---
Everyone in your life is meant to
be in your journey, but not all of
them are meant to stay till the end.
Can't really tell if long back or not... can't see where the wither ends.
---
Last edited by teamfire; 04-17-2012 at

01:47 PM

.
It is a bit hard to tell much from the photo's - they have angled them quite a lot from the forehand, so you can't see true lengths of the neck and back, can't see a true angle of the shoulder etc.
I don't think the neck is terribly long, going by the camera angle it is probably quite a good length in relation to the back. I also don't see a long back.
Maybe a touch over at the knee, but that could very well be the angle and the way the horse is standing, and if there is anything there, I wouldn't think it could cause much trouble as far as soundness and performance goes.

Like Anabel, the only thing I'd be really worried about is the stifles, and if you like him, I'd get those thoroughly looked at.
The long back concerns were for the second horse. =)