As was said previously, more information is needed on both what you are looking for and what these horses qualifications are to determine suitability. The new one looks green and will require a lot of training before I would consider him for someone looking for a horse to learn on (is he even broke?). The previous three I don't like any of them for a "teacher", because none of them are shown in the pictures doing anything. #2 is the closest to a riding picture and it looks barely ridable in it.

If these are the "best" pictures of the horses the sellers have.... I'd be walking right past all the horses in this thread.
---
They say money doesn't buy happiness -- well happiness doesn't buy horses!
What am I looking for, well that is difficult, because I'm probably looking for a $15000 horse on a $1500 budget
I am new to dressage, just finished my second season, the first was successful, the second somewhat frustrating, I have been competing at intro and training at training level.
Part of me would love to buy a schoolmaster so I can concentrate on me, but a large part of me is very uncomfortable at that, so a safe greenie would fit the bill. I originally said I wanted something to go straight into training level next year, but the grey would have to go into intro with the aim of ending the season at training level.
He is broke, both western and English, but doesn't have a lot of miles on him. He is 6 years old, and 16.2 hh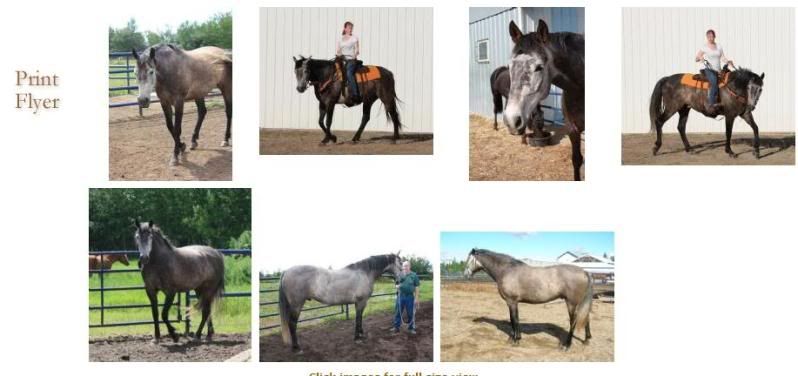 Is there a horse you could possibly lease? Or a lesson program? I would personally save my money, or take out a loan or line of credit and buy something that is what you really want. With the training you'll put into the grey, and the uncertainty there that's a lot more than 1500, not even looking at the purchase price!

Good luck! I would suggest maybe talking to your coach about your goals, and what you want in a horse and have your coach help you look. Make a list of needs, wants and cants and check every horse against that list.
Posted via Mobile Device
No to leasing, and no way that I'm taking a loan to buy a horse, never have, although I have made instalments on one before.
I think I forgot to mention that the grey is 3/4 Andalusian
, so I think that if he can get to level 1 or *gulp* 2 he would be a great investment.
I've been thinking about this a lot, if I bought a made horse and did well on it, I wouldn't feel that comfortable at my local club, where they are ordinary folk riding ordinary horses.
The whole thing about dressage for me is the development of horse and rider, and the only competition that really matters is being better than last time
So yes, I want a safe ride, but a sane greenie with potential would probably do well. IF, IF this guy seems suitable, we have already agreed a trial period, to make sure that we are going to suit each other.
I "learned" dressage alongside my current horse, and while we are not doing badly twelve years down the line, I spent a lot of time screwing her training up, having to fix it, then screwing something else up, having to fix that, and so forth. If you haven't a clue what correct impulsion, collection, bend, etc. should feel like, it's a long, frustrating road figuring it out, even just to get a horse doing Second Level well. I got so fed up I quit competitions and now just school and mess about with dressage for fun. Had I a schoolmaster horse and she a schoolmaster rider, we probably would have gotten much further but we were the classic case of the blind leading the blind. Eleven or twelve years is a long time to wait to have a horse who goes correctly! It was fine, though, and of course it has been enjoyable learning experience, or rather became so after I quit competing.

I've known plenty of horses who weren't "fancy" but who were trained correctly and could teach you how to ride the movements and have the horse on the aids. None of the horses you have posted seem to have significantly more dressage potential than your appy, from what I've seen of the videos you have posted of him, nor do they seem to have more training in the discipline. If I was in your shoes and serious about finding a dressage horse, I'd be looking for something that had considerably more training than Mr. G and/or considerably more potential, and not be bothered with what the riding club thought.
---
Last edited by thesilverspear; 11-28-2011 at

09:22 PM

.
Awwww look at this, found a picture of the grey as a baby, love the legs
I personally like the grey - he's very handsome.
I don't like any of the first 3 at all. #1 has a very short back, weak short and steep quarters, steep shoulder, short neck... doesn't do a thing for me.
#2 You can't tell much at all about confo, but I'd say there'd be a significant amount of retraining to do there to undo the undermuscle already there and incorrect way of going.
#3 is the best of the bunch - generally you pay for quality. But if I were looking for a dressage horse I wouldn't even pause on his ad.

The grey is quite nice, could see nothing on the video as it was terrible quality. But if you are able to go out and have a ride, I think he would be your best bet.
I would never buy a horse sight unseen. You need to take a trip or look closer. #1 has no heal at all which could cause problems as it gets older. Just because something is twice the price does not tell us anything. The 1st one could be 100.00