Drafty, you've always known I love Aires, he's Rafe's "brotha-from-anotha-motha" so to speak LOL.
Yep, he's a bit on the lean side but that's to be expected in a growing horse and better a touch lean than too fat (like mine
). As far as basic conformation goes regarding things that aren't going to change as he matures, it looks like his shoulder is a touch upright and he may end up being a bit long in the back as well. And, of course, his head will likely always be on the big side LOL, curse of a draft parent.
Those are the only bad things I can really spot about him. He's got great bone and he doesn't appear that he'll be overly bulky when he's grown. Just guessing, but I suspect he might just look like a very large stock horse when he's done instead of a small draft.
Quote:
Originally Posted by
DraftyAiresMum
View Post
DHW, that wasn't directed at you. It was an "in general." I should have gave it its own paragraph. Sorry.

Gonna have to do some research on calorie intake and such. He's grown like a weed lately.
Posted via Mobile Device
There is a formula, easy to figure out for horses up to 1320 lbs/600kg:
McalDE/day =1.4+0.03x(kg body weight)
Horses over 600kg its a bit more complicated....
Example:
450kg(990lbs) requires 14.9 Mcals for maintenance
750kg(1650lbs), like a Belgian, requires 22.11Mcal
A lb alfalfa has 1.12Mcals, grasshay 0.9Mcals
That's all for maintenance, for work and growth, it will be more, of course.
Smart book also says, given the possibility, a horse will consume sufficient feed for maintenance, unless it's low quality feed, of course.
Well... He got a little shorted on the overall balance department... As seems to often be the case with Draft/Stockhorse crosses (though there are some nice ones, many seem coarse looking, with large heads, small necks, longer backs and drafty pelvic angles)

In this guy's case... He has some years to fill out, so he will probably become more substantial as time goes on (this is often true of unworked drafts in general)... But, he got the draft head, a shorter draft neck (though he got a decent neckset ), I think his shoulder is - overall - decent... The photos make it hard to tell, but he's not overly steep, nor is he particularly closed in angle and the neckset he has should give him more range of motion than a lot of drafts get. He does seem to have a long back, long loin, and his LS placement looks too far back, then his pelvic angle looks steep (some of this is because he is resting his leg in every shot... But I think he just is steep too) with him standing as he is, I can't tell for sure what his hind leg set is like. He has nice bone.

Overall he's not the smoothest looking horse, I sincerely doubt he's destined for a Grand Prix career, but, he is probably a tough, hardy horse who may prove quite handy as his training goes along.

We used a number of these crosses (most looked a lot like him, conformation wise, too) when I worked with outfitters... They often made reliable mounts for mountain riding, could truck along all day, be used as pack animals, skid logs and pull wagon - generally just "useful" to have around.
Thanks, TLU. I'm not a Grand Prix rider and never will be, so it's okay that Aires would never be able to compete at that level.
He just needs to be a good, all-around horse (a little jumping, a little eventing maybe, a lot of trail riding definitely).
Hard to believe this is the same horse as a 2.5yo.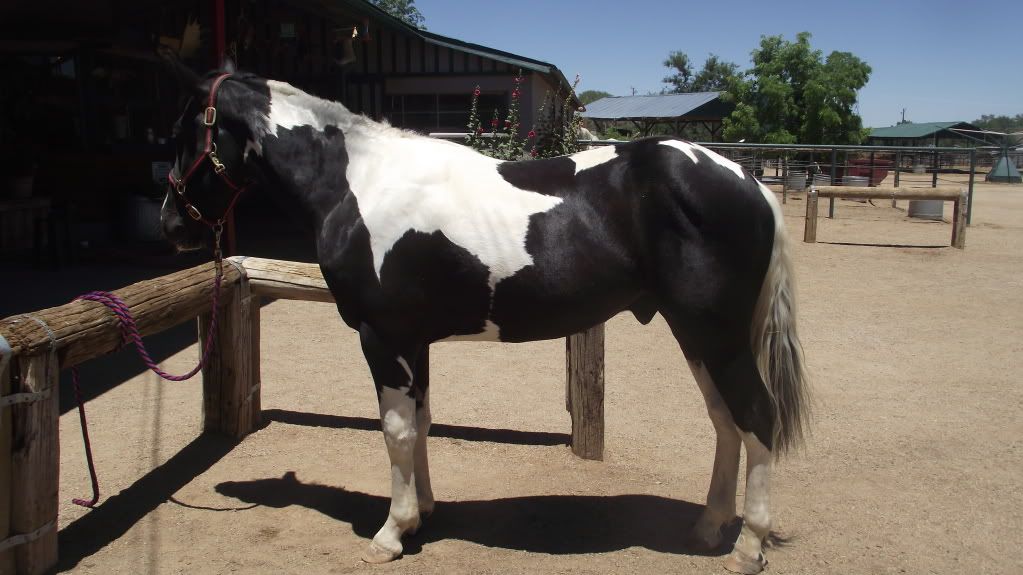 Posted via Mobile Device
I was just going to echo the feed comment.
I used to have my filly (shown in the picture) at a place where I wasn't told how much she was fed. Then one day I helped with chores in the morning, afternoon, and night. You think the "fed 3 meals a day" thing sounds great until you see how little they're getting. My filly received a flake in the morning (which varied by the person giving it, but was usually about 2 inches thick, or 2-3 lbs), half a bale in the afternoon (that she fought over with 4-5 other young horses), and another 2-inch thick flake at night. I calculated out what she was probably getting per day, and it was probably about 10 lbs. She was hard to handle, did not listen well, and was just naughty in general. I switched barns, upped her feed to 18 lbs of good alfalfa a day, and lo! After 2-3 weeks, her attitude and manners were better than that of some of the 20-year-old horses at our barn.
Personally, I'd rather have a fat horse that receives all the needed nutrients at the time they're actually needed, than a lean horse that ends up having health problems later on in life. I'm sure you know how that goes! We gotta make sure our babies have adequate nutrition early on, or we'll have all sorts of crappy problems later on down the line.
Yours sounds like a trooper that's willing to fight for his food. I was told that my filly kicked the crap out of the other horses, whilst trying to hog the hay. She still didn't get the amount she really needed. If it makes you feel any better, you could always ask them to delegate a specific portion, like 8 lbs, to his stall. That way you know he's at least getting that much per day. Knowing that my horse isn't hungry ALL the TIME gives me peace of mind!