A good H/J prospect?
---
I've been riding this little guy for the last three months and a bug has been put into my ear that he would be a good horse for me to buy. He is within my budget and the owner has been trying to sell but is having difficulty due to his size(only 15.1hh) and level of training(forward and spicy W/T/C). He's only three, so he will fill in a bit more. He is 3/4QHx1/4TB.
I'm looking for a hunter/jumper who can do the 3'-3'3" classes eventually, mostly at the local/bronze level with the occasional gold show. This little man LOVES to jump. I put him in the arena loose to burn off energy and he ends up going over a bunch of the jumps on his own. Very clean changes at liberty, nice and balanced gaits despite being built down hill.
How high do you think he could go? Does anything in his conformation scare you off of a jumper? Do you think I look too big for him? I'm ~5'3" and 120lbs, mostly torso.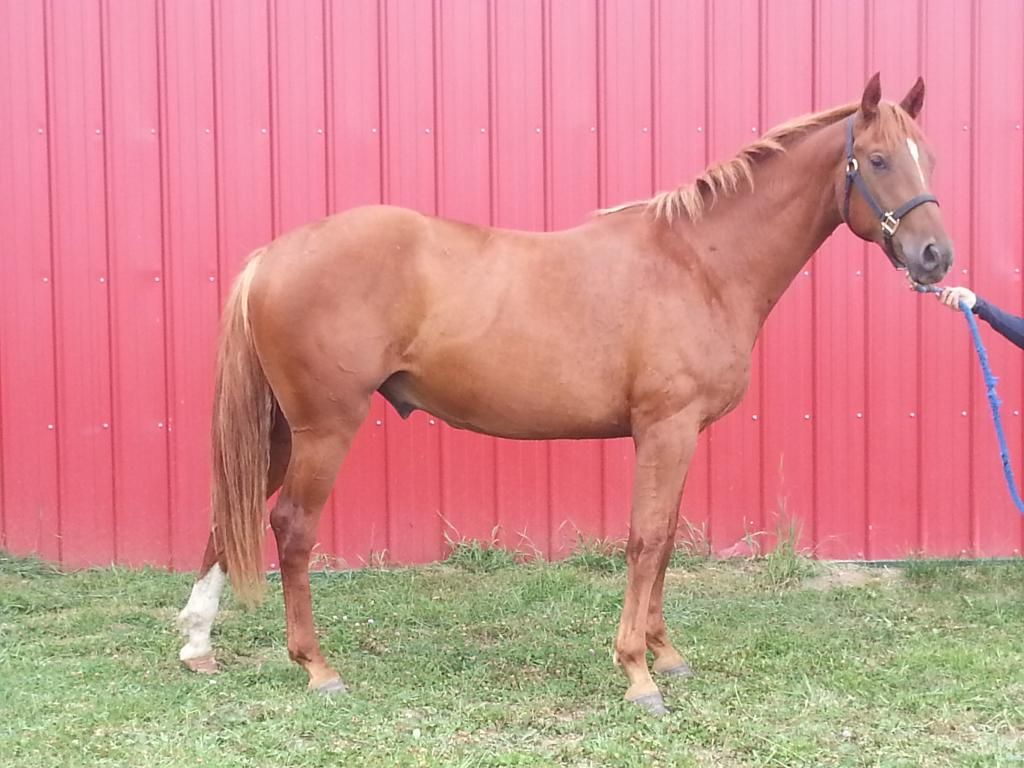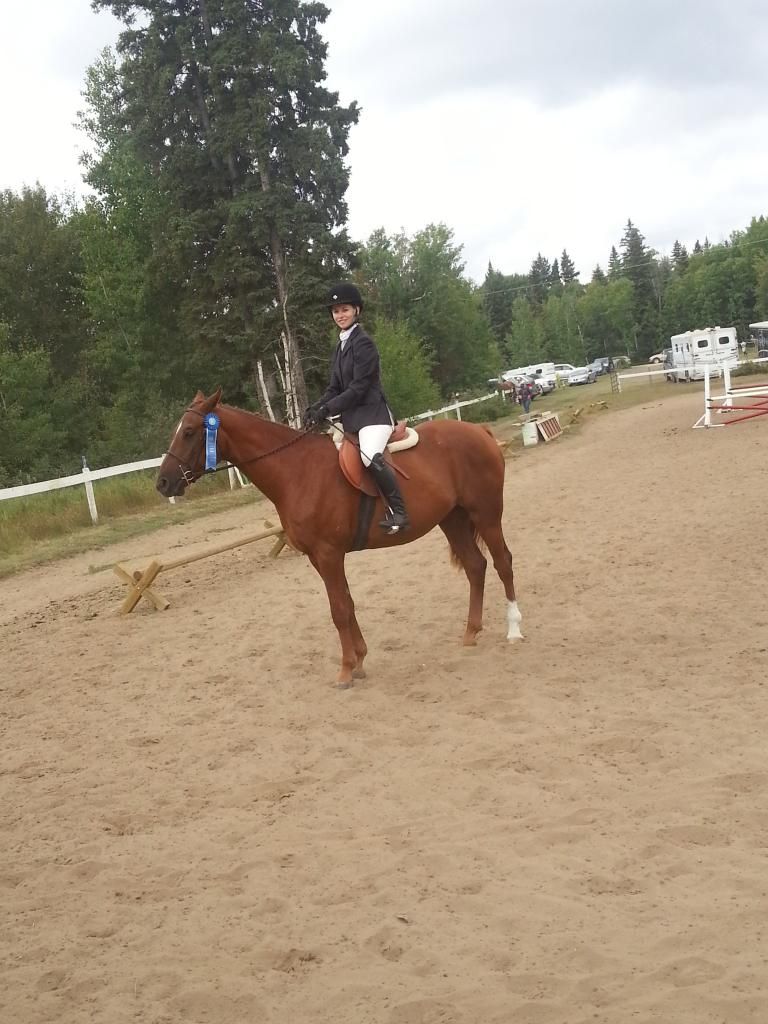 Free jumping:
Having fun at liberty:
He is lots of fun to ride, incredibly smart. His size and the issue of saddle fit what concern me the most!
I look at his shoulder and my first thought is adequate. Barely. Then I analyzed the video.

First let me say a horse will show his best form over an oxer (and in this case an uneven oxer). He gets his knees level and folds his front legs under which shows he is careful and at least capable. He can do it and do it without being dangerous. Bring him along SLOWLY so he learns his flat work.. so you can collect him into 5 strides where 4 were built into the course.. so you can extend him to three strides where 4 were built in (you may never need the latter but it is good training). Get his flat work down to perfection and he will be pretty enough for hunters.

His hind leg is a little sickled I think. Hard to tell in the side shot photo standing like that. The photo of him being ridden.. Oh do take that down it does your nice horse no favors!

This horse has nice bone and is built level enough front to back with knees and hocks and elbows to stifle almost on the same level line.

I look at this horse and quite honestly I would also try him in eventing. He might not go to National level, but he has the balance and he can jump. He does not look like Grand Prix jumping material.. he would need a more laid back shoulder, but his form over that oxer makes me think of eventing.
---
There is something about the outside of a horse that is good for the inside of a man.
~Winston Churchill
(or woman!!!!
) Dinosaur Horse Trainer
I like him a lot
take it slow and I can see him turning out very, very nice
Thank you. I'm glad you guys like him.

I do put a big emphasis on flat work. Already he has very good lateral work, and seeing as he is only three there is lots of time for flat. One thing I'd be super conscious about doing is getting proper changes on him, not those half change, scramble around the corner, trot a step, then fix it kind of changes that I seem to see everywhere. I also like to do the exercise where you have two canter poles set up and you see how many different strides you can get in it. I have both a hunter coach and a dressage coach to work with.

What makes him look like an eventer? I do think he'd be good at it, he is fearless and doesn't spook at anything. I don't think I could do anything beyond 2'3" that has solid fences and ditches. Plus my coach doesn't like cross country. The closest I'll get to a cross country course will be a Derby.

That oxer is 3'3". He hadn't free jumped before that so this is his complete raw talent. That makes me think that he could do Well in the 3'-3'3" jumpers since he should be able to take the inside turns and cut strides that a bigger horse might not be able to. I would be bringing him up through the hunters first, though. He must graduate.

That photo of me on him was just to show how I looked on him, not as a reflection on him. It's one of the only pictures I have of us both. He does look terrible in it. I could try a different picture but I don't know how to edit my OP!
Posted via Mobile Device
Too bad on the eventing because it includes dressage and stadium in addition to the cross country.

For courage on cross country you need the right horse and the right homework. Trusting the horse is about 80% of your courage test. It really is.

Considering this horse is 3 years old, remember the growth plates do not close until age 5 so you have a lot of time to work on the distances and flat work. He might make a 3'6" horse.. time will tell.

Don't rule out X Country and eventing. Here anyone who fox hunts also does X Country for obvious reasons.

Just take your time and see where he takes you. At three there are no hurries and no worries.

Keep us updated on his and your progress.
---
There is something about the outside of a horse that is good for the inside of a man.
~Winston Churchill
(or woman!!!!
) Dinosaur Horse Trainer
I have never seen a horse who likes to jump, my horse avoids jumps in the arena like the plague. Every excuse to go around them...guess it comes from his years as a H/J and I dont think he enjoyed it.

I like him, he has a bigger head instead of the smaller head that some QH and QH crosses get.

For 3 he seems really sweet and decently calm, I cant comment much on confirmation because I am always going for those horses who have great heads + kind eyes and who cares about the body!? Ha!
Quote:
I have never seen a horse who likes to jump!
I have seen many. Diddly is the only horse I've ever owner who dislikes jumping.
Posted via Mobile Device