How bad is it?
---
My family recently took in a mare that needs some TLC. I won't get into the details, but prior to our getting her just a couple weeks ago, she had lost quite a bit of weight and her feet hadn't been trimmed in some time. She's approximately 4 or 5 years old, a Kiger mustang mare.
This girl really needs a home... and my family is seriously considering taking her. The thing is, her conformation is less than ideal. She has a longish back, a smallish hip, and a straightish stifle. But... is there anything to say that she can't be a good using horse? Do you see anything wrong to such a degree that she might not be sound for riding?
Keep in mind that while she has regained most of her weight since her tougher times, she still has quite a bit of muscle to rebuild. Her topline is pretty much missing, but hopefully we can get it back soon. Her feet are also terrible, but we're working hard on getting them taken care of... (I'm crossing my fingers that she'll stand well for the farrier tomorrow).
Bottom line: am I crazy if I take on this mare?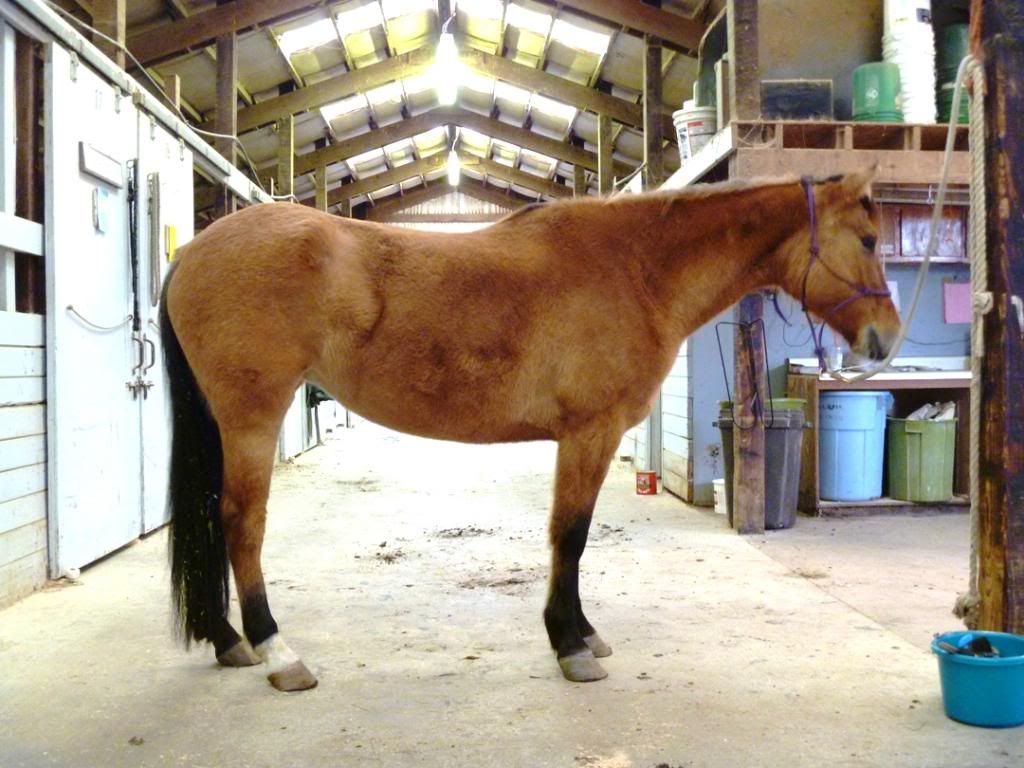 There's this really interesting thing about her movement too. You see... she
floats
, and she
glides
. She reaches through and pushes off with her hind legs better than I've seen plenty of other horses do.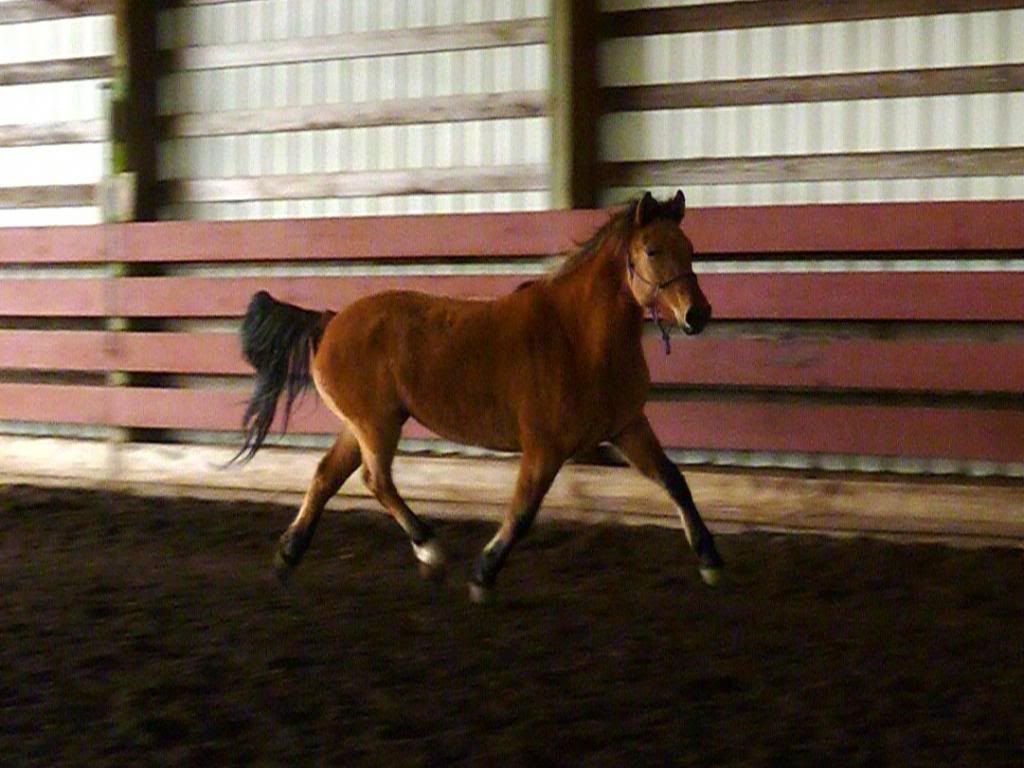 I don't know much about conformation but I think she looks special. There's something about her face... I'd love to see a video of her trotting, she looks amazing in that photo.
---
Satin Reign aka "Misty"... my life, my love, my everything.
I'm not a pro at conformation, but my initial thought is that with work and muscle, she'll look quite respectable.

She reminds me A LOT of how Lacey looked right after I got her, prior to muscling up. Once Lacey muscled up, you would have no idea that she could ever look that "bad".


Also, I don't think she has a long back, I'm thinking that's a weak loin we're seeing. Lacey has one too - it limits how much weight she can carrying comfortably (at 28, Lacey's comfortable limit, prior to her current semi-retired-state, was 160-175lbs) but otherwise should not limit her too much.

She's a real cutie! I think she'll muscle up nicely. :)
---
Fabio - 13 year old Arabian/Lipizzan gelding

~
Rest peacefully, Lacey.

You're right Misty's Girl, there is something about her face! She has a very soft, intelligent eye. If a kind temperament is the first thing to consider when getting a horse, this mare has it in spades! She's incredibly sweet -- everyone who has met her agrees on that.
I definitely don't think you'll regret keeping her, just from those pics. She really does look special.
---
Satin Reign aka "Misty"... my life, my love, my everything.
IMO, the two main things that I notice is her very weak hind end and super short back. She is a little straight in the shoulder, but that's not a huge issue. The issue will probably be with drive from the rear end and stride.

She actually has a similar build to a Paso Fino in the first photo. They tend to have a very short back, long underline, a bigger shoulder, less of a rear end and that straighter gaskin/stifle angle.
---
*RedmansFoxyChic*Starlites Chapparral*ICF Take a Chance On Me*Jay Bar D's Sunshine Jaybar
Yearling
Join Date: Sep 2012
Location: Central Western NSW, Australia
Posts: 1,120
• Horses:
4
What a pretty little girl. I don't see anything that would prevent her from being a decent riding horse. Sure, she's far from perfect and I probably wouldn't put a heavier rider on her, but she definitely looks like she has some potential as a casual mount.
I happen to love mustangs! And like the other posters said, I really don't see anything that's "too bad". I agree with the "there's something about her face" post too.

I was going to respond to this last night but didn't want to be an enabler. I fail!! Are you crazy? Probably! But I don't know I've met a sane horse lover ;)
She is not all THAT bad. Her weakest point is the coupling which is long and weak and she may be tied in at the knee. Her hocks are nice and large and low. Her shoulder is decent.. laid back correctly with a decently high point of shoulder and decent angle at the point of shoulder. Her neck ties in decently high.

What this horse NEEDS is training and work to get her ring of muscles working. You get her trotting up long hills (you standing up in the stirrups in a 2 point position and her on a loose rein so she LEANS into the trot up the hill). Train her to trot over caveletti.. work her gradually up to poles on the ground that are 12 inches high.. 8 in a row.. and trot her over those. These things will get her to build abdominal muscles and support her back.

Honestly? if you get her ring of muscles working and help her to work off her hind quarters she looks like she may surprise you. This is a horse I would work on dressage... she might even surprise a judge if she is given the right sort of training.
---
There is something about the outside of a horse that is good for the inside of a man.
~Winston Churchill
(or woman!!!!
) Dinosaur Horse Trainer
This mare has a tremendous heart girth! But then mid-way through her mid-section...she weakens out with the long loin connection. The front end is much heavier than the back end which shows imbalance, but with the correct work program...that back end can be developed.