While it's true that she is no shining example of perfect confo, I see nothing about her that says she couldn't be a very nice riding partner for just about anything for many years to come.

Truthfully, I think the biggest problem you're likely to have will be saddle fitting with those withers being so big and sharp, but that may change as she gets into a little better condition.

Sure, she has her flaws, but I still think she's a beauty.
---
Always remember that feeling of looking at a big, open country over the ears of a good horse, seeing a new trail unwind ahead of you, and that ever-spectacular view from the top of the ridge!!! Follow my training blog:
http://robertsontraining.blogspot.com/
Thanks for all of the input everyone... I really appreciate it. I'm glad that most of you agree that she's not that bad to start with, and that she'll likely improve with more work and muscling.

If we do keep her (and it's looking pretty darn likely as of right now... I'm having trouble resisting her sweet charm) I'll be sure to post another photo this spring/summer once she's shed out into her summer coat and has been in work for a while. I think it will be interesting to see how much she improves!
Well, is the horse trailer hooked up yet?
I would LOVE to see a pic of her when she's fitted up and in a program! You better post some pics!!
More photos to come after she's shed out and has had some work??? Sounds like the decision has been made! Oh, goodie. : )
---
If you ever find yourself in a fair fight, it's because your tactics suck. ~ Marine 1SGT J. Reifinger
I am late to the party, but LOVE that big kind eye - I also think that she will look very nice come summer with the muscle back on... looking forward to those pics!
Have fun with her :)
---
There is no passion to be found playing small - in settling for a life that is less than the one you are capable of living. - Nelson Mandela
Don't worry too much about her confirmation. We get pretty spoiled these days with some pretty well bred horses to get a hold of but if I learned anything from a few of the old stockmen I worked with it was that if you know what you are doing with a horse and get a hold of one with a lot of guts and a good attitude it can outperform something with the best bloodlines and confirmation. That horse looks all right to me, slap her into shape and treat her right and she should work well.
---
Last edited by AnrewPL; 12-18-2012 at

07:17 PM

. Reason: bad grammar
I would start hill climbing with her and that butt will fill out some. As to the float, you know where that comes from. We have 3 kigers including Donner's half brother. All three of them have that "float" and his is electrifying to watch.
I couldn't resist giving an update: Being the softies we are, we're definitely keeping her. I have been doing daily ground work with her and as of next month she'll be headed off to be started under saddle by a professional.
She hasn't muscled up all that much yet, but I can definitely see improvement. I'm particularly happy with how well her hooves are starting to shape up now that we've been able to trim them a couple of times. You'll probably notice that I retrained her mane to lay on the right side -- I'm more used to it being on that side and now she can show off her BLM brand.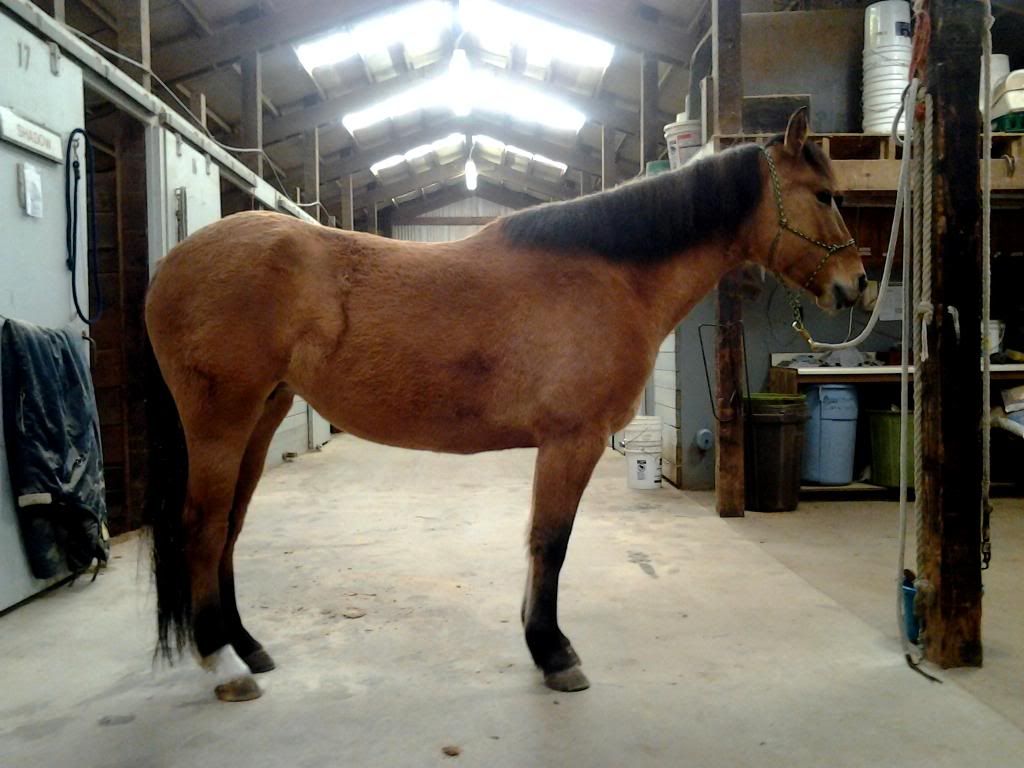 *Steals* I'm so glad you updated us, and we'll be expecting more updates in the future! Oooh, maybe you could start a journal dedicated to her progress in the Member's Journals section??
---
Satin Reign aka "Misty"... my life, my love, my everything.