I may go look at this guy for my daughter
---
In case you don't remember, I'm looking for a 4-H horse for my daughter. This one is 10, 15.1 hh, has some 4-H experience. I'm a little concerned about his front legs. He looks to be built a little under himself, and possibly toed in. (Okay, working on my terminology
) He's nearly 4 hours away so I don't want to drive that far if he's not worth it. I did not get pictures of him from the front, I have asked for a front shot.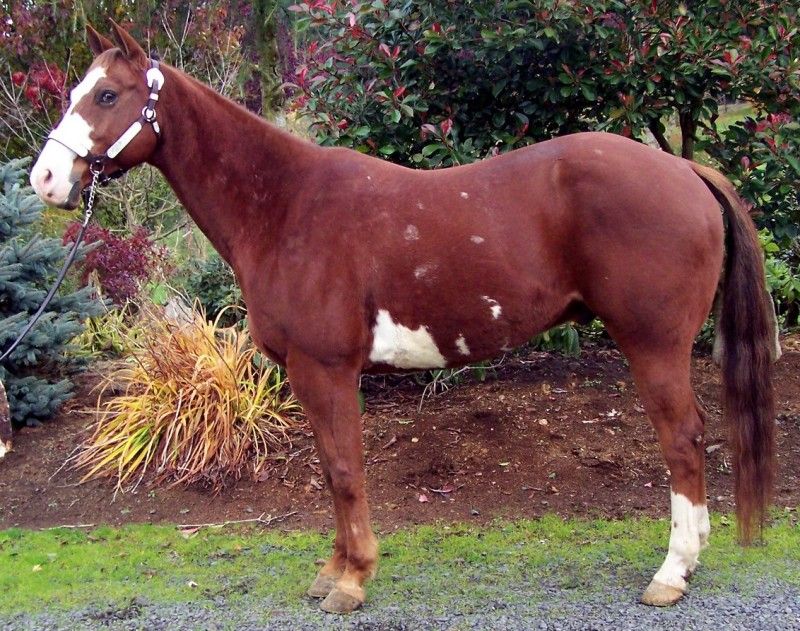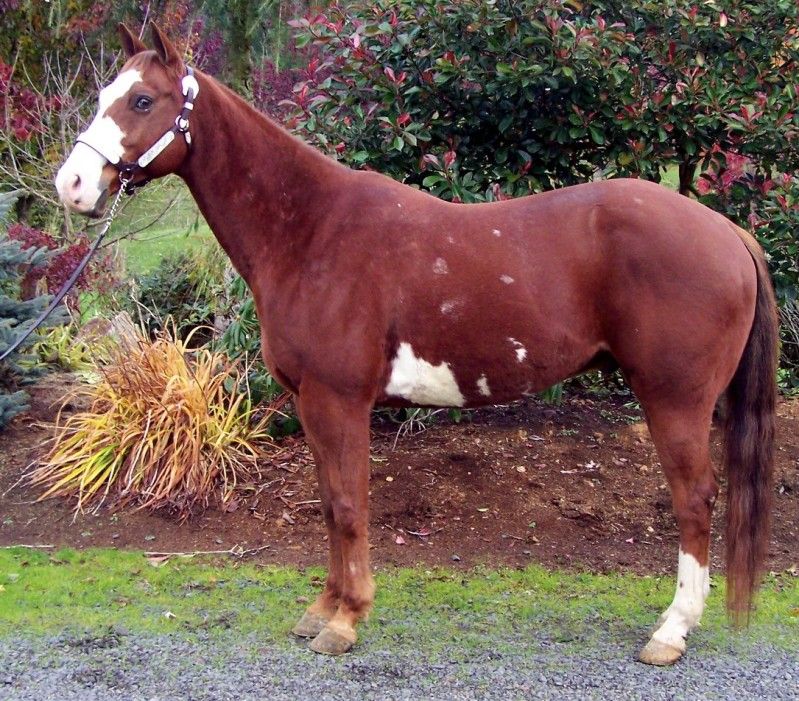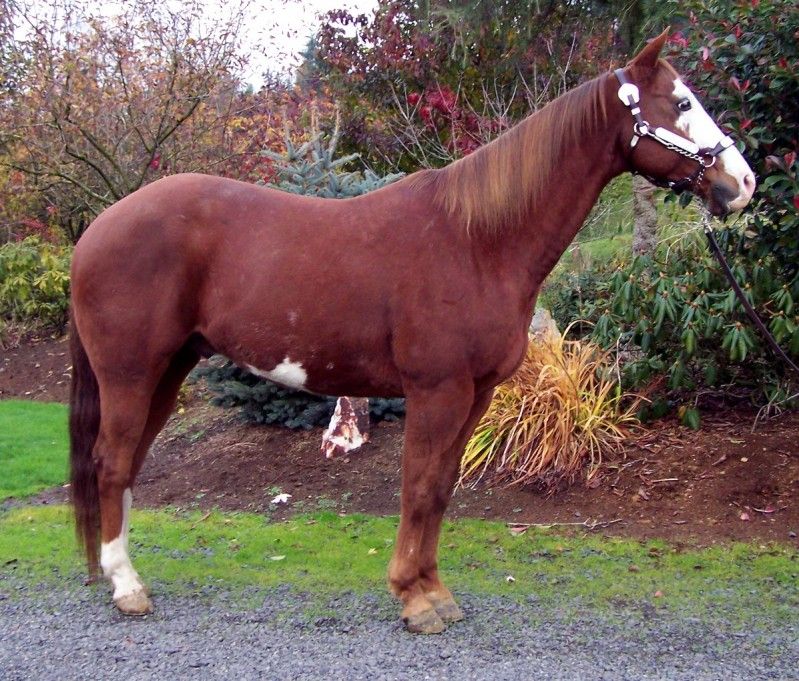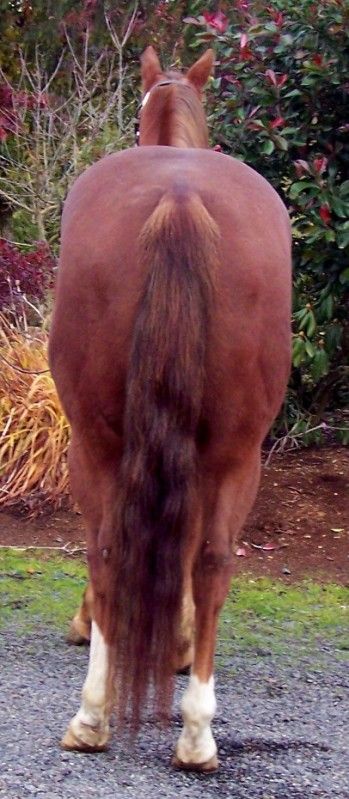 I like his age, but the owner told me he doesn't like to collect much for western. That could be just that no one has tried, or that he's not built for it. Thoughts?
---
Joni
Not built for it. I'd say he could get under himself for the speed events.
i would say base narrow not toed in, and he appears maybe a little post legged, it may never be a problem, or it could become a big problem. some horses live all there life with these flaws with no problem some start showing problems at three or 4.
Assessing from side on view only.

Very strong hind even though I agree with banman that overall it is quite straight. But this combination, although not ideal can produce a quick turn of foot off a standing start. Deep girth and strong muscle type also adds western type speed.

The shoulder joint is quite open with an upright shoulder and forward set wither. While this is not ideal it does not have to be a negative provided it comes with a strong hind - and that may be the case here.

Providing the horse is sound and reasonably correct, you could do a look worse in regards to a potential western type.

There does appear to be a touch extra slope to the hind pasterns and i am not sure if this is related to being straight behind, but may pay to keep an eye on it.
---
Last edited by Horsegears; 12-21-2011 at

06:40 PM

.
He looks a lot like a unfitted halter horse to me, and in general, halter horses don't make good riding horses. I'm not saying this is true of all halter horses, but in my personal experience; I've seen a lot of prize winning halter horses with conformational errors. He is very flashy; but conformationally I think you could find something better :) good luck!
I agree with the previous posters.
And I also wanted to say that I like him MUCH better than the first guy you posted. This guy will definitely hold up better over the long term than that first one.
---
Fabio - 13 year old Arabian/Lipizzan gelding

~
Rest peacefully, Lacey.

I like him and although his build doesn't lend to much collection, with work on muscling and slowly working up to collection he may be able to do it, but it would take work. I was told Cinny wouldn't be able to collect himself either, and after a year of work he collects himself nicely at walk and trot, now working on canter (I ride him dressage). When you look at the picture of his hind, you can sort of see the front legs and they don't appear toe in, at least in that shot. I do think the way he stands may put him just a hint knee'd back, not enough to be noticeable but in most of the side pics if you draw a line through the shoulder on down, it appears his weight may be going onto the navicular bone which could cause issues later in life or with hard work such as speed events, jumping, etc. I'm only mentioning it because someone else mentioned he looks like he could get under himself for such work, but I'd be worried about the risk to his front end in the process.

If you want a horse that your daughter can take to the show ring this year to do WP, I would probably pass this guy as it sounds like he needs a lot of work and patience to do so. If you and your daughter don't mind a horse that will take a LOT of work and patience over the next year, then this guys is a maybe if nothing else shows up that is better.