I guess my mare seems longer to me because she feels long when you ride her. Well, she just feels BIG. Like an 18 wheeler lol. Can you tell I suck a describing?
---
No. I think I know what you mean.
maybe.. lol
My mare is HUGE strided. If that's what you mean
Posted via Mobile Device
Mine has an alright stride... she was really long as a 2 and 3 year old and kind of grew into herself this year as a 4 year old, so she's kind of big and clumbery, uncoordinated like.

She'd much rather travel hollowed out than round, that's for sure, and it's just been one heck of a challenge to get her to stay round for any longer amount of time.
---
I can get my girl rounded and stay that way, but it's definitely hard on her part so we only do a round or two. She's gotta build up some muscle.
Posted via Mobile Device
Is Ben going to have problems? how long in the back is he?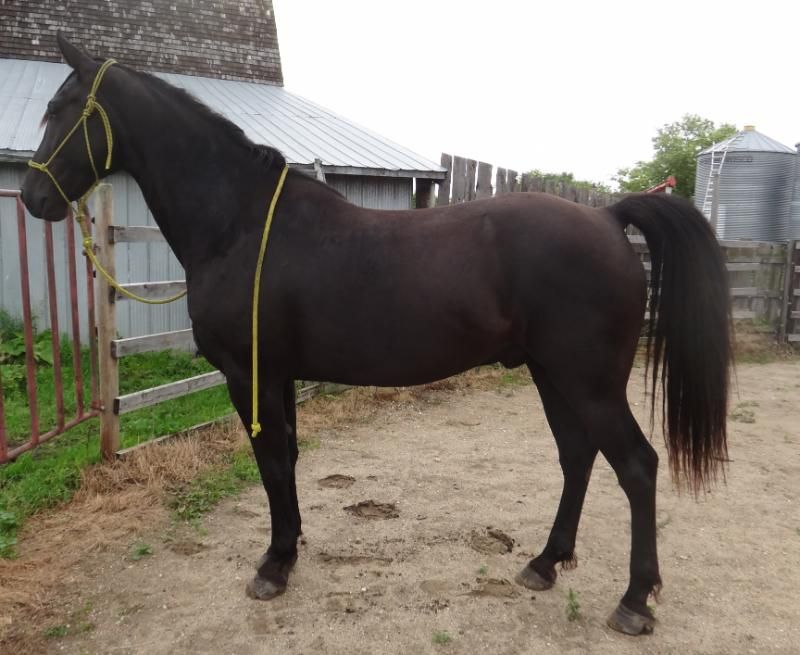 Golden, Ben doesn't look long to me, no where near as long as the OP's horse.
Posted via Mobile Device
Agreed, Ben may be a big guy, but he isn't loooong.
---
If anything, he has a long neck. His back and croup seem pretty compact.
Posted via Mobile Device
I just had surgery.. but I will add this (w/o having read all the responses). Your horse does not have a long back. What your horse has is a stiff back and an upright and posty hind leg. She is built a bit down hill. It is hard for her to curl her loins to bring her hind legs under her and then flex those hind legs. Can dhse collect? Yes. It will take time and lots of foundation work to get it.

Will she be a great horse in competition? No. But she will teach you hugely so work her and train her and see where it takes you. I have done this with some fairly unsuitable horses and gotten them to be quite capable of collection. You can do this too.
---
There is something about the outside of a horse that is good for the inside of a man.
~Winston Churchill
(or woman!!!!
) Dinosaur Horse Trainer
Let me add this..

Lexiie: Your mare is built up hill and will collect emore easily than a down hill horse with a shorter back. She ahs more angle to her hind leg and so that helps. That being said, her neck musculature indicates her neck has not turned over and she is not truly capable of using her entire ring of muscles to collect. She needs more work.. and lots of it.. to build muscle in the root of her neck which will help her to shift her weight rearward. Would love to see recent video of her working in a collected frame. I suspect she may not be doing what you think she is.

Golden horse: Ben is not long in the back. His peak of croup is a bit far back and his hind legs are over angulated. He is actually a bit up hill with an open shoulder that is also a bit steep. His hind feet are almost clubby.. and this seems to be natural for him as it seems he has not seen a farrier for awhile. Part of that is due to hind leg conformation with stifles a bit too high.

Ben will learn to collect more easily than the OP's horse or the horse Lexiie has due to his up hill build.. however he looks a bit feisty and you will need to work hard to taech him to streatch his topling and use his abdominal muscles to grin his hind legs under himself and raise the root of his neck.

He looks a horse that will quickly resort to being over the bit instead of on the bit.. because it will be easier for him. He will need more time with a looser rein in training so he does not take this shortcut which is a habit, once formed, very difficult to over come.
s
---
There is something about the outside of a horse that is good for the inside of a man.
~Winston Churchill
(or woman!!!!
) Dinosaur Horse Trainer