Muscling up and conformation
---
Hi everyone. I have a few pictures to share to see if anyone sees an improvement in her muscle tone. She is being fed Strategy and watered down beat pulp with HB15 hoof supplement and is being ridden 2x a week. She is an 8 year old registered QH mare standing at 16hh. She is not perfectly squared up in the second picture, but give me an idea on what I could work on to improve her weaknesses. I plan on her being my all around low level jumper and barrel racer, but mostly picking what she want's to do.
I flipped this picture so she was facing the same way. Taken in April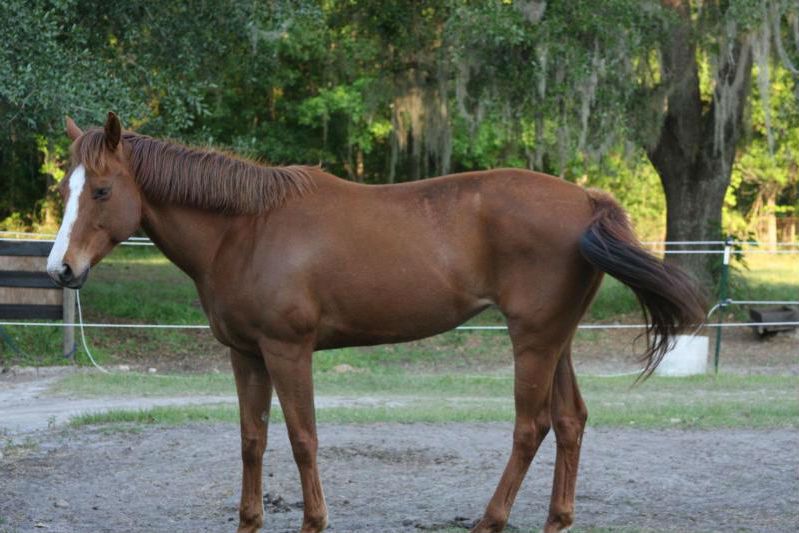 Taken in July
I do think she's looking better. She seems to have smoothed out a lot. I still see a very slight hint of a roach, which I doubt will go away.

Lizzie
Thanks for commenting Lizzie, she definitely does have a roach. I had the chiropractor out two months ago to do a general adjustment and he worked on that a little. I don't remember exactly what he said about it.

She is also pretty long and I think with the roach, it is going to make it hard for her to collect and work off her haunches. Our barefoot farrier asked if she was heavy on her fore because of the flair in her front hooves.

I actually got her to stand square today and she is not as camped under as she always makes herself out to be. I am starting to teach her roll backs so she can start to use that booty.
I can see the improvement! Keep at it!
Good, I am glad I am not imagining it!
Hard to believe they are half siblings - they are built much differently, with her brother having a far more powerful conformation. I am not an expert on barrel racing, but I would think you would want a more powerful rear end than she will have...
I wouldn't be doing barrels for money, just to have fun.

She is really built nothing like her mother either. Her mom has a very large rear, but I suspect a very upright shoulder as her mother has a very short stride.

I am getting more and more disappointed and upset about the slight roach the more I read about it. I am getting the chiro/vet out again and we are going to have a serious Q and A about it.
Don't let it obsess you too much - I had a friend who paid a nice price for a filly that had a roach worse than that and she has been eventing her for 10 years with never a problem. I think you will be able to do all of the things you listed and even more with this cute mare.
Thank you Clippity that does ease my mind.

Did your friend have a problem with saddle fit with that mare? My girl seems to be sore in the lumbar area, above and just in front of her flank.
Similar Threads
Thread
Thread Starter
Forum
Replies
Last Post
muscling?

Poneigh

English Riding

11

06-06-2012

01:42 AM

Better Muscling??

Lonestar22

Horse Riding Critique

7

11-30-2010

11:24 PM

muscling

BarrelracingArabian

Horse Training

10

06-16-2010

11:59 AM

muscling

BarrelracingArabian

Horse Training

8

05-18-2010

07:01 PM

Muscling?

JavaLover

Horse Health

6

02-21-2010

09:04 PM