*her. I've always had geldings so I automatically call every horse a 'him'
Posted via Mobile Device
Well on Tuesday I had a trainer come out to access my mare to see if I wanted to take lessons from her. She used a large reigning or cutting saddle on her and worked her pretty hard. I was almost hoping that Arya, my mare was going to be sore so I didn't look like a "Flicka", but dang she makes me look like a liar. Completely not sore when we tested her with the finger press down the back.

I rode her in a friends Bob Marshall yesterday to see how she would like it. It was a round skirt, too small seat and too long stirrups. But I kinda liked it! I will see if she is sore from that when I go out on Sunday.

Chiro is still set to come out. And no, I will not be taking lessons from the trainer because I don't feel like she heard a word I said about my own horse.

My friend who is also on the forum said "Well if you just want someone to boss you around, I can do that for free!" And so, Pony Boot Camp.
The saddle fitter came yesterday. I have been riding solely in my western saddle and she said that there is no reason the saddle should cause soreness there because it provides plenty of clearance above and around her loin. She said it is most likely general muscle soreness from activity, especially if I am bringing her back into riding and doing a lot of work off the haunches. Both statements are true of what we have been doing.

She took my english to do a total reflock and reshaping as it was badly uneven, probably due to my habitual dropping my left shoulder. It will be back on Monday and we can start dual training on jumping/english movement and barrels/western movement. Extreme Pony Boot Camp!
I got my English saddle back after a total reflock on it. I have definitely missed it and it made me realize how much I don't use my legs properly in my western. She had me working!

The chiro came this past weekend. Said that everything that was wrong with her on the first visit was gone this visit and all she had was normal things to be adjusted. I can give the list of Dr. shorthand if anyone can interpret it.

She was much calmer this time and really enjoyed her adjustments. At one point, he was going to stand on his little "booster" to work on her back and she almost ran him over with her butt! I didn't know what she was doing and when I asked the Dr. he just laughed and said "Not sure, she want's to be adjusted somewhere". She kept dropping her hip and turning her butt into him until he finally found the spot. She wanted a hip massage! When he started, she stuck her nose out and rocked to the motion. Very cute and made it totally worth it.

She is getting so much lighter on her forehand. We have been working on rollbacks, and turning on the haunches and it is such an improvement in a relatively short amount of time. She was giving me some really nice canter strides on Tuesday.

Now to keep working on allllll the other things and add "balance" and "funneling through the legs and reins into the bit". Even forward motion.
Yay! Time to ride ride ride!
Found the reports



5/17/12

G- Short LH, lou (?) R. hip
N- 70 L -> Good
A- R. hip
LS PR, 4-3 P
L1-T16P, 15-14 PL
L. sacrum/P1
(?) 6-7 BL
L. Lat Scap
L. poll
ARS
TMJ Pain (++)

Sum- left S1 joint, right hip, left lower neck, left upper back and scapula


8/31/12

N-
A- L. hip
L4-T18 PL
T15P
L6-5 PR
T16 PR
R. poll
R. glut. M. massage (tehe)


Summary- R. poll and withers, L. Hip, R. lower back
seems like with a good saddle and chiro visits you two are in the right direction to have some fun. Glad it is working out
My friend that I ride with said on Tuesday that she looks like she is putting her back feet farther under her when shes moving. We trotted over a sturdy cross rail a few times and she felt really good under me and landed in a canter after it. Didn't feel like there was any wiggle, hanging knees, or pushing off one foot.

I have been lunging her under saddle and bridle. With the stirrups ran up, I put the reins through the bottom of the leathers so they can't get away and she can feel them on either side of her neck. The dirt in the round pen is fairly soft, so she has to keep herself balanced or else shes tripping.

She has come such a long way already.
Here is my cute girl, Arya, in another picture update! I made sure to put her in the sun as it shows off her form a little better I think. She may be still a little chunky around the barrel but she looks like a completely different horse since April. Her legs just still look like little tooth picks! Is that more of genetic build than anything?
November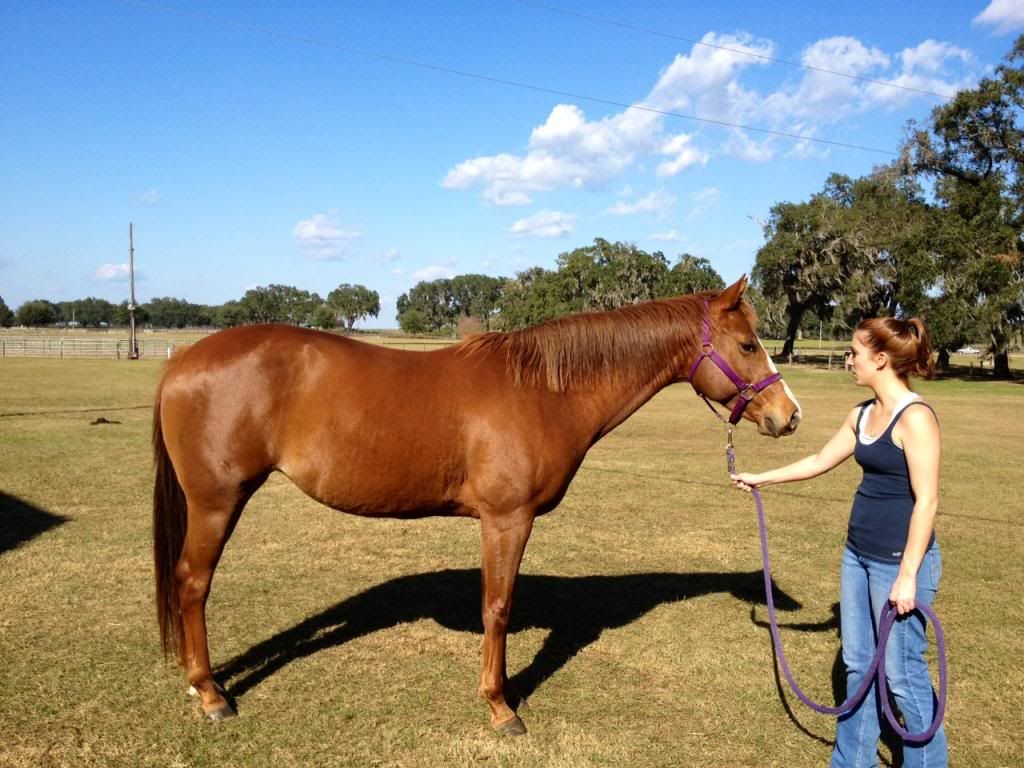 April
Graphic Image Warning! Fat, fuzzy, lawn ornament. Don't say I didn't warn you.
---
Here's Arya's dam, Dreamer. She is heavier boned in the legs than Arya. Would either have an advantage or disadvantage?
Yay found everyone's papers.
She is registered AQHA, Dial A Magic Dream
Born January 4th, 1990 so she's 22 years old.
Dreamer's Sire Miko Bailey Bill
Miko Bailey Bill Quarter Horse
Dreamer's Dam, Miss Dingo Bar
Miss Dingo Bar Quarter Horse
Arya's pedegree
http://www.allbreedpedigree.com/arya5
---
Last edited by aldebono; 11-24-2012 at

06:26 PM

.
Similar Threads
Thread
Thread Starter
Forum
Replies
Last Post
muscling?

Poneigh

English Riding

11

06-06-2012

01:42 AM

Better Muscling??

Lonestar22

Horse Riding Critique

7

11-30-2010

11:24 PM

muscling

BarrelracingArabian

Horse Training

10

06-16-2010

11:59 AM

muscling

BarrelracingArabian

Horse Training

8

05-18-2010

07:01 PM

Muscling?

JavaLover

Horse Health

6

02-21-2010

09:04 PM