also how can you determine she has a weak coupling? sorry not too schooled on confo but what is it???
Teen Forum Moderator
Join Date: Dec 2010
Location: South East Texas
Posts: 7,157
• Horses:
2
If you do breed her (and I'm in the 'don't breed' boat personally but also realize its your choice), make sure that the stallion has a very strong topline, back, coupling, and hip since hers are lacking. She's a nice enough mare but you already have a 50% chance of her baby being long backed. Optimally you don't want it as long as hers, and you REALLY don't want it longer than hers is- which could happen with a long stallion. What is the cross going to be?
(by the way guys...THIS FILLY. OMGGGG
https://www.blm.gov/adoptahorse/hors...mygalleryview=
. If I was in a place where I could buy a horse right now and have it trained, this one would be the one for me. Short, big white blaze, built like a tank, and with a silver tail? Yes PLEASE.)
---
Everyone in your life is meant to
be in your journey, but not all of
them are meant to stay till the end.
nice. A little long through a slightly weak coupling from her draft side. Also a little sickle hocked from that same place. Shoulder lays back nicely and her point of shoulder is correctly places.

According to Deb Bennett, PhD in her writings, the US Government introduced draft stallions to the Mustang herds because the Indian Nations were kicking our US Cavalry butts. they had small tough horses that were quick and could out run the cavalry. So they figured to breed out the speed and added draft blood.

Today you find very very few feral mustangs that do not display some measure of draft. Before the draft was introduced these horses were mostly Spanish Barb in descent. Not necessarily pretty headed horses, but very wiry and quick. Also not very large running 14 hh or so.
---
There is something about the outside of a horse that is good for the inside of a man.
~Winston Churchill
(or woman!!!!
) Dinosaur Horse Trainer
The 'stangs that are gentled or started don't require as much specialized containment as a wild one.

Anyway, you should really ask yourself these questions.

1) Do you have the funds for the necessary ultrasounds and various vet visits both before and after breeding?

2) Do you have an emergency slush fund for if/when something goes wrong and you need a vet to come out and assist in the delivery to try to save either mare or foal or both?

3) Has she ever been bred before? 16 is very old for a maiden mare and it's just like with older women who have babies. The older they are when they have their first, the chances for a difficult/heartbreaking pregnancy/birth increase exponentially.

4) Are you prepared for the possibility that you might lose your mare? Having a mare die in foaling isn't uncommon. Can you deal with it if something goes wrong and she dies?

5) Are you prepared for the possibility that you might lose the foal? Having a foal die during or shortly after foaling isn't uncommon either.

6) Do you have a plan for the foal if it has a conformational deformity or gets injured where it can never be more than a pasture pet? What if it's born with clubbed feet or windswept legs or severe knock knees or any other deformity that will keep it from having a happy life as even a pasture companion? Are you ready to make the hard choice to have it put down?

7) Did you know that mustangs don't breed "true"? Because their bloodlines are so mixed with different types/temperaments of horses, you have zero reasonable expectation of the resulting foal's temperament or physical appearance/ability. Your mare is sweet, but she could very well produce the spawn of the devil. I've seen it happen. Dam was just as nice a horse as you could ever hope to meet, but all her foals (crossed on really good stallions) were raging lunatics in spite of proper handling/training.

8 ) Are you really willing to wait at least 4 years to ride the resulting foal? One year of gestation followed by 3 years of pouring money into a horse you can't ride is a very large commitment.

9) Do you have the knowledge necessary to train the foal correctly? If not, do you have the funds available to pay a trainer to teach the foal to lead correctly, to stand for the farrier, to stand for bathing, to load in the trailer, and when the time comes, to be ridden?

10) How old are you? You don't actually have to answer publicly, but I want you to think about all the changes that may be coming up in your life. Maybe you are about to start college or about to start a career or maybe even a family. Are you sure that you'll still have the means to support 2+ horses in 5 years? What about 10 years?

11) What happens if you can't continue to support them? What marketability does the potential foal have? Half mustang? Those are a dime a dozen and outside of certain circles, Mustangs are unwanted mutts that most people wouldn't take home for free.



Anyway, back to her conformation. Everything I mentioned about her front legs especially (clubbed foot, offset knee, calf knees) are considered soundness issues because they predispose the horse to lameness and early onset arthritis. Even if she was a papered QH with the best lines in the world, I wouldn't advise anyone breed her because the chance of the foal ending up with problems worse than she's got is just too great.

You breed great horses and often get foals that end up being just "good". You breed "good" horses and you often end up with a "mediocre" foal. You breed "mediocre" horses (no offense, but her conformation is mediocre at best. She may be a sweetie and a wonderful riding horse, but her body is what it is)....and you run a real chance of ending up with a pretty sorry looking foal.

With her back, where I see the beginning of a sway is in the region circled in red below (first picture). Most normal horses with strong backs are generally pretty straight/flat through that area (2nd picture of my mustang so we keep to the same breed). With the combination of how long her back is and the weakness in that area, it would likely be hard on her back to carry the extra weight of a foal...and may make that sway bad enough that she would require a saddle made specifically for her to fit.
I think what most are trying to say is think this through, don't just do it because you like your horse. The reason I say this is because what if something happened to you for example, would someone think your horse is as great as you do. A foal is a huge responsibility, and creating one should not just be a split second decision. Horses are not like pets in the way they die in ten years, they will with you usually for a good portion of your life, so to ensure a good life for them think it through please!
Posted via Mobile Device
---
That beautiful moment after you tickle your horse and he follows you around like a dog.
In reguards to the black mustang, he looks like my bfs. He has drafty fethering, long legs but a almost qh compact body. He is a sweety though.
Im always in the "don't breed" boat but its your choice. I will say i dont like that stud for her. Long back + long back = this V
or this when they age
This is what you are looking for creating/ in a stud
This guy is better then the stud you picked but his back is long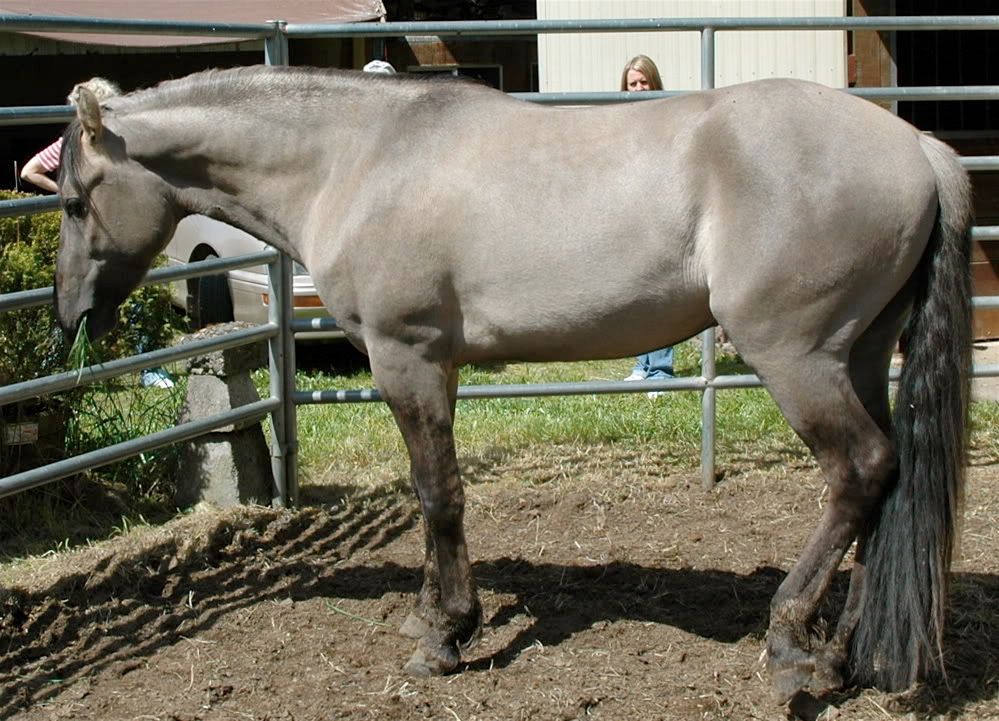 ---
Last edited by KigerQueen; 03-03-2014 at

01:14 AM

.
I missed the breeding comment. No. This mare is NOT a breeding prospect at all. Period. Nice horse but not THAT nice.
---
There is something about the outside of a horse that is good for the inside of a man.
~Winston Churchill
(or woman!!!!
) Dinosaur Horse Trainer
A weak coupling is the area between the point of croup and the start of the back. Her sway says she has a weak coupling. If that area were shorter, if the peack of croup were more forward and the croup, peak of croup into the back were smoother and straighter (no sway) she would have a strong coupling.

This mare stands over a lot of ground.. she is over long. for banging around and using that is fine but it is not something you want to breed.
---
There is something about the outside of a horse that is good for the inside of a man.
~Winston Churchill
(or woman!!!!
) Dinosaur Horse Trainer