My new girl :D whaddya think? *pic heavy*
---
Meet Breezie. A 17 yr old reg. paint mare. Reining bred, reining trained. I swore I wasn't going to get another mare but this girl changed my mind. I looked at tons of horses, and then Breezie sort of dropped into my lap. I exercise a woman's 3 geldings and she had this mare for 10 years, but had known her since birth, and gave her to a girl last summer under the premise that if she ever found herself in a position where she couldn't care for Breezie, she couldn't sell her to had to send her back so that the original owner could find her a new home. So that's where I came in. This horse is by far the best horse I saw, and I was prepared to pay $3000+ for a good lesson horse, and she gave her to me for free. Ahhh!! How does that happen? God, honestly. I have been praying and giving my lesson business to Him, asking Him to make good use of it, tithing all of my income, and he has blessed me left and right. From putting me right into the facility I wanted to be in, not just boarding but teaching lessons (these owners are careful about who they let board, let alone teach lessons) I will be the first instructor at this fairly new facility, big for our area, about 20-30 horses. So, without further ado (and congrats if you made it this far in the novel) here's miss Breezie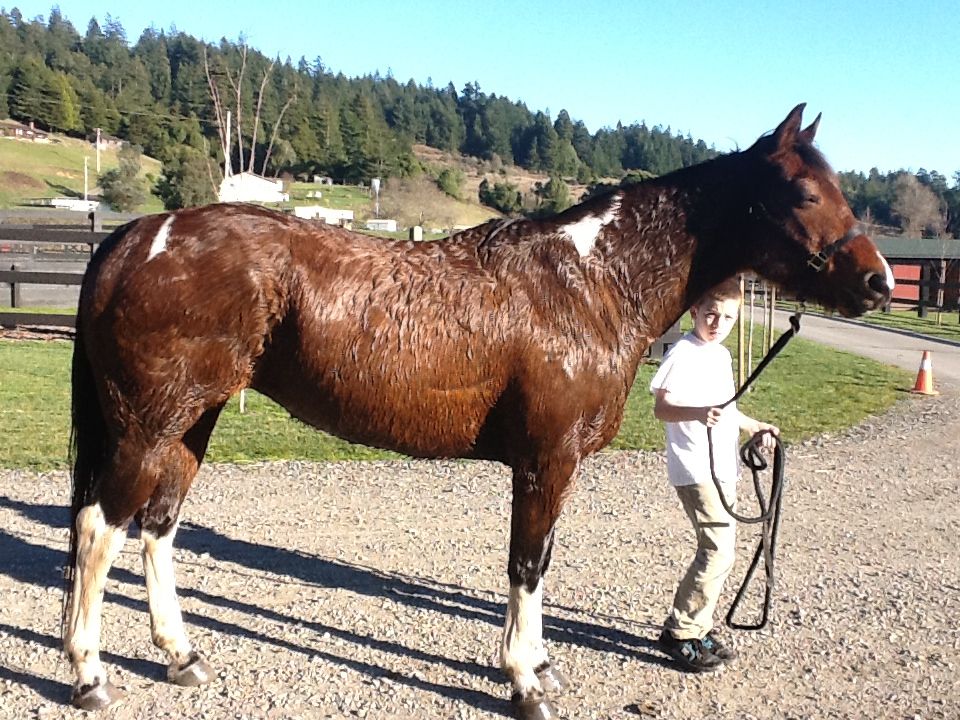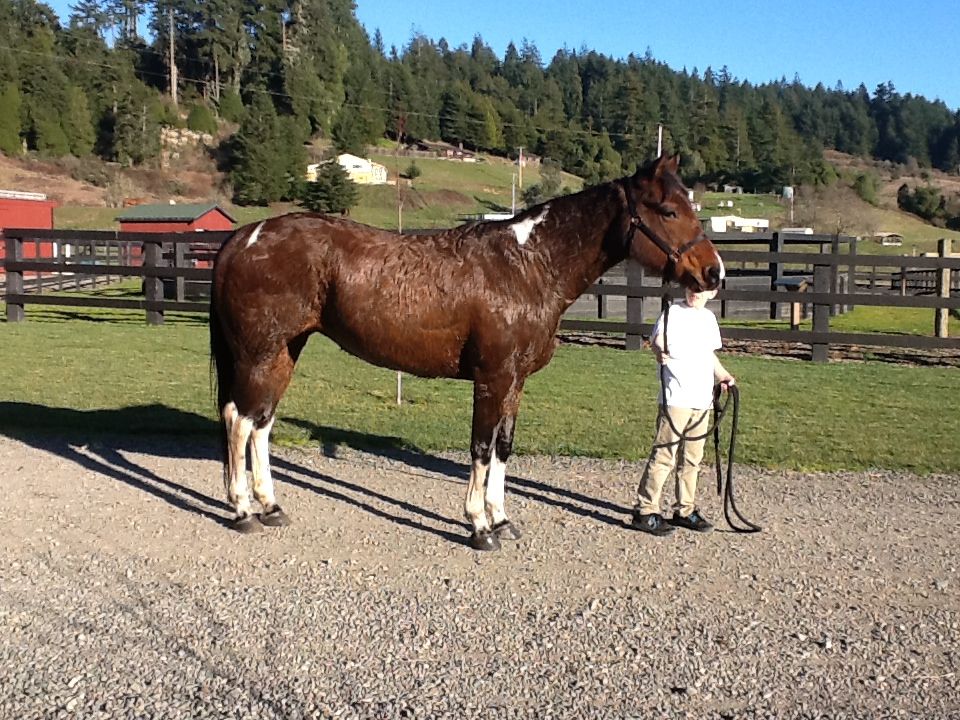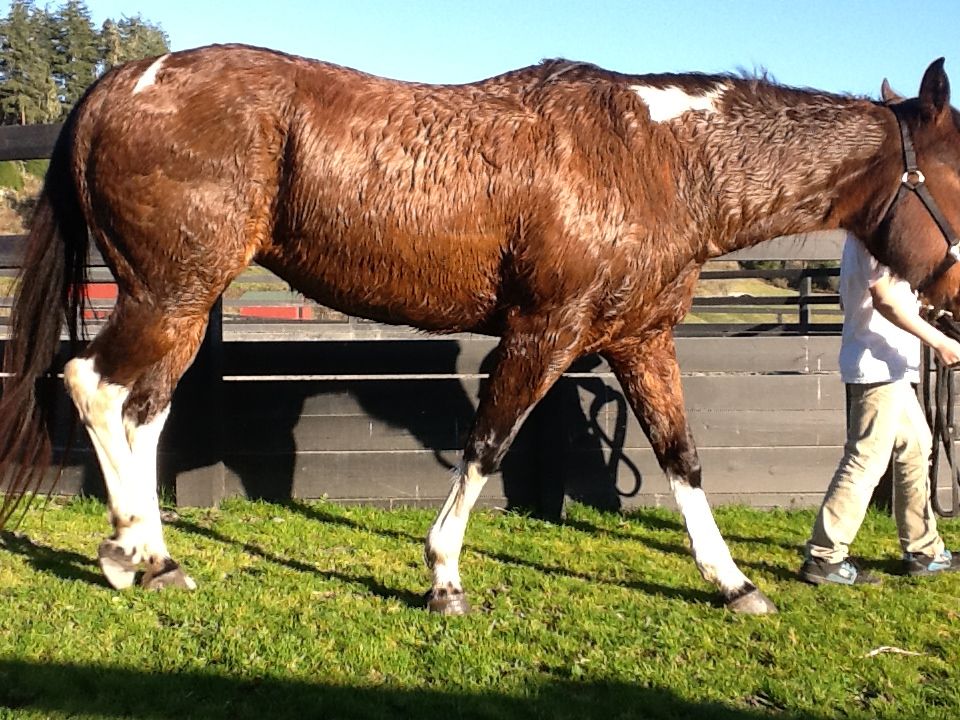 Whaaaattt?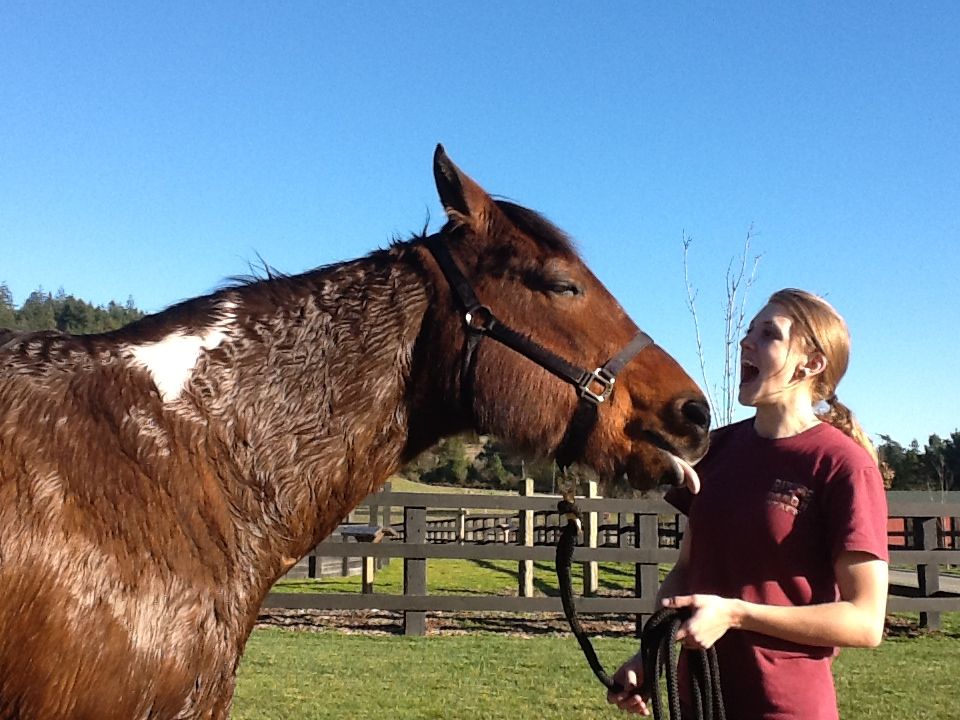 Sorry about the wet horse pictures, it was SEVENTY plus degrees today, so I thought I'd take advantage of it. I just got her this morning.
she is cute. Did you say she was going to be a lesson horse? she could use a couple of pounds, but she looks to be in good health . Her hocks look a little puffy but if she was reiner that is not suprising. Cute pic of her sticking out her tongue.
Oh Congrats!! I am very happy for you. More details and pics please,
---
Melinda
Showing
Join Date: Jun 2011
Location: Cariboo, British Columbia
Posts: 11,940
• Horses:
3
I like this mare a lot. I will start with what I like about her, her heartgirth, her overall stature, her hind end, her legs, although her back legs are a wee bit posty. Her neck is on the short, thick side, throatlatch is thick too, and her shoulder doesn't have the slope I prefer although it's not straight which is good. Very nice horse, no doubt.
I LOVE her build!! She looks sweet =)
Yep, she'll be a lesson horse. I have been teaching lessons with horses at a different facility leasing in a per lesson basis, and have been paying more than twice what it would cost to keep a horse in horse use fees. She was used to teach lessons for several years. She has the perfect personality for it. She also actually enjoys attention, go figure, so she'll be great for my kids to groom and love on. I have 9 lessons right now, kids and adults, and more on the waiting list. I'm just taking off teaching lessons on my own, but taught working at other places. It's been about 8 months on my own now.
Thanks everyone! I'll definitely be posting more pictures. She's settling in great. When I went to pick her up this morning I found out the girl who had her since summer has done next to nothing keeping her. Didn't have the vet records for me, so I went by the vet office and found out she was due for her vacs, so I had all those done this morning. She hasn't wormed her once since she got her last summer, so I'm taking a fecal sample in on Monday to get that taken care of. She's been on pasture with occasional hay. I'm working on setting up a free choice hay slow feeder for her. Interviewing farriers. Also taking her to the tack shop to buy saddles and have a saddle fitter check fit.
Thanks waresbear, that really means a lot coming from you. Yeah, her neck is on the thick side, agreed on the throat, I think she's a little long in the back too. Her shoulder is more laid back than any other horse I looked at, but no, it isn't perfect. All in all, I think she's pretty well put together, especially for a lesson horse. Haha. I have seen some wonky looking lesson horses, they have great personalities for the job, but nothing to look at, haha.
Congrats! She's actually a fairly nice looking horse
Shoulder angle is not too bad and she has sufficient depth through the girth
She is a little back at the knee
Bum high and her back is borderline long
I like her pasterns and though she could use a little more muscling, she had nice hidnquarters in my opinion
Back legs are just a tad posty but nothing severe ;)
---
"If a horse fails to do something that is because he was not trained to do it. If a horse fails to do something properly that is because he was not trained properly."
www.wildestheartart.com
I took her out to a tack shop today to have saddles fitted (instead of buying and returning endless saddles) the freeway was about 100 feet away. I unloaded her and tied her to the trailer and she stood there while we carried out saddle after saddle for 2 hours. She could have cared less. She cocked a leg and fell asleep. She has the perfect disposition for a lesson horse. She has barely been used since last spring, so I expect she should muscle up beautifully. I don't know if you guys can tell in these pics, but she does have a mild club foot, her front right. Some call it 'high low syndrome'. I have a farrier who will be great for her. We'll be trimming her little and often. We'll be keeping her barefoot and I'm getting her backcountry glove easy boots for trail riding. I'm really looking forward to working with this horse. :) thanks for the responses everyone. :)
Sorry for the double post, but here's a pic of her front feet