My new guy!
---
So, if you may remember, I finally found and bought my dressage prospect a few weeks ago.
So, I put him forth for analysis! I worked, due to sheer luck, with an amazing conformation expert and professional to find him, so I already know his weaknesses and strengths, and mostly I put him up for educational purposes (and a little showing off, lol) for everyone who is interested in learning about this.
Thus, tell me what you think are his weaknesses and strengths!
6 year old gelding, Andalusian/Oldenberg, just coming into work after a very easy winter!
And cause he's such a goof!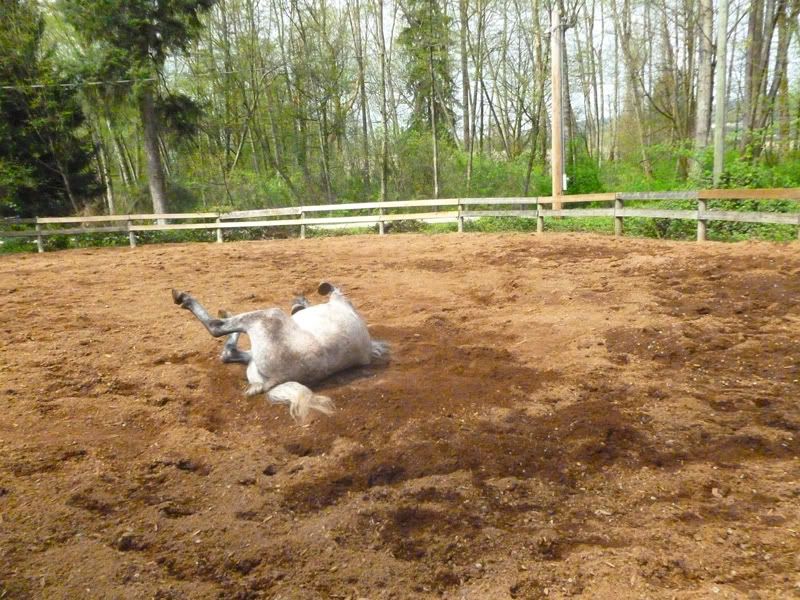 ---
Last edited by teamfire; 04-23-2012 at

12:54 AM

.
Just from the initial view, his shoulder angle is steep and his neck is set a tad high.
Needs some muscle in his hindquarters and i personally feel they could be more rounded.
I think his front legs look pretty good, but hard to say on the backs.They give the impression in that picture that they would be slightly tucked under/ sickled.
---
"If a horse fails to do something that is because he was not trained to do it. If a horse fails to do something properly that is because he was not trained properly."
www.wildestheartart.com
No other biters? Are we all afraid, lol? Say whatever it is you like, I'm happy with him and I don't bite, so don't be afraid of the upset OP!
A high neck set is a benefit for dressage, so that's a good thing! =)
He is, however, not sickle hocked. You can tell when they have their hock lined up to their bum, and if it's not perpendicular to the ground, they are sickle-hocked. Sometimes it's hard to tell if the horse has their leg underneath him, but I chose this picture because his hind leg is lined up nicely.
His sacroilliac joint is not lined up with his point of hip, it is well behind it. I am not sure the implications of this, though. his pasterns are a bit short and upright, back is very flat and long. head is on the large side for his overall body size.
Generally, that's not a good thing, makes it harder to round up. I have poked around to find the actual joint (squishy area!), and while it's not lined up with his hip, it's not as far back as it seems in the picture. But he seems to compensate well, he has an awesome sit (lol, not on purpose, but eventually we'll get there) and wants to use his hindquarters well. But he still needs a lot of muscling up.

He is awfully comfy to sit and trot to. =)

And in terms of back being so straight-- was a pain to find a saddle for!
---
Last edited by teamfire; 04-24-2012 at

01:41 PM

.
In case anyone's interested, turns out why his croup is so pointy is that a recent fall has injured his sacrum and the muscle behind has atrophied. =( Will be getting him help.
Teen Forum Moderator
Join Date: Dec 2010
Location: South East Texas
Posts: 7,157
• Horses:
2
I think he's cute and I don't see why he couldn't be a low level dressage horse. Well porportioned with good bone, nice shoulder and a clean throatlatch. I actually got the impression of him being a tad bit camped out though, not sicklehocked at all. And as someone already pointed out, he's very staight in the back with a not-so-ideal croup angle. Other than that though, he looks great. Very solid.
---
Everyone in your life is meant to
be in your journey, but not all of
them are meant to stay till the end.
very handsome boy! i will say that the photos are not appropriate for serious critique...he is not even close to straight so any comments on angles are not accurate- you can't tell anything about his hind end, front end from this picture. Can you post something with him square?
Haha, not at the moment. He kept wanting to follow me, so that's the best I got right now. It's not that terrible: his weight is even, the picture mostly angled correctly; you can see his point of hip, his LS joint, his stifle, tibia, etc more or less correctly.
Maybe not perfect for a super serious critique, but if I were looking for that, I'd not be posting on this forum and I'd be seeking out a professional (which I did... and got some feedback) who suggested I take him to be checked over because it seems, due to the atrophied muscle (who had seen this horse before), that something is wrong with his sacral area. =(
So give me your best estimate of what you can see, or not. Either way, I'll be posting again once I find out what's wrong and I'll be getting another better set up photo then as well.
EDIT: I forgot I do have another picture that is more square. You can't see his back end, but you can see his front better. The shot is from a video that is a few months old now:
---
Last edited by teamfire; 04-25-2012 at

06:00 PM

.