New Girl! Need Arab Critique.. Endurance Prospect?
---
I've ridden mostly dressage/jumpers/warmblood-types all my life and really don't know much about Arabs. I moved to a barn where we all did long distance trail riding and my little ranch horse couldn't keep up with the endurance arabs.
I've known this girl for over a year and my BF leases her mom. They both have the best personality/attitude so when she came up for sale I had to buy her.
She is 15 hands, 2.5 years old and I just pulled her out of the pasture to start ground work. Totally unbroke.
I'll start her under saddle this summer.
I'd love some honest confirmation feedback. I'm wondering if she isn't a little too large for endurance. Her mom is about 16 Hands so she will grow a bunch. She kept wiggling for pics and wouldn't stand square.
Thanks!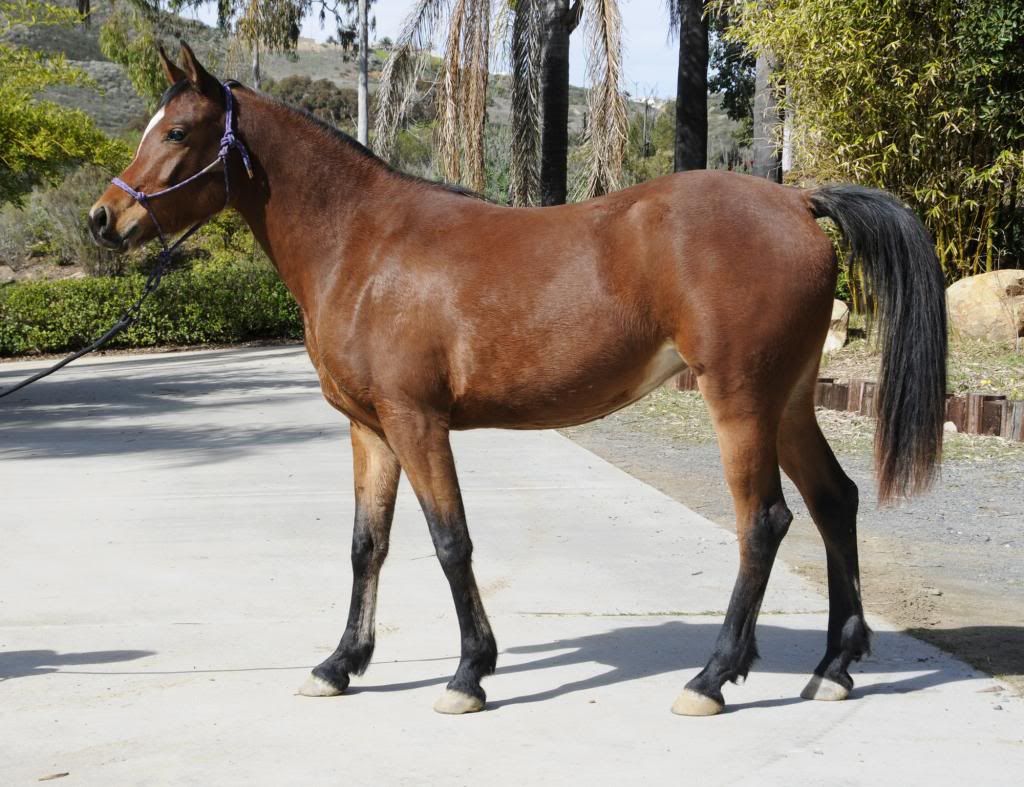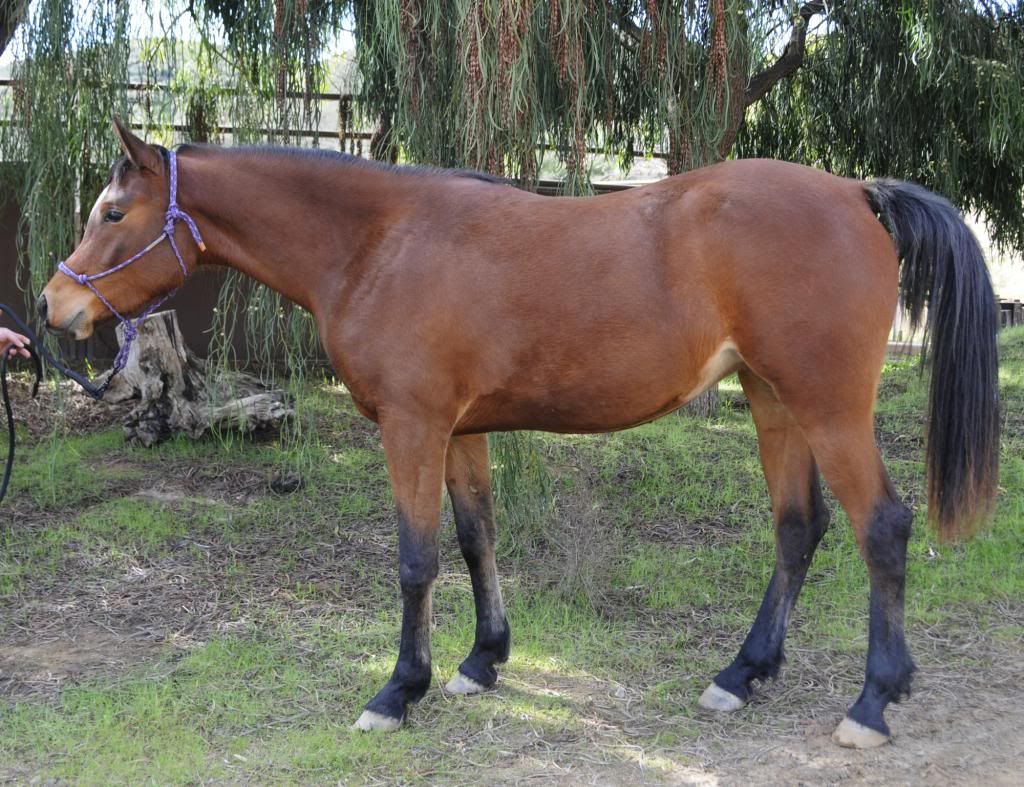 The "attitude" shot.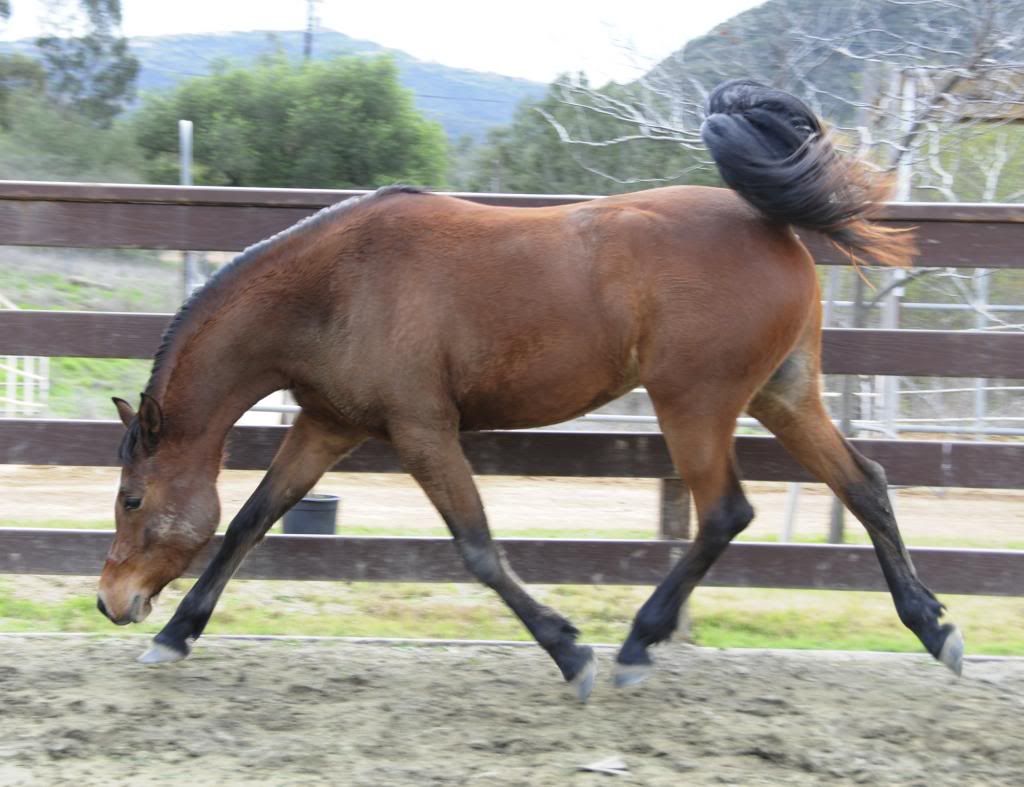 ---
Last edited by atomicfruit; 02-02-2013 at

10:43 PM

.
Yearling
Join Date: Sep 2012
Location: Central Western NSW, Australia
Posts: 1,120
• Horses:
4
I really like her legs. They're nice and solid, short pasterns with a decent angle, and I would think that correct legs would be very important for endurance.

I don't think height would really impact on her ability. It's really more about soundness and personality, by what I've learned.
Height and size doesn't matter. As long as conformation doesn't pose any health issues in general, then they shouldn't be a problem in endurance. However, what does matter is metabolics and especially attitude. You're taking a risk with a younger, unstarted horse because you don't know how she'll handle the distance physically or mentally. Given that she's an Arab, she'll more than likely be physically fine. However, many Arabs just aren't up to it mentally and shut down after so many miles. Personally, I wouldn't take the risk with this one if I was planning on doing endurance and rather opt for a 4 or 5 year old that's shown some potential for really loving the sport. If they don't love it, it'll be miserable for the both of you.

Another issue - Arabs don't mature until very late. I wouldn't put one under saddle until 3, and they're not allowed to compete in LD's until 4 and endurance until 5. However, for an Arab that is still growing, you're much better off starting them in distance riding when they're 6 or 7, so you'll have to wait quite a while if that's what you want to do with her. Especially in endurance, if you take it too fast at all, it could be detrimental to the horse.
By the way, if you do start her under saddle this summer (assuming she's 3), you'll need to go very light on her. Most people I know who raise Arabs and are familiar with them actually won't break them until because they still have quite a bit of growing to do, even at that point.
Wow! I love her!!
I don't know squat about endurance riding or the type of horse that's needed for it, but I just *love* how substantial she is, and it looks like she has great movement to boot! I so badly want an Arab just like her...
The dish in her head is a bit funky, but I think it's super cute. I really, really just LOVE her!!
Can you tell?
---
There is something about riding down the street on a prancing horse that makes you feel like something, even when you ain't a thing. ~ Will Rogers
Thanks Jilly... I should clarify.. I have no intention of actually competing or even training for endurance until she is 5. She won't be started under saddle until 3. I enjoy starting babies and am aware of their physical and mental limitations. If she doesn't have the aptitude that's fine too... I'll do long trail rides. I'm just curious about her arab conformation.
Honestly, I think you'll more than likely end up with a good endurance horse, but I'm glad you're being realistic about her abilities and where she could go. If I was looking for a horse that I *might* do endurance with, the she'd definitely be a looker. However, since I'm an endurance addict, all my future buys will be full or part Arabs with either proven endurance potential (been taken on a few LD's and maybe even a few 50's) or from a breeder that specializes in endurance horses. And the horse will be between 3 (preferably at least 4) and 7 years old, since I would want to get working right away. But that's because endurance is what I do, so that horse has GOT to be more than just an endurance "prospect" for me to seriously consider it.
I do really like her though!
Like my boy, she seems to have a pretty steep shoulder, but a good stride. That seems contrary, but someone on here explained to me that the shoulder doesn't inhibit his movement since he's got that high-set Arab neck. For me, movement is really important, because I want something as fluid as possible to go down the trail. I do really her stride in that trotting picture and she looks to be alert and attentive. Cute face!
In general the easier and flatter the terrain the more advantage to the taller horse, and vs versa, rugged and steep terrain, shorter horses.
Lot of other variables and not one I would get overly concerned with anything between 14.2 and 16. As long as your height/weight feels like a match. I can tell you that it is a proven scientific fact that a horse temporarily grows half a hand per 20 miles. is she full arabian ? Looks good. get her trained. (oh fyi, since your asking and said you are just learning, and I just learned this not to long ago, horses are Arabians, Arabs are people.